Understanding File Formats
Colin Smith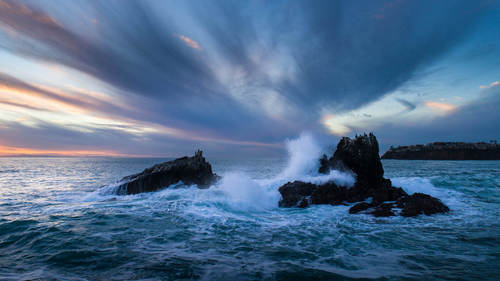 Understanding File Formats
Colin Smith
Lesson Info
4. Understanding File Formats
Lesson Info
Understanding File Formats
file types. Um, you guys know what all these air, right, dear? I'm surprised, like a lot of people don't. And so I made this on the plane, So that's why I'm letting it sink in so you can enjoy it because I spent some work on that. So the 1st 1 is a J pig, which stands for Joint Photographic Experts Group. And I know if I'd offered prizes and there would have guessed that so basically, J pig is a delivery format ever sharing format. Yes, your camera does shoot in it, but typically use a J pig for it's about compression is about compressing a file so you can put it on the website so you can send in emails. You can do things like that, and it really is. It's not a working file. It's a lossy file. The reason that can compress it because it looks for duplicate information and it tosses it away. If you do a J peg to about six quality, you're not visually really going to see any difference when you start to go lower than that. That's when you start to see it get crunchy and and horrible. You ...
know you know what I'm talking about? So, like, say, for example, I was going to export this and that Use foul exports. Safer web, which Adobe always tells me I should not use that anymore. Especially use the quick export. But we used safer way because it has a before and after view on it for this. So if we're inside J pig and right now, I'm surprised. It's really the algorithms are getting so good because, like, typically, like, you do a flat image like this in the past and a J pic, and it just looked, uh, anyway, so we're here up to myself. I'd like, drop the quality down, see what's happening. See how looks old currency. And if I have to use a photo, you see, it was Basile the crunchy stuff around the edges. You gonna see that? Yeah. Okay, so you know, if you look at this, this image here is five, almost six megabytes. This image is 65 k It's tiny, but if you turn equality up here, you know, run about 60. You know where you're not really going to see any difference? Maybe on an image like this, you barely can photograph. You wouldn't. But look at the file size is 185 K versus five megabytes, so it's super super compresses the image. So if you're gonna share an image with somebody you know and you get embedded in a multimedia foul, put an email. Whatever J pig is the way to go. I know some printing houses want you to send it J pig. And if you ever sent it to printing house on J pic, no problem. Just turn it all the way up to 100 and you want you won't lose inequality. But the other thing to bear in mind is when you're working in a J pagans, if you don't want to use it as a working file because if you make your adjustments on the image and in your statement you make adjustments and save it Apart from the fact that life you want to change anything, you have to get away back to the beginning. The other thing was a Jay Peak is every time you guys ever see that movie Multiplicity. You know, Keaton, you know, and was the number five or whatever shaving his tongue, you're gonna get to that point where it starts to lose quality each time you say. But because it's a lossy format meaning loss, you lose something. Tiff tagged image format. Okay, so tip is like tiff kind of sort of used to be king. There was a PS, but we won't talk about any PS here. It's never been used in photography, but I was used in commercial printing. But then Tiff kind of took over and a tiff is attacked. Image formats. A lossless format that means that holds all the interrogated, the image. You don't lose inequality. That makes it a great file format to use for sharing images. Used a lot in print, specially commercial printing. But the problem is big, right? You know this different. You know l Z IV compression and all that kind of stuff. L w l z w compression, whatever. There's different things you can do, but a tiff file works kind of really good. It used to be until recently that it was always a flattened file. But now the tiff inside a photo shop in save layers and different things like that before that, the PSD or the Photoshopped document or you know, as I used to think it was at one time I thought it was finish up deluxe. I mean, done with me to think it was first up the Lex. But if it's a Photoshopped document, and that used to be the only way that you could save like all the layers and all that stuff and then tip comes along in safe later as a rule of thumb, I don't save late files his tips. I will save them as PSC's. And as because on my drive, I know what's what because sometimes is third party programs that don't recognize a layer tiff if you're working between other programs, although those numbers are very diminishing these days because a lot of people did A PSD for those who are nerds is actually just a zip file, and you can actually opened it up and see all the things inside it. But that's not beginners. Tip. So we'll move up D and G. Digital negative file. Big thing about a D and G. It's a raw file, so as you know, your camera shoots. Royal saves all the settings, all the things we just talked about, but the good thing about a D and G is I don't know if you've ever looked at the Now, how many of you shoot cameras apart from an IPhone? All right, um, and, uh, Canon users whose canon users canon uses Nikon users, uh, future users. Sony, Um, and whatever else. So anyway, so cannons usually cr wscr to, um, Nikon is an f r a f is ah, Fuji. So these opera pyre to proprietary it's later today proprietary, um, formats. And so adobe can't necessarily look inside their kind of people windows, but they don't have access to get into the kitchen, right, cause these air cannons is an icon's files, and I could lift in. So what it has to do is it creates what's known as a sidecar file, which is a little, you know, You know what ex If data, you know, it creates a little side terrified X and P file which basis used a text file, and it just says, you know, make this brightness, you know, to 20 make this, you know, shadow toe 40. Change the white balance to, you know, 5500 kelvin, and it gives us instructions and those instructions get kind of pasta into the window into that, you know, proprietary house, so to speak. And then you know, they in the chef in the kitchen, like changes those. And then you see those images, and that's how they look. And then you change the rule fountain and you send it to your friend. But you don't give him the, you know, the sidecar file ex MP file, and then I open it and it doesn't look any different. Then it's because it doesn't cause if you take away that file, it goes back to the default settings is how was shot? Okay, so don't be can't get into the kitchen. So that's part of the reason of the D and G with the D and G. Adobe just built their own kitchen and said, You know what? This is an O. And I made it available to everybody Open house. Everyone can use a D and G d G I drone makers. They shoot natively into DMG, so it's a format of raw file that any manufacturer and put into the camera, and anyone can open inside a photo shop. And the great thing about that is you don't have toe add that sidecar file. It writes it into the same files deposit around. You don't have little stragglers hanging on that, you lose them, and you've got no idea what you're supposed to do. So that's what a DMG filers you can create D and G's. You can save him out of camera. Roy can save them out of light room. Great format. The other thing is to you know, if you bought a camera, you know you're fortunate enough to buy a camera for from Mr Mr Sergey Amato's camera manufacturer with the deluxe version of the Proedl ACS camera. Usually when you see things like usually music cheap and you bought that camera and then suddenly Oh, gosh, how did that happen? The other out of business and then you suddenly you can't open it with that proprietor formatting more D and G is always gonna be there. So some people like to say the 1000 dingy. So anyway, that's the different moments. Now, if you're working on a massively huge pile, which I do, it is a question I your Christian coming. If you're working a massively huge file, we can also change it as a P B and appears be means Photoshopped big. And so I have a client I'm working with right now, and I average files gigabytes and we saved them Olympians bees because the huge files yes question this might be impossible. Ask cause I don't know the file format, but when I'm editing sometimes my raw image it duplicates this like file that automatically gets exported. It looks like the icon reminds me of like a Microsoft Excel when I opened it up. It's like all the coding. That's it. Let's take some people. Is there a way to, like, not make it just automatically like it will show up in my hard drive was like the image file and then not And then the image found in that, as I do in light room, Are you in your shop? Yeah, you can change the settings, and in fact, the camera roar sittings. The preferences were inside of bridge. So if you're going to bridge is an option there to turn on an ex MP for the sidecar file. It's actually called as he turned off the sidecar file. But the problem is, if you don't have that sidecar file and you move that image, all your adjustments, all your metadata is gonna be lost. So if you convert it to a DMG, then all of that information is going to stay with it. Because if that separates, I mean everything, your keywords Well, that's gonna be gone. Okay, good to know. Thank you. So it's just known nfi, actually, if you look under your thing and you go show hidden files, you see it. If you turn off show hidden files, you won't see it anymore, so it'll still be there, which is good, But turn off the show hidden files, and it will be there, but you won't have to deal with it.
Ratings and Reviews
Colin is a Photoshop expert and shares answers to the top ten questions he's been asked, it was a great class!​
Just watched the Live Class of this course, and it is by far the most entertaining and interesting class. There is no time for anything except to learn learn learn, Colin is a great instructor, he answered so many of my questions about Photoshop and explained every feature thoroughly (without losing my attention, mind). Thank you very very much!
Student Work