30 Days of Genius
Chase Jarvis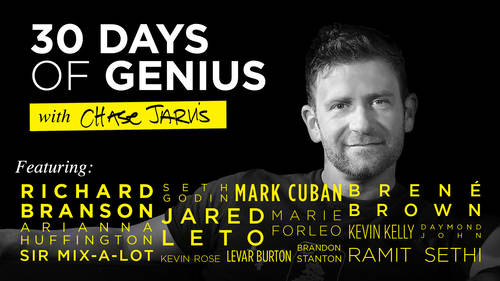 30 Days of Genius
Chase Jarvis
Class Description
There's a common misconception that artists have a monopoly on creativity. But the very act of making something - shooting a photograph, designing a product, thinking critically, or building a business - is a creative one. These small actions come from our unique inner impulse to create.
This is what Richard Branson, Jared Leto and Arianna Huffington have in common. This is what makes Brené Brown, Tim Ferriss and Mark Cuban successful. They're all world-class achievers, but more than anything, they've used their creative impulse as both fuel and compass. It has allowed them to push on when others haven't, overcome obstacles thought impossible, and build a life of habits that sustain their mindset. And they'll be the first to tell you that their accomplishments are built on learned skills available to anyone.

In this free video series, you'll learn about the big thinking and breakthroughs that allowed these geniuses to break the mold. They'll share their successes and failures, and turn them into actionable insights for you. Join renowed photographer and CreativeLive Founder Chase Jarvis as he interviews 30 of the brightest minds of our time: 
The goal of this interview series is not to turn everyone into a super-achiever. 30 Days of Genius is lightweight and helpful, designed to help you recognize your passions and achieve your goals. Watch in the morning or during a break at work, when you're in need of motivation or thinking of your next move.
Here's how to sign up
Click the blue button above, sign in. It's free.
Watch your inbox for an interview with a new genius every day for the next 30 days. You'll get the first video the day after you sign up.
Watch the videos daily, or at your own pace - whenever you want insights or inspiration.
Repeat. (And share this series with anyone you'd like)
Ratings and Reviews
I have watched all 30 days so far and the first thing that blows me away is how Chase interviews all these different people, totally relaxed and he listens to everything they say and finds a question that relates so clearly to the subject being talked about. He also brings in quotes and snippets for other people, how he remembers all this stuff is just amazing. This is what I have taken away from the first 5 interviews. Mark Cuban started the series theme with the concept: you can start from nothing and become something by way of the HUSTLE. Although it sounded like whatever he touched turned to gold immediately, there was a huge amount of hustle that went with it to get it all going. Seth Godin was down to earth and lead with "happiness is a point of view", so do something today that will make tomorrow worthwhile being there. Be prepared to fail to succeed. Marie Forleo the Jersey girl made good. Her dad told her to do what you love. So she set out to do just that. It didn't happen over night, loads of job frogs kissed, until the life coaching vibrated through her life with the help of intuition and she was set on her path to success. Navigate passed those that will drag you back or down was another insight from Forleo. Using the concept from her Mom, 'everything is figureoutable', stood her in good stead all her life. Having a close community to help you is essential. Stop whining and just do it. Read Cameron Herold's double double, lean into your future. Tim Ferriss, the whirlwind learning man, using the simplistic steps to learn anything is the Ferriss way to go. you want to be a Tango champion, go to Argentina and learn from the best. Hard work has its place but control it. Another Ferriss phrase is 'what would this look like if it were simple', following this concept takes the complexity out of what you are doing and leads to you accomplishing the task you are undertaking. Celebrate the small wins and you accomplish the large ones. Meditation makes one more effective. Play at creativity to keep creative. Don't retreat into the story of the voices. Arianna Huffington, what Greece as a country could do with to get itself out of the slump. Remember you are not your job, don't stifle your creativity. You don't have to burn yourself out to succeed in life. The obnoxious roommate the keeps you awake and hurts your creativity. Sleep is not only life affirming but also imperative for the brain to reboot and spam filter.
I just paused this course to take a breather, overwhelmed with how people are willing to share advise, stories and insight....such powerful ones to help each other!!! I think the world is an amazing place and these times are the best that we could be in...yes sometimes life is tough but we have so many great people and so many people doing such great work....i love and admire Chase Jarvis and what he has done with creative life!!! Thankyou Chase, this is just wowwww!!!!
Loving this course! Amazing insights from such a great range of people. Much gratitude to Chase, the Creative Live team and all of the guest speakers for the opportunity to learn in a way that's fun, interesting and inspiring. Thank you!
Student Work