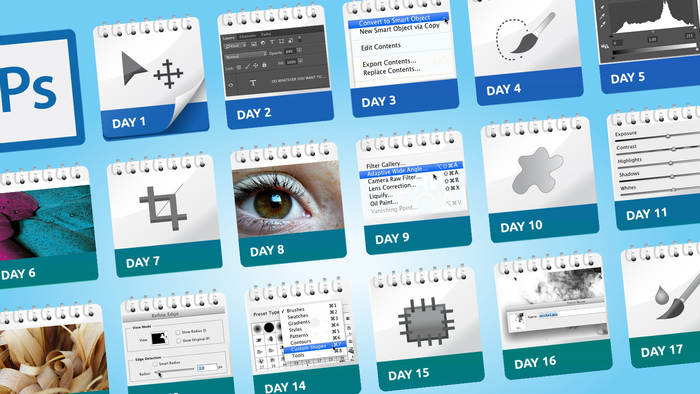 Photoshop is an essential tool for all working professionals, no matter what industry. Join legendary Photoshop pro Dave Cross for an intensive 30-day series on everything you need to know about this unparalleled — and often overwhelming — program. Dave will teach one hour every day for 30 days, covering everything from setting goals to expert retouching strategies. Taught in bite-size chunks, this series will help you improve your skills, efficiency, and creative ability. At the end of this intensive series, you will understand basic techniques for every photo editing task, innovative hacks to improve your workflow, and which tools to use (and which ones you never have to learn). In addition, you learn how incorporating a non-destructive workflow will boost both your productivity and creativity. This is not just a passive, sit-back-and-watch class: you will be encouraged to actively take part by completing assignments and participating in live Q&A and feedback sessions. If you want to take your Photoshop skills to the next level, join Dave for 30 Days of Photoshop.
Software Used: Adobe Photoshop CC 14.1

Lessons
Pre-Show
Introduction
Overview of Days 1 - 15
Overview of Days 16 - 30
Preview of Content Part 1: Layer Comps, Styles, Masks
Preview of Content Part 2: Smart Objects and Paths
Wrap-Up
Day 1 Pre-Show
Introduction
Exploring Photoshop
Realistic Expectations
Day 1 Wrap-Up
Day 2 Pre-Show
Best Practices I
Best Practices I Part 2
Day 2 Wrap-Up
Day 3: Lay of the Land
Day 4: Best Practices II – Working Non-Destructively
Day 5: Layers I
Day 6: Layers II
Day 7: Layers III - Masks
Bonus Video with Purchase: Layers
Bonus Video with Purchase: Vector Masks
Day 8: Getting Images In and Out
Day 9: Resolution, File Size, Resizing
Bonus Video with Purchase: Free Transform - Warping
Day 10: Cropping (Straightening)
Day 11: Adjusting
Day 12: Smart Objects & Smart Filters I (Intro)
Bonus Video with Purchase: "Copying Smart Filters"
Day 13: Smart Objects & Smart Filters I (more advanced)
Day 14: Retouching I (Replacing, Removing, Moving)
Day 15: Retouching II (Fixing, Portrait Retouching)
Day 16: Quiz & Review
Day 17: Shapes, Paths, and Patterns
Day 18: Selecting I
Day 19: Selecting II/ Compositing
Bonus Video w/ Purchase: "Green Screen"
Day 20: Type
Day 21: Color
Day 22: Painting & Brush Options
Day 23: Automation I (Built-In, Not So Obvious)
Day 24: Automation II (Actions)
Bonus Video with Purchase: "Actions"
Day 25: Presets
Day 26: Video
Day 27: Finishing Touches
Bonus Video w/ Purchase: "Sharpen"
Day 28: Tips and Tricks
Day 29: Quiz, Review, Projects
Day 30: Project, Strategies to Continue to Get Better