Adjustment Layers in Adobe Photoshop
Editing with Blending Modes
Ben Willmore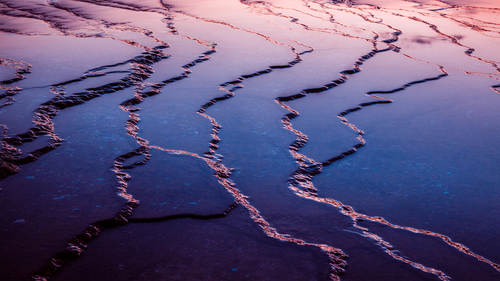 Adjustment Layers in Adobe Photoshop
Ben Willmore
Get access to this class +2000 more taught by the world's top experts
24/7 access via desktop, mobile, or TV

New classes added every month

Download lessons for offline viewing

Exclusive content for subscribers
Lesson Info
8. Editing with Blending Modes
Lesson Info
Editing with Blending Modes
So there are all sorts of things we can do with these features, I wanna let you know though, that there are a few issues you might run into. One of which is, if I go in here and do any kind of an adjustment, it's not unique to curves, I just use curves a lot, so you'll notice me using that as my default, but if I darken something, you're gonna find that, oftentimes, it becomes more colorful. If I turn off this adjustment layer, watch this area where his nose is, and if this was before, and this is after, it, to me, looks more vivid. And so sometimes I'm attempting to simply darken something, and the fact that it becomes more vivid gets in the way. So you should be aware that whenever you use an adjustment layer and you're attempting to only adjust brightness, sometimes that'll happen, especially when darkening. The way you can prevent it is with the adjustment layer active, go to the top of your layers panel to this little menu. This is known as the blending mode menu. And the blending...
mode menu is something we have an entire lesson on as part of the Photoshop Complete Guide, and if I come down here, one of the choices in there is called luminosity. Luminosity is just another word for brightness. And so this means, make this adjustment layer only affect the brightness, and therefore don't affect the color. So if you watch that same area I pointed out before, I'm gonna type Command Z to undo, and I see that the nose becomes more colorful. Then I'll reapply it, and so you can see the difference of using luminosity mode versus not. So, anytime you darken an image, if you notice it become more colorful and you don't like it, head straight to luminosity mode. Just make sure that the adjustment layer that was causing it is active, and change it. But sometimes you like it. When I came on this image, and I added contrast to this bird, it became more colorful, and I liked it. So I didn't need to change it to luminosity mode. Had I, then it wouldn't have become more colorful. Then there's a couple other things you should know about. I'm gonna come in and open a different picture, and let's just start adjusting. If I look at this area here, to me it looks almost like there's a dark halo around this skylight that's there, and I like it brightened up so it's more similar to this. So, I'm gonna go in, and of course, use my favorite adjustment of curves. Then, I'm gonna move my mouse over to this area right here, and click to measure how bright it is, and add a dimmer switch for it. I would like that area to end up being approximately as bright as the area my mouse is on right now. Well, I'm not gonna click there, I'm just gonna look in curves. And if I look in curves, I see a circle that's showing me exactly how much light is in the area where my mouse is. That's what the circle is. So now I'm gonna move the dot that I added earlier up to that height. You can move a dot, whichever one is currently active, it's active if it's solid, using the arrow keys on your keyboard. So, I'm gonna just move that dot straight up until it's about the height of that circle. The only problem is, that circle moved up as I moved the dot up. And that's because, if you look at where the circle is, that part of the curve moved up. So all I'm gonna do is, once I've gotten that to approximately the height I'm thinking of, I'm going to take my mask and invert it with Command I, Control I in Windows, and then paint this in. I need a soft-edge brush, because I need it to fade out, and I'm gonna now just paint in here, and now the area around the skylight looks a lot more like the area over there, because I put approximately the same amount of light in it. Turn that off and on, and you can see it. You should also know that curves is useful for more than just adjusting brightness. We're gonna have a whole separate lesson on how to adjust color with curves, but here, I'm gonna create a brand new curve, before I do though, I'm gonna isolate an area. Do you see the area on the right side over here, this doesn't look as yellow as it does here in the middle, or on the left, and I'd like that to look more yellow. I'm gonna isolate the area first by typing Q for quick mask, painting where I wanna change the image, and red means what you're not gonna change, so I type Command I, Control I in Windows, to get it in the opposite spot. So, red means don't change, well, then, that's what I want. Turn off quick mask with Q, and now let's adjust that with curves. In curves, there's a pop-up menu at the top. When it's set to RGB, it means only adjust brightness. And, if that means only adjust brightness, I'm not gonna be able to get that area to look more yellow. If you click there though, there are three choices, red, green, and blue, and if you choose those, you will be able to shift color. You'll learn a lot more about these three if you end up watching the lesson that is about color adjustment, that's part of the Complete Guide. But in that lesson, you'll learn that yellow is the opposite of blue. And so, if I use less blue in here, you'll see that area becoming more yellow. Once I do, though, it looks a little too green, so I could go over here and choose green. Click there, and bring that down too. So you will be able to adjust color as well using curves, and once you get the combination of adjusting brightness, contrast, and color using curves, you're gonna have dramatically more control over your images. The main thing you need to get used to is the fact that adjustment layers are the best way to apply things because they're not permanent. You could always throw them away later. We can also use a blending mode, which is the menu found at the top of your screen, to limit it so it can't affect the color, and we can paint on those masks to control exactly where it affects the image, and where it doesn't. Sometimes you want to use the same mask more than once, and that's the last little tidbit I'll give you. I had just made the area on the right side more yellow. Now I would like to do something to brighten it or pull out detail, and I'd like to do it with a separate curve. So, I'll do a new curves adjustment layer, I'm gonna move my mouse over there, and let's just say I wanted to brighten this. So I brighten it, but when I do, you notice the entire image changing. Well, I would now like this adjustment to be limited in the same way that the adjustment below it is limited. You see that this adjustment has a mask in it. This one, it's mask is white. Well, there is a way to make this mask kinda get stacked on top of that one, and if you do, this mask will apply to it too. How do you do that? At the bottom of your adjustment layer settings for curves, do you see this little down pointing arrow? If I use that, watch what happens in my layers panel, to the layer I'm working on. It just had an arrow pointing down. That means that it's using the mask that is found down here. And I can even paint on this one to further limit it, but if you ever need to have two adjustments that affect the same area, then you can make that adjustment and click the icon that is found right here, that means use the same mask that's on the layer below. Sometimes I do that because I wanna use curves in one spot, and a different adjustment in that same spot, like a hue and saturation adjustment, or something else. But now that adjustment is only affecting that area over on the right, because it's using the same mask. So we've been talking about tonal adjustments and adjustment layers. Those are adjustments that only affect the brightness and contrast, and not color.
Class Description
AFTER THIS CLASS YOU'LL BE ABLE TO:
See how Adjustment Layers differ from direct adjustments
Optimize black & white images with Levels
Apply the Shadow/Highlight adjustment to reveal detail
Brighten and darken areas by painting on a Dodge & Burn layer
Utilize Histograms to help you determine if you're over adjusting an image
Apply Blending Modes to prevent brightness or color shifts
WHO THIS CLASS IS FOR:
Beginner, intermediate, and advanced users of Adobe Photoshop.
Those who want to gain confidence in Adobe Photoshop and learn new features to help edit photos.
Students who'd like to take ordinary images and make them look extraordinary with some image editing or Photoshop fixes.
SOFTWARE USED:
Adobe Photoshop 2020 (V21)