Class Exercise 1
Daniel Walter Scott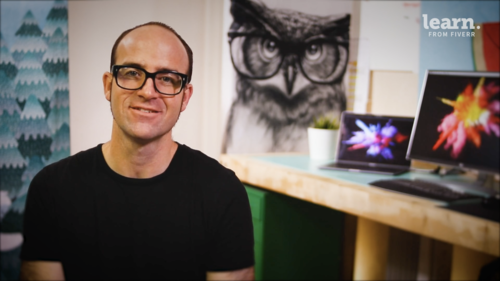 Class Exercise 1
Daniel Walter Scott
Lesson Info
19. Class Exercise 1
Lesson Info
Class Exercise 1
Okay. So now it's homework time when our homework it is class exercise time and I'd love for you to go through and do this. Now when I'm running my in classroom training. Okay, this I find this is the most valuable part of the whole experience. Instead of following me step by step, you'll run into problems and be able to fix them yourself. Now. Like I do in my classroom training, I've got a checklist. I'd like you to do all of these things please. So set aside a little bit of time now. Ok, 15 minutes, 20 minutes. It might take you an hour depending on how fast you're picking it up. But nicely you get to do this at home at your own pace. So go through and do every single thing on this list. And when you're finished you can use this thing in your portfolio. You have permission, okay? You can use this in your portfolio. Say this is something that I've made and it is but I'd also like you to do is send me a copy. Okay. You might follow this verbatim and that's totally fine. I just want to ...
see that you've done it. Send it to me okay? Depending on where you're watching this videos, often there's a comment or a class exercise parts. So stick it in there. Either the pdf or the jpeg version or even a screenshot. Okay. And just working through this list. So let me quickly help you with what you need to do is a new document. Easy. But in that new document it needs to be a us half letter or a five depending on which Part of the world urine needs to be a bleed of three or an eighth of an inch, depending on what part of the world you're from. Okay. Facing page is gonna be turned off. We're gonna make it landscape. I want you to create your very own new library for this client here called Green Gardner. Call it that at the brand colors. You'll see that in your exercise files there. They are there Okay. There is something called so and no one flyer. There's one called class exercise and then here are your colors. There's the colors there. Okay. There's the checklist that I'm reading through now as well. You can, you can read through it on your own time. If you don't want to pause this video and here's some other bits. This is the finished file that you can kind of see in the background here. So you can use that as an example if you get lost. Okay. And other things you need to do, add those brand colors. Okay. And add them to your CC library. You need to use the logo that's in there and one of the images, there's three to pick from and you can use your own that's totally fine. You can use your own logo, your own colors. I'd love you to do that. Okay. But if you just want to kind of charge on and finish them. Okay. You can just use the example stuff your image needs to be cropped like this one. Okay. It's a lot bigger and we've cropped it down using our special tricks. I want you to make the heading up a case. I would like you to put a dash border. We used a dotted one earlier on, create around all around all is kind of a name of this, like this little round thing with some text in it. Okay, so I want you to create this with a perfect circle. I want you to group these two together. I want you to rotate them around. Then I'd like you to save and name your file may be using the V one and I'd like you to create a pdf with crop marks. Okay. And then send me a version of it. I'd love to see it now. If you get stuck with anything, please drop me a comment or go back through the previous videos. The previous videos will cover everything we've done in here. If you do get lost though and you're not too sure. Drop me a message and I'll give you a hand Now. I promise you, I've been teaching in design for about 12 years now and it's the people that actually take the effort and do these like little extra examples are the ones that pick it up. The most. Following me step by step is awesome. Until you run into problems. So go ahead, do this one. Send me a screenshot. Send me a sample. Even if you don't just keep it on your side, keep it for your portfolio. But make sure you do it. All right, let's go on to the next project, exciting.
Ratings and Reviews
I think Dan is very good at explaining and breaking down complex content. I like the way there are lots of small sessions which is good for keeping focus. I would advise anyone who does this course and is taking notes to label which session the notes are referring to as I have struggled to find a few looking back and this helped me. It really made me realise how much I didn't know and had been fudging. Thank you Dan I will be taking plenty more of your courses in the coming months it's been a great help.
Student Work