How to find missing fonts in InDesign?
Daniel Walter Scott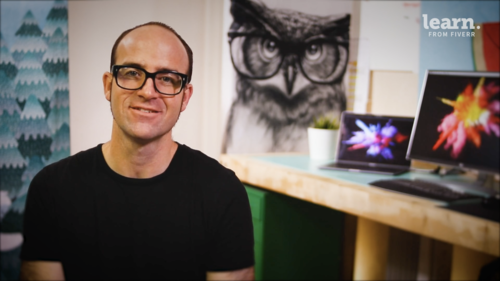 How to find missing fonts in InDesign?
Daniel Walter Scott
Lesson Info
23. How to find missing fonts in InDesign?
Lesson Info
How to find missing fonts in InDesign?
Hi in this video, we're going to look at what happens when you open up somebody else's document and it says Dun, dun, you're missing fonts. There's missing images as well. But we do that in an earlier video. I'm going to close this down. Okay. And you also notice that there was this horrible pink color for anything that is missing. So let's go and do that in our tutorial. Okay, so in this video we've been sent a file by somebody but the fonts have come up missing fonts. So if you're following along with the exercise files, open up Oh, to existing work, open up Green at Heart Prospectus and it says missing links, which we did in a previous video. So go check that one out. Now we're going to deal with this one missing fonts. Now this can be a super easy fix or this can be super complicated. Super easy means it's a font that actually exists on adobes type kit. Type kit is the name that Adobe calls its font library. And what can happen is it can load up and it senses you don't have that fo...
nt on your machine, but it says, hey, I found roboto slab light on type kit and because you're a creative club member and awesome, would you like me to download it and install it for you? Okay. And you can click sync fonts and life is good, where life is harder. It's when it has no sinking here and it says I cannot find it anywhere. So what you need to do is you need to click on this, find fonts. Okay. It's going to tell you in our case it's Roboto slab light. That's missing. Okay. And what we can do, I can click sync fonts here because it's on type kit, but you might not have that option often it's not. So what you need to do is do one of two things. You can replace it with something else. Okay? Because sometimes if you're working across Mac and pc say somebody's used times new roman. Times new roman is what a pc calls times new roman. A Mac for some reason calls at times. Okay, same font, same attributes. So you might have to go and say actually Roboto slab. I'm going to go into my list. Okay. This is the list that are on my computer and find it. It might just have, it might be the pro version. So you might have, you might have Roboto Pro or something slightly different. Okay. And you can go and replace it and you keep an eye on it and see if the font changes. That might be exactly the same. Or you might have to go through and say I don't have Roboto slab. So I'm just going to use aerial. Okay. And I'm going to change all Okay. And it's going to go through and switch out every use of Roboto for Ariel. And that's a sad day because Roboto slab is nice and Ariel is not nice. Another thing you could do is actually just ignore this. Hit done. I don't care about it and it's going to go this big kind of pink color. I know where it is there. Okay. So I got w on off and it goes this kind of horrible pink outline color. Say I'm just doing a text check. Okay? I've sent it to somebody and they're just doing a quick check of the text. They're missing the fonts. Don't worry about it. Just leave it missing. Send it back to the person who originally owned it who does have the font and we'll come back to life If that's still not fixing your problems, you're going to have to install the font, you'll get a package document from your designer or whoever made this. It'll be a zip file and inside of it will be, let's have a look at an existing one. I've got have a look at our desktop and design class files, we made this package file earlier. Okay? So somebody might have sent you this and inside of here is a documents font and you might find hey, there he is there. And all you need to do is double click it. And depending on what program you're on, I'm on a Mac. Okay. And I can just click install font. Okay If you're on a pc, it's very similar process. What I've done for this class is in your exercise files under missing footage. There's one called Roboto slab and here are, all the fonts that we need in this case it's roboto slab light. If I go and install this one now, life should be okay. Go back in here. Ha spring to life. If you don't have that font and it hasn't been sent to you, you're going to have to probably buy it. Some fonts are free, lots of them. Aren't you going to go and buy it? I can recommend my fonts dot com. This is where I buy my fonts, fonts aren't cheap or it depends people have a lot of work into these fonts. So say that I need a font and I need to buy this ah this vintage one that's been made. You can see here this one here is going to cost me €27. Okay, bigger fonts by that. I mean it has a whole lot more characters and waits then you're going to pay more. Okay? But this is a good place to go by it. But there are plenty of other places pick whichever one works for you. Okay, So I hope one of those options helps you with finding a missing fault. Let's get on with this tutorial series
Ratings and Reviews
I think Dan is very good at explaining and breaking down complex content. I like the way there are lots of small sessions which is good for keeping focus. I would advise anyone who does this course and is taking notes to label which session the notes are referring to as I have struggled to find a few looking back and this helped me. It really made me realise how much I didn't know and had been fudging. Thank you Dan I will be taking plenty more of your courses in the coming months it's been a great help.
Excellent course, instructor is great well spoken, clear and a great teacher. I highly recommend this class for beginners and those who learned indesign on their own.
Student Work