Production Video 1
Daniel Walter Scott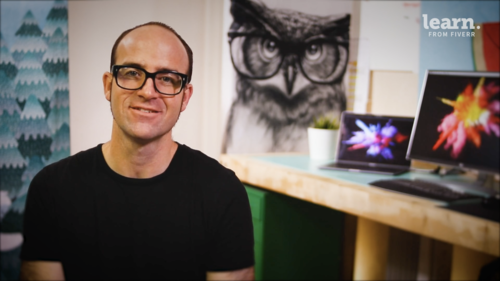 Production Video 1
Daniel Walter Scott
Lesson Info
33. Production Video 1
Lesson Info
Production Video 1
Hi there. Welcome to our first production video. What's the production video? It's where we're not actually learning anything new. We just need to get some stuff done. We do learn little tips and tricks as we make stuff. But you can skip this video if you like. We're going to go through and actually just put together this cover for our newsletter before we move on. Let's go and do it. Okay so let's do the cover page. Double click page one double check down here. You're on page one um zoom out enough that you can see the edges, especially when you're working with like a full page. Okay I'm kind of schooling around with these guys. I'm actually using a little shortcut if you hold down the space bar okay on your keyboard you see your cursor turns into a little hand and I can click hold and drag I use that quite a bit. Okay so I've zoomed out so I can see the edges easily. And I'm going to go to file place command or control D. On a pc. I'm gonna bring in garden center so make sure you're ...
in your exercise files, you're in oh three newsletter and make sure you're working with garden center, click open. You can click once or you can click and drag I'm going to click and drag across to try and get it all in there. It's a little bit big for it but it's okay remember w kind of shows you it trimmed up. Okay so there's a nice bit of bleed there. It's going to go in the bin. Okay so it's gonna have a nice edge. Great. Okay, so now we're gonna bring in the logo gotta file, go to place and we'll bring in the black one and click open and I'm gonna click once over here. Make it a little bit bigger maybe about that sort of size and stick in the middle even bigger. Okay. Remember holding down command and shift to do the resizing and it's going to go in the middle. You see the green line appeared to show it's in the middle. You can get it to align perfectly in the middle, but opening up your window, go to your align its under object align and what you can do by default, it's gonna align to selection, which means it's gonna, if you've got one thing selected, nothing's going to happen. It's when you have two things selected, it's going to align to those to select things. It doesn't make much sense. Okay, what makes sense is I'm gonna line to the page, switch that out. Okay, So now when I hit center, it's gonna align to the page behind it, the same if I did this side, it's gonna align to the page that only happens if you've got that selected and that can be a pain next time you try and do and you're trying to just align to things like we did for the footer numbers. Okay the page numbers so you might have to go back to selection afterwards. We're gonna leave it at selection and move them up. Awesome. Before we go, we're gonna go and switch this out for the white one. You're like, we just put the black one in. I know it's more of an example. I want you to get used to be able to use this links panel. Have this selected. You don't have to actually make sure this is selected over here, logo green and go to this one that says re link and switch it out for the white version. Hey, okay. Practice. We're practicing. Alright. Production video over. Let's go and talk about image resolution.
Ratings and Reviews
I think Dan is very good at explaining and breaking down complex content. I like the way there are lots of small sessions which is good for keeping focus. I would advise anyone who does this course and is taking notes to label which session the notes are referring to as I have struggled to find a few looking back and this helped me. It really made me realise how much I didn't know and had been fudging. Thank you Dan I will be taking plenty more of your courses in the coming months it's been a great help.
Excellent course, instructor is great well spoken, clear and a great teacher. I highly recommend this class for beginners and those who learned indesign on their own.
Student Work