What is TypeKit used for in Adobe InDesign?
Daniel Walter Scott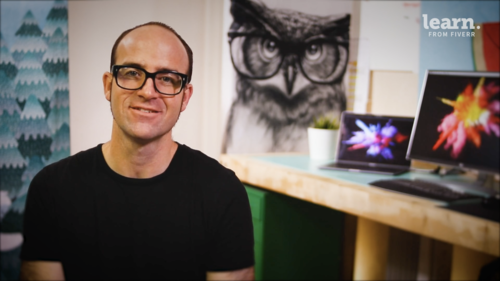 What is TypeKit used for in Adobe InDesign?
Daniel Walter Scott
Lesson Info
36. What is TypeKit used for in Adobe InDesign?
Lesson Info
What is TypeKit used for in Adobe InDesign?
Okay, so let's work with some new fonts. I'm going to go down to page three. We're going to go to my type tool, draw a nice big box in the center here and we're gonna call this one healing healing herbs. Okay, We're going to select it and at the top you're going to go to character and you'll drop this down and you'll see there's a bunch of fonts on your system. These are the ones that come by default in your machine. Okay. And we're gonna look at adding fonts from type kit and some other free stuff. Let's quickly look at free fonts and then jump into type kit. Okay. There are lots of places to get free fonts. 1001 free fonts dot font. I find there's a lot of tacky font and crappy fonts in there. So I just dumped a font squirrel. It's a great place for commercial use fonts that are free and you can go through here and download them. Say there's Alex brush here. I'm going to click download. I'm going to stick it on my desktop in my exercise class files, click save. I'm going to open up t...
hat little zip file that it came with. Okay, double click it. And it's given me this, the TTF file. The true type font is what you want. It might be an O T F file or I can't remember the other ones are but double click it and depending on your system it will come up with install font super easy. Both Mac and Pc now if we jump into in design, no need to restart. Okay, I can go up here and say Alex there. It is. Alex brush and I can start using that front. I'm going to make it a lot bigger. Maybe up to 40. Okay. And there's that font commercial use is ready to go now, font squirrel and free font sites like it often have really good kind of hitting funds, but very poor body copy fonts because body copy fonts just take a lot longer to make because there's so many more nuances than say, just these big headings here. So in an earlier video we looked at my fonts where you can buy commercial fonts, but we're going to look at type kit because type kit is an actual paid for commercial font library. Okay. From adobe. But because you've got a creative cloud license or potentially you have okay, you get access to it for free or at least it's part of your subscription. So let's go and check that out. So up the top here. Okay. The easiest way is to click on this one that says add fonts from type kit and it's going to actually open up a web browser. Okay, you can't do it from within in design. Let's go. So it's opening up here in my browser. Um, if you are not logged in, you might have to log in with your adobe user name and password. Mine's already logged in and I love this site, you can do some cool things. Okay, I'm gonna get this one that says my library. Okay, And let's go to actually let's go to all families and the sample text thing is quite useful. Okay, so I can say I want to do healing herbs, you can kind of see what's going to look like before you download it, which is really handy to play around with the size. Okay, because it's going to be hitting something like that and you can start working through the fonts. A nice thing about type kit as well is over here this classification now all the fonts on my machine have got hundreds of them, but they're all not groups, so it's a bit of a pain to go through and say I want to find like a hand drawn font. Okay, so it's easy to come to type kit, click on hand and you're gonna find kind of hand drawn fonts. Okay, and you can download them from here, let's go to you can see this one here, slab serif nice big thick chunky one. You can also add extra little filters as well, you can say I want it for headings only. Okay, so it's going to kind of cut out the ones that it thinks are mainly for paragraph text down here is quite useful as well. So you have a really long headings. Okay, you can pick this width to be quite skinny so you can fit quite a lot of letters in the title. Okay. Or if you want a nice big thick wide one and then click on it again and it just kind of de select all of them if you want a heavyweight or a nice thin weight contrast X height. There is all sorts of things like this one is quite useful if you're picking a body copy font forever for a company. I hate it when you get stuck where you pick a font. But the numbers do this weird thing where they can see down here it kind of they all sit on the baseline, which means there's four dangles below in the sixes above. Okay, I want one's a font that also has all the numbers lining up to not give me any issues later on de select that. Actually I've got some fonts we want to use. Okay, so I'm gonna go in here and I'm gonna up and here it says search type kit. Let's all download a couple of fonts for me. The first one on one, it's called lust last. Even now you can choose lust or lust grip. Okay with a bit more curly whirly one, I'm gonna use this. The plain old lust click on it and there's an option here that says sink. All click on that kick back, relax. And the nice thing about this is that actually adobe's Creative cloud app is actually installing this for you. Click close now if we jump into in design Ok. And highlight the text. Super simple, lust And here it is. I'm going to use last italic. I'm going to give it the mid green color. Great. And that's how you install fonts. Now we're going to go through now and install a couple more. Okay, so we're going to use this jump back, We're going to use Roboto like Roberto. Now when you are picking fonts often you'll use say ahead of Fons something a little bit more exciting. Okay, like lust. And then a body copy font obviously lust as a body copy font would be a terrible idea. Okay, so Roboto Great. I'm going to sink Roberto like robotic because it is like Ariel. Okay, nice, simple, easy to read from, but it's a little more sophisticated I feel. Okay. And let's look at Roboto slab. Okay. It's very similar. It's got these what's called slab serif. See this bottom of this queue here serves as the little feet. So this is a serif fonts. Got the little feet down the bottom. Okay, sans serif. If you've heard that word means without the little feet. So sands is without sheriffs and a slab serif just means a big chunky Slaby one. Like old school university fonts. Now I already had this one sinks so I don't have to click sync all again. It's all ready to go, There's a little side note. Roboto is what google uses for youtube or Youtube users for Youtube. Okay. It's their font that they use on everything. It's quite a nice font. They use it. Well go and check out them and how they use it. If you want to kind of find combinations of Roberto being used nicely. Now, one thing when it comes to using fonts, if you are really new, often some basic rules can help you. And the basic rules are you pick two fonts, Okay? You pick a font that is a serif font and a sans serif font. A sans serif. These little things hanging off the edges here. These like little feet are called serif. So you have a serif font. Okay? They have these and a sans serif font is without them. Okay, Sandy's Landfall without Often that's a great way to get started. So just pick two fonts. I know we picked three in this case, I've got some special use cases for it, but pick to fons one sarah for one san serif. If you pick to serif fonts often if you pick that something like times or Gary mon together, they're not different enough to look different. They just look a bit messy or broken. So you pick one with the feet and without the feeding often it doesn't really matter which one you use for the title or the body copy, but the combination can look quite good and from within those fonts you can pick two weights. So you've got kind of four uses. You've got your serif font, your sans serif font and within those you can pick a light version and a bold version, let's say, or maybe just a regular version and a bold version. So you've got kind of four choices. And that'll give you enough options to keep consistency through the document. Okay? Without using too many fonts, but also be able to break up content. Okay. Things like headings versus subheadings versus body copy versus paragraphs versus captions, those types of things. Now, if you're still unsure how to kind of put things together which to to pick, you can just go into google and search for type kit and something like font combinations or font font pairings is another good word. Okay, and go to images. And what it'll do is it'll show you type kit fonts that can be used together all of them. Great. No, but you go through and you say actually I wish this was actually bigger. So I could see a bit better. But let's say this one here. This seems like a really good example of a serif font for the title and a sand sarah for the body copy. So, follow this link. Figure out what they are and you can download those ones. You can also see down here. This is the same font but with different weights. This is a good example to show you, we're not switching out fonts, we're just playing with two different weights. Okay, so that's using adobe type kit in in design.
Ratings and Reviews
I think Dan is very good at explaining and breaking down complex content. I like the way there are lots of small sessions which is good for keeping focus. I would advise anyone who does this course and is taking notes to label which session the notes are referring to as I have struggled to find a few looking back and this helped me. It really made me realise how much I didn't know and had been fudging. Thank you Dan I will be taking plenty more of your courses in the coming months it's been a great help.
Student Work