How do I make a paragraph style in Adobe InDesign?
Daniel Walter Scott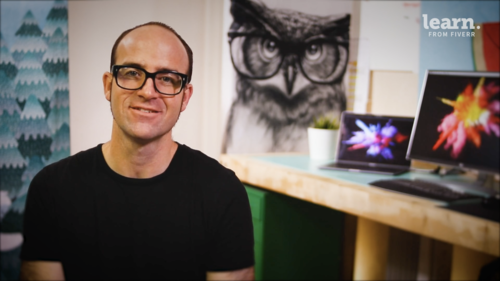 How do I make a paragraph style in Adobe InDesign?
Daniel Walter Scott
Lesson Info
45. How do I make a paragraph style in Adobe InDesign?
Lesson Info
How do I make a paragraph style in Adobe InDesign?
in this video, we're going to look at why paragraph styles are essential for in design and a super awesome and time saving. Okay, It means that I can do stuff like this, highlight this and go, boom, I'm heading go to this next line and say, if I can click it, go boom on first paragraph construction, I'm gonna stop saying boom. Okay, but you get the idea all of this is going to be body copy, you can see with styles, life is good and quick and easy. Okay to create a paragraph style, we're gonna select the thing. We want to turn into a style and in our case I want to do something slightly different. I want to make Roboto. I want to make it the bold version. I'm going to make it all caps. Okay, There's this little capital T is here to make it caps and I'm going to make it the color of our red. Okay. And you can see the underlying changed with it because we did that in the previous video. Awesome. Do I like these Collins now? I don't remove them. Anyway, so we've done that and that's going ...
to be my subheading. Okay for all my columns. So I'd like to turn this into a style. We do that by going up to window and we go down to Styles and we're going to do a paragraph styles. There's lots of styles. This is the one you're going to use the most paragraph styles. Okay, so I'm gonna move this kind of over here, you're given one by default. Okay. It's just like, if you ever use word, it's normal. Okay, just the kind of basic one. What we wanna do is with this selected. Okay, click on this little turned up page here to create a new style. Double click The word paragraph style one and let's give it a name. I'm gonna call this one green at heart. I keep adding these acronyms because I work on multiple clients and I want to know because if I just call it body copy or subheading, um, you can copy and paste styles from one document to another and you can just have like two subheadings and you're like, hmm, you don't know what client it's for. Okay, so there's my subheading and you can see what it's pulling through. Its, pulling through all the stuff that make this yours might be longer or shorter, depending on what changes you've made minds roboto. It's bold. It's 10 point all of these things are getting captured. One thing to do whenever you're making a paragraph style is just to make sure it's not based on, okay, If this is based on and it has something that says, nope, anything other than no paragraph style, it'll just run into complications later on. Okay. I like to keep them all separate, especially when you're new, makes everything super rock solid and understandable when you start basing it on other paragraph styles, You delete one and a bit of a chain reaction happens, but just so you know, I always keep an eye out on based on and make sure there's no paragraph style stick. Okay. Nothing really has happened. Okay. So it's just captured a style that we can reuse and that's what we're going to do. We're going to select this and we're going to go, how good is that? Okay, I'm going to move my colon because I don't like it. Okay. But it's a really quick way of sharing that around. Okay. And the next thing is going to delete my colon and we're gonna set some other paragraph styles. Now I've got this stuff here. I would like to I'm going to select all of this. Okay. And this is going to be my body copy. I should have probably done this first when I could select it all. Okay. But I'm gonna have to select this bit and apply it to the to other parts here. So you probably start with your body copy because it's easier to select it there. It's easier to select it then. But let's go and do it. Okay? So I've got it selected it's based on the old basic one. We're gonna make a new one. We're going to double click it. We're going to call this one green at heart. Body copy. Okay. I'm just gonna make sure it doesn't say based on anything else click. Ok. Okay. And that's pulled through my 10 point. It's got my space after. Okay. And I know nothing's changing but what we need to do is make sure this is applied to all of them, so highlight this one, make sure it is my G G body copy. Sorry my G A. H body copy. Select all of this, do the same thing, make sure it's the body copy. Why do we have to do it? So let's say I didn't undo that so I forgot to apply it to this. And later on we go and make a change to that paragraph style. So let's have nothing selected double click body copy. And in here I want to go to basic character formats and let's say the client's not using roboto anymore. Okay. They want to go back to Ariel. Okay. And we took okay Ariel is not a good enough change. Let's go and change it from Ariel and make it bold. Okay you can see they've all changed because they were all linked to this body copy. This one didn't okay because we didn't apply it before. So I'm gonna go undo back to when life was good and make sure you are all part of the body copy gang. Before we go we're gonna go and make a couple of other ones. So apply this one, select this one here and I'm going to click this and like this and this is going to be called My Green at Heart. Um Now there is a special name for this type of pull out pull quote type thing, but I can't remember off the top of my head. Let's call this one first paragraph. The first paragraph, paragraph E make sure it's not based on anything click Ok. We'll also do it. You'll notice there accidentally only selected one line. Okay? No, I got it all. It's all first paragraph. Great. Looking over there and I'll do the same thing for this heading here. So this one you Call this one hitting. Call it green at heart hitting based on no paragraph style. Okay, so where this becomes even better is when you start working on other pages. So I'm gonna bring in some text on page five here. I'm gonna bring an article to I'm gonna make sure it's removal styles. Great. I'm going to drag out a nice big box for it to go in from the side to the spine. Get in there. Okay. And I'm going to select it all And I put in my body copy 1st. Okay, so you can see how quick and nice and easy that is. Then there's this bit here which says that was my what is it called? First paragraph Great. There is my subheadings, you can see now we're cooking. Okay, and this is what makes in design and paragraph styles super useful for any kind of daily user of in design, lovely. Alright, let's go and leave this here now. And in the next video we'll look at updating and redefining styles after you've made them. We'll cut that into its own little video. Alright, I'll see you over there.
Ratings and Reviews
I think Dan is very good at explaining and breaking down complex content. I like the way there are lots of small sessions which is good for keeping focus. I would advise anyone who does this course and is taking notes to label which session the notes are referring to as I have struggled to find a few looking back and this helped me. It really made me realise how much I didn't know and had been fudging. Thank you Dan I will be taking plenty more of your courses in the coming months it's been a great help.
Student Work