Adobe Lightroom Classic CC Workflow for Photographers
Regional Editing using Luminance Masks and Local Adjustments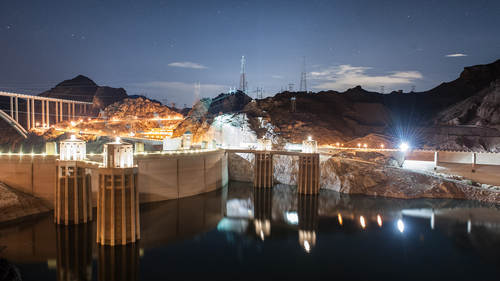 Adobe Lightroom Classic CC Workflow for Photographers
Regional Editing using Luminance Masks and Local Adjustments
Lesson Info
Regional Editing using Luminance Masks and Local Adjustments
So I've got an image up here, and in this case I want to come in and do some work. We're gonna skip some of the pieces. I'm going to show you the regional editing using the luminosity mask and the color mascot How it actually implement that into the workflow here. So I want a dark in this side of the image. So there's a little light in here, but I want a dark in that sites. I wanna grab the grading tool. Want to bring that across and on a bring down that exposure. Now, I've lost some of that green that's in there, and there was highlight in there, so it was actually kind of a little shimmy in there, but I wanted it darker but not black. I just follows into, like, a nod waiting in the photograph. So in this case, I would come in and I could turn on the loo minutes and by turning on the luminous What I'm saying is look at the luminosity values that are under that Grady and under that regional and local adjustment, and decide what to show through from the underlying layer. So if I turn on...
the luminous mask as I dragged the range. Slider it from the bottom, I'm saying, allows him or those highlights. So now whenever he's in red, has got the luminosity mask on it. Ah, really off. And you can see I've started allow that highlight of the green to come back in. But I've got control over the difference between all of the green, the highlight part of the greens out, the darker parts of the green are coming in if I reverse that. And I'm like, Oh, what I really want is that highlight Green to come out now the arms coming back in and the brightest parts of the green are coming through. So if I try to paint that with a brush, that's really hard for me to get those subtle, nuanced elements in there. And the luminosity is being applied by the relative strength of the pixel underneath. And then if I grab the smoothness slider, I can control how much and how wide that ranges defined. So in this case, I could drop it down just a bit, and I got kind of a Greenpeace here that's solved my problem with the black hole and as I turned the effect off and on, I just got a little bit of darkness and there. But I still kind of held that brightness. And I to me that Green got more luminous, even though it's a smidge darker. And it's because I was able to darken the blacks that were in there without having to apply to the highlight. So his shirt, I want to adjust his shirt. I got blues, grays, blacks, whites. You want to go paint every one of those squares? That was the old solution. So the new one. I'm gonna grab a local adjustment brush, paint the shirt. Okay, sure, it's painted. Do you paint outside the shirt? A little bit sure is painted. Now I'm gonna change. Change the range mass to color. I'm gonna change the exposure Really egregious so you can see what it's gonna grab. Grab the pick one and I'm gonna grab the blue. So I grabbed the blue and now if you look, I'm basically changing the color of that blue part of the shirt. But none of the rest of the shirts being impacted. And I want to do this color blue as well. So I'm gonna click on Shift out there and now I've got control of both of the blues, but the blacks stay with the right and the grace. Stay with the red. I didn't have toe select anything. I didn't have to have anything. I could come in and make that subtle adjustment on that shirt. Drop that down and I actually could draw more attention to the face and the brightness of the shirt so I could make some editing decisions based on color. So that's how I would use actually in an application, the color range. I want to come in and selectively work just the color on that shirt, you know, Or if he had on a red shirt she's got on the pink shirt I could come in and just the smoothness on that range. Master Target. Just his shirt. Verse her shirt because I can't use the HSE l slider in that case, because it's grabbing everything cages sells red and pink everywhere. This allows me to come in and target red Onley in the adjustment brush. So workflow wise, that's the workflow. If I need the luminous masked the color mask, it's in those regional and local adjustment areas
Class Description
AFTER THIS CLASS YOU'LL BE ABLE TO:
Build an efficient Lightroom workflow for organizing and editing
Organize your Library with Folders, Smart Folders, and Collections
Master Lightroom's image editing tools in the Develop Module
Learn to print and manage colors from Lightroom
See the latest updates, through the February 2019 version of Lightroom
ABOUT DANIEL'S CLASS:
Turn your Adobe Lightroom Classic CC catalog into an organized collection of images even Marie Kondo would be proud of. In this workflow-focused class, you'll build a streamlined, efficient workflow from organization to image editing. Using Adobe Lightroom Classic CC, you'll learn best practices for editing and organizing inside Adobe's Creative Cloud software, then build a workflow suited to your style of photography. Take advantage of the latest Lightroom tools and master a start-to-finish Lightroom workflow.
Beginning with organization, master Lightroom's catalog tools from essentials like Collections to premium features like template catalogs and import presets. Learn how to go from a mess of images to a catalog that's easily searchable.
Then, amp up your images with an editing workflow designed for both maximum efficiency and image quality. Learn how to use Lightroom's adjustment tools, from the large-scale global edits to the minute details. Daniel shows photographers how to radically cut workflow time while improving the quality of your images and the organization of your digital world.
Looking to master Adobe Photoshop Lightroom CC to edit photos anywhere instead of the desktop-based Lightroom Classic CC? Try Daniel's Intro to Lightroom CC for Beginners class, which tackles the mobile-friendly photography plan with 1tb of storage.
WHO THIS CLASS IS FOR:
Beginners new to Adobe Lightroom Classic CC
Enthusiasts and hobbyists ready to build a more efficient workflow
Advanced photographers that simply haven't found an efficient way to organize images
SOFTWARE USED:
Adobe Lightroom Classic CC 2019
ABOUT YOUR INSTRUCTOR:
Beginning his career working for Adobe's help center, Daniel Gregory is known as an expert in everything Adobe photo. The fine art photographer is certified by Adobe in both Lightroom and Photoshop, along with working as an instructor during Photoshop World. His classes cover all levels of Adobe photo editing, teaching newbies to professional photographers.
After working in the tech industry, Daniel switched gears for a more creative life working as a fine art photographer and educator, based in Washington state where he also teaches in-person classes at the Photographic Center Northwest. Hosting the podcast The Perceptive Photographer, he helps other photographers face the many challenges presented to the creative community. He now works with both film and digital photography and often mixes the two mediums, allowing the techniques and technologies to overlap. 
Reviews
I watched this course live. Really good!. Of course, I like all of Daniel Gregory's classes. It's a real treasure when one finds a really good teacher who thinks like oneself. I thought that I already knew Lr well so I was really surprised about how much I learned from this course. I learned so many ways to improve my workflow efficiency.
I was impressed by the amount of information covered in depth, and by Mr Gregory's teaching style. I'm somewhat new to Lightroom and found his explanations of its capabilities, and why you would use it rather than Photoshop for specific processes, enormously helpful. I especially appreciated his lessons covering printing. This is invaluable information. Great class.
This was a great course. Daniel certainly explains it well and in terms I can understand! Super worth it and learnt loads of new tricks! Great job!!