Adobe® Lightroom® Classic CC: The Complete Guide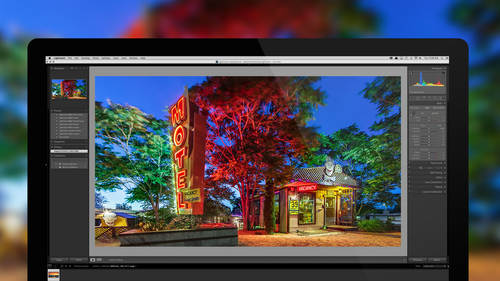 Adobe® Lightroom® Classic CC: The Complete Guide
Class Description
Welcome to CreativeLive's comprehensive Adobe® Lightroom® Classic workshop! Join well-known software instructor Ben Willmore to learn how to process and organize your images more efficiently, and have more time to spend capturing amazing images and running your business. In this 20 lesson course, Ben will cover:
Week 1:
Importing, Catalogs & File Management, Printing, Exporting
Monday: Bootcamp Introduction and Overview
Tuesday: Import Images and Customizing Lightroom
Wednesday: Understanding Catalogs and File Management
Thursday: Baseline Raw Image Adjustments
Friday: Creating Finalized Files and Printing
Week 2:
Cropping, Spot Removal, Organization, Sharpening, Transformations, Keywords
Monday: Organizing Your Images And Managing Projects
Tuesday: Making Your Images Searchable With Keywords
Wednesday: Fixing Isolated Problems
Thursday: Image Adjustment Techniques
Friday: Fine Tuning Your Image
Week 3:
Black & White, HDR, Panoramas, Image Searching, Slideshows & Books
Monday: Facial Recognition And Map Viewing
Tuesday: Adjustment Workflow: BW, HDR, & Panoramas
Wednesday: Organizing Your Keywords
Thursday: How To Find Any Image Quickly
Friday: Showcasing Your Work: Slideshows and Books
Week 4:
Troubleshooting, Workflow, Tips & Tricks, Advanced Image Adjustments
Monday: Image Adjustments: Start To Finish Workflow
Tuesday: Lightroom To Photoshop And Back
Wednesday: Basic Troubleshooting
Thursday: Advanced Tips and Tricks
Friday: Workflow Refinement And Final Summary
When you purchase this course you'll gain access to an enduring resource to build your skills. Ben will help you develop the confidence to use your imagination and create the images that you will be proud to share with your clients. You will also receive a workbook that acts as a reference guide.
Software Used: Adobe® Lightroom® Classic CC 2018

Reviews
I have been searching for something to help me with my images. I am fairly confident with my ability to take nice photos but sometimes they need help. I might actually enjoy editing now!
Fabulous! Ben is a relaxed and knowledgeable instructor with a voice that is wonderful to listen to. Really enjoying learning Lightroom from him!
Great course In day 15 the tips about the use of Time Laps is well worth the course cost. Buy the CL series NOW as you will need to watch the series of steps several time to master changing the slide duration time in case your want a duration less the 1 sec. Ben provides some of the best training there is on Lightroom and PhotoShop