Adobe Mobile Drawing Techniques
Class Introduction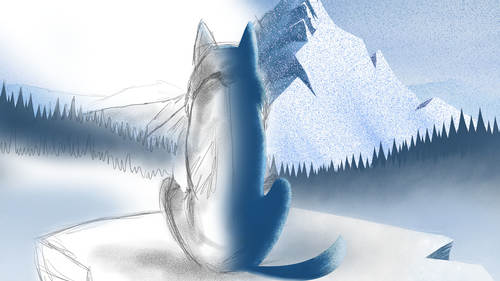 Adobe Mobile Drawing Techniques
Class Introduction
Lesson Info
Class Introduction
Just to give you an idea of some of the things I've done inside of this, I've been working at Adobe for a number of years, so I kind of put most of my career on hold in that regard, to some degree, and ramping that up back again now. But some of the things I've done inside of this app include the thing you're seeing on screen now, which is me doing some mobile wizardry. The area in the middle here is left for titling, and this is one of my cats, Bilbo, who's been drawn on the iPad and is now holding the Apple Pencil and coming out of the iPad. Here's something I did for Illustrator's 30th birthday in Illustrator Draw, so both of the two files that you're looking at there have been done, at least to some degree, in Illustrator Draw. This is 100% Illustrator Draw, so this is a vector file. I love drawing it on here. I've used my own drawing techniques on here. It is 100% vector, that file. No rasterization in there at all. This is another hybrid, like the first one, so this has got part ...
done in Illustrator Draw, part done in Photoshop Sketch. So a bit raster, bit vector in there, too. This is another 100% vector file here. This is my "owlatron." For some (laughs) I keep drawing these things. I've drawn them for years and years and years, and I don't know, I just like the idea of them. I don't know why, because owls could be cleverer. This is the "fangler fish" that I've drawn for a few occasions. Used this in a few different places. Well, it's a good, fun angler fish with big fangs, hence the name "fangler fish." This is a cartoon, a simple cartoon of Bilbo dreaming about snacks and at his next meal, which is (laughs) pretty much all he does. He comes in every night, comes into the studio, where he has his own chair and his own bed and sleeps there all day and then goes out all night. But I imagine this is what he's like around breakfast time. And this is a slightly different version of Bilbo. So this is basically an illustration project I did about 20 years ago. I did a series of, of quirky cats, and I sort of reinstated them just a short while ago and started doing them in Photoshop Sketch, and I'll be doing something like this today, so you'll see some different brush techniques in there. It's a nice, easy one to do some brush techniques with, and texture. This is another Photoshop Sketch project here, so this is a vector file. There's actually a few different versions of this as part of a wider project, but that project's still something I'm working on, Here, I quite often do odd sketches that I put on my Instagram. Here, this is one where I started doing a series. I was trying to do the 100 Days Project, but frankly, too busy (laughs) to do the 100 Days Project. This is what it's like on Friday. I actually get up from my Wacom, and my dog, Jesse's always there. I've got another dog, Roxy, she's not so bothered, but Jesse's always in my studio. And this is Bilbo and Tilly on the side there. Bilbo's celebrating the weekend, and Tilly's just about to attack him. I do lots and lots of things like that. This is something I did in response to a message on Twitter from the cartoonist, Jon Burgerman, who asked me about mobile drawing. You might be aware of New York-based Jon Burgerman. Great guy! Really, really nice guy! And rather than just write him a tweet back, I thought, you know what, it's raining outside. What I'm going to do is I'm going to draw you something, and I then ended up drawing things for loads and loads of other illustrators as well, so. And there you go. And then I started exploring things with watercolor brushes. This isn't a finished piece, but this is just some exploration of the potential for the watercolor brush in here that I was testing out against the pencils in there. I'll keep that in. This is another cat thing. This is a bit of an exploration in texture here, as well. So there's a few different things going on in there. I'm going to talk about stamping textures and making repeatable elements in this class. Something I demonstrated with the texture thing is a sort of Modigliani-type picture here with plenty of texture and some brushes that I generated. We're going to talk about brush generation throughout the course, also. And we're going to look at some of the things I used to build that out. And finally, this is something I did at the weekend, actually, this weekend. This is a picture of a model Jeep that I made, I don't know, about 25 years ago. It's a tiny, little Tamiya kit that I made, and it survived through all of my various different house moves, and I love it. I protect it now whenever (laughs), whenever we move. Hopefully, we won't move too many more times, now, but. So this is something I was working on for an hour, and again, it's a bit more of the exploration of texture, there, getting in and adding some grit to these things. I've kind of refined it, and it's a bit dark at the moment, so I'm going to lighten that off a little bit and work on it, but you'll be seeing that, too, so... If I come out of there, and go into Photoshop Sketch, I was just asked to set up a little bit of a drawing, or draw for a moment or two before we started here, so they could get all of the lovely camera angles right. So hopefully, you can see everything nice and clearly here when I start to draw another one of my quirky cats. There, like so, so this one of course, is about to pounce. And I'm using a custom pencil there. There's a few other projects in here. You can see I use it quite a lot if I just come out of that for a second, there's tons of different things in here, things that I've had on Behance that have been appreciated many, many times. But you can see I've got lots of things in there, some of those illustrator responses there as well. That's the illustrator, David Cousins, who's working on the Falling comic at the moment (laughs) and that's, that was the precursor to ending up with lots and lots of different things in there. The Christmas card I sent to my friends this year, based on something, again, I did awhile back, just to revisit that.
Class Description
Adobe's mobile drawing tools are amazing! If you combine them together and with the other mobile tools, they're AWESOME! In Adobe® Mobile Drawing Techniques Tony Harmer will show you how to get started, along with a bunch of tips and tricks.
You'll Learn:
To discover mobile drawing on phones and tablets
How to combine apps to achieve the results you want
How to make valuable assets using your devices
Don't be Intimidated by the range of available drawing tools, In Adobe Mobile Drawing Techniques Tony will take you through the best software, tools, and methods to create amazing illustrations to use in your professional designs. 
SOFTWARE USED:
Adobe Illustrator Draw 2018, Adobe Capture CC 2018