Adobe® Photoshop® CS6 New Features
Tilt-Shift Blur Filter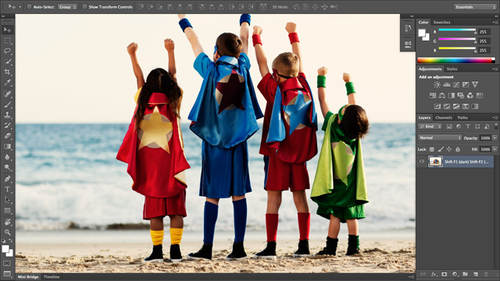 Adobe® Photoshop® CS6 New Features
Tilt-Shift Blur Filter
Lesson Info
Tilt-Shift Blur Filter
So the next thing I want to show you is the tilt shift blur filter, and I'm gonna open several images here, so we'll start out with masked man so here's our before and here's our after and the tilt shit filter mimics the look of actually using a tilt lin's if you can imagine a tilt lindsay's, a bendable camera, lin's casey, khun bend and all kinds of wonderful ways to control the focus points which parts are in focus in which parts are out of this of your shot and when she'd get that lindsay in just the right position, let's say, I'm on a curve it to the left and then up or to the right and then up, then you lock down pins that keep that bend stationary while you shoot and so it's really interesting they're kind of expensive these lenses, I think they start around the three hundred dollars range, so they're not exactly what I would call an impulse buy so it's fabulous that we've got some of that functionality here in photo shop. Now I'm not saying you can create every effect that you c...
ould make with a lens baby, which is the most popular tilton's and here in father's shop with the new till shift filter, but you can certainly, if you dabble in it. You can certainly create some really neat effects and it's also a great way to make a cityscape looks like a miniature, which is what we've done over here with our photo of dubai she's really need going along with the superhero theme, it looks like another planet, doesn't it? I mean, the architecture is so vastly different in modern from what we we have here in the states that it looks like an alien world, or maybe all of our super heroes actually live. Ok, so let's, take a look at how to use the till shift filter so again, duplicate our layer so we don't harm original photo go to the filter menu, choose blur and till shift this one. For those of you who are going to tune into our camera raul workshop on friday, this looks like a whole hell of a lot like the graduated filters in camera it's, nearly identical. Ok, so you get the same kind of controls that we've been looking at this far. You get a blurring, you get a pin, you khun drag to move the the blur or the infocus parts around, and you've got your blurring that lets you change the strength of the blur, but with the tilt shift filter, you get several more things you get these white lines. Kate directly above and below the pen and the blurring in these white lines, or called focus lines, anything that is inside those lines is not being blurred at all the area directly outside of the white lines in between the dash line, that is what I do, because the transition zone, so that is the area for the blur, is beginning to be apply, but not yet a full strength, and, of course, the areas outside the dotted line or dash line. Rather, those are at full blur strength. You can rotate this on image control by simply pointing your cursor falls a little bit see quincy, pointing your cursor at one of these two white dots that are on the focus lines, and they need to simply drag in a circular motion tio rotate it, and you can also see that I can alter the wif of the part that's and focus by just clicking and dragging them up or down, so we'll zoom back out so you can see the whole thing and again to temporarily hide these on image controls, no matter which blur gallery filled. Sure, you're using president holding h key, it gives you an idea of what your your image is going to look like, and these focus lines move independently, so they don't, they're not watched together like the feather handles in the iris player filter if I want, uh, this area to be more and focus and I don't have to move that other pin, okay, so I can move them independently to really produce the kind of effect that I want. And again, you had the same boca effects panel over here on the right hand side that we don't really have good highlights to use it on this one list, we want to blow out his face, which would be weird, and then, of course, press ok when you're finished and photo shop applies the filter for this image I really like I really like the effect on it makes it a little bit more moody and instead of just looking at the shot, not only do I noticed the mask, but I also noticed the guy's hair because it's so spikey it grabs my attention, but if you apply created blur like this, you can take areas that might be distracting in your photo, and just not that you're removing them, but you're removing your viewer's attention from them in a very subtle and classy way and like that a lot. So let's, look at that on another image so here's our before and here's our after it's a nice shot but adding that creative blur just really makes your eyes go straight to the subject. So we'll turn that layer off, duplicate our layer by pressing commander control j choose the filter menu, choose the blur category and then choose till shift here again we can move this pin around way can increase the width of the area that's in focus and if we point our cursor at those two handles, we can rotate that blur in depending upon the strength of the blur that you introducing creates a really wild look in the fix there's just no end to the creativity with these filters any questions until the shift excellence and now let's look at it on our picture of dubai over here go and say ok on that one I said earlier that the till shift filter is also great for making cityscapes looks like a miniature we're going to see a little bit of that on this one, so go ahead and duplicate the layer she's filter blur till shift and this one I like to rotate and uh this direction and I like to make it so where this metal part of this building right here is bored because it produces a really great speculator highlight if I don't know who all can see the framed image on the wall but it's really it's really cool looking all right, so I'm gonna grab the blur ringler just a little bit more and now we're going to grab our light bookie slider boca boca drag it up aways introduce a little color into those highlights see the change watch the speculum highlights towards the bottom right another pretty much white but as I drive that boki color slider we begin to introduce in color. So do you play to play around with that? And then of course press and hold the h key to hide the controls momentarily, I think it's an ultra cool effect and I cannot recommend it enough on your own photography with your favorite bottle of one or your favorite other beverage on a friday or saturday night give yourself a least a couple hours play it's a lot of fun, any questions on the till shit filter from the great interwebs? Um yeah pick puffin from portugal asked can you also make a perspective correction like on a really tilt shift lends? I honestly don't know I haven't tried that so thanks for tuning in from portugal my husband and I had the pleasure of visiting your fine country back in november of two thousand ten and I did a government training class for photo shop size I talked in lisbon for three days and it was a wonderful experience we loved the food and the cheese and the wine it was fabulous cool have not been to portugal to uh let's say I am scrolling through these questions claire are a has asked is space between the solid line and the dash line fixed when using tilt shipler you can you can adjust this using a little white handle here and you can grab the dotted lines and dragged them out so there's no into the variations on this can you see square to can you add pins looking till shift yes so that would produce even more interesting effects so you can have yeah you can keep adding pins you get the same kind of of controls see what I mean friday saturday night another anything that you khun d I mean isn't that amazing? I think that's just incredible I love that there's the before there's the after this really need another anything that you can do with these filters is you can create brand new backgrounds just using the boca slider from the filter case so let's look at that mister you show this beautiful background guess how I made that that's all the focus slider that's it that in the blur ok, so here's another cold background that I mean you guys won't believe the original photo that I'm used for those two backgrounds so I'll turn off the backgrounds and then I'll turn on the super secret ones here so one of them was a patriot pastas and the other one was a picture of grass not something it's really amazing so let's take a look at that so what I've got here, actually, I need to rast arise the's layers so I can run those filters because I had brought the images in a smart objects when I was playing around. All right, so now, let's, start with the image of the hostas I'm going to duplicate it cause I don't want to mess up my pretty hostile case I don't have to, so they were going to go to the field, herman, you choose a blur and for this one get probably the deceives filled blur. But you could use any of these blurred filters, obviously, and you get a little bit different effects from all of them. So I'm gonna go ahead and blur the heck out of my hostas and even just doing that makes an interesting background right before we even ad speculum highlights. So now I can come over here to the live oak a slider, and I can begin to end thirty some really interesting things. So not only do these filters let you create shouted at the field effects, but they let you create brand new backgrounds, so we'll say ok to that one photo shop applies the filter, I think it's hysterical that was hostas. Nobody in a million years guessed cinderella's turned those off another weird, weird little thing about me is I'm an avid perennial garden gardner I have the most beautiful perennial flower garden you've ever seen in your life it's magazine, where the sochi but it's funny because it's it's about half the size of this floor in the studio it's very, very small three kids have a lot of hostas so here's our grass image so I'm on the right layer. I'm going to try it to the filter menu choose a blur and we'll just to fill blur again and I'm not dropping any other pins because I want to blur the heck out of the hole photo and then come over here and introduce um broke into the mix I mean it's just so much fun like ok, and you would never know in a million years that that background was a photo of graph yes, sir. Yeah, my minds are already spinning and and I'm getting some ideas on, um, how I can use this and one of my question is, how can you import? Two pictures are three pictures on three layers. How'd lang get going in? How did I bring them in the picture? Oh, great question you could do in myriad ways you could copy paste, so for example, if I wanted tio put mysterio in dubai, I could simply come over open this image uh, select all case of to see select all orders press commander control a few get marching and surround the whole image and it's a copy paste situation at this point she could choose edit copy come over to the other document choose at it paste and because this document is much larger than the other one we're not seeing the whole thing but I can fake it real quick and use free transform toe show you that one there we go. So now we've got that other layer within the same document. Another way to do it is to drag layers between open documents to do that you need to be able to see both off open documents at the same time so you can use the window, arrange menu two telephoto shot two tile or display several images where you can all see them and if those toppled is rearrange your work space until you can see them okay, so I could I was click on this image to activate it. I could drag a layer from here into here see how the edges of the window see how they're highlighting a little bit that lets you know that you have indeed activated that window is your target so now I could let go of the layer and again because you know the mysterio image is so much bigger then a dubai image that's kind of fun team there are several different ways to get multiple images on their own layers into the same document another way is to use the file place command and that will bring in the image as a smart object automatically so that's helpful if you know you're gonna experiment with re sizing of that that layer or if you're going to run filters on it, that kind of thing other questions on till shift or creating new backgrounds using the book a slider I think we're good thank you can move on people right excited and and just so you know how I created that mysterio what I did was I used type work. Okay? So when you set tex okay when you grab the type tool and you click and you type your text this little type warp I call it appears in your options bar so you can give that a click in the open of this wonderfully fun dialog box that lets she apply all kinds of whacked out shapes waves in all kinds of different things to your text so that could be that could be a lot of fun and the cool thing is your text remains editable so I wanted to change his name to anything else I could still edit that text and it would take on the shape of the work that the whole thing bonus tips that's what we're all about here created live this liam at least I have a quick question about the color of the boca. Is it always going to pull the color from whatever colors are adjacent to highlight? I believe so. Yeah, you're not gonna introduce a new color, but you're going to accentuate the colors that that are in that range. Yeah, absolutely.
Class Description
Lesa Snider returns to CreativeLive for an intensive 
Adobe® Photoshop®
 CS6 tutorial. Whether you've already upgraded or are still deciding, Lesa shows you practical yet non-destructive editing techniques you can use every day. This 3-day course is a perfect companion to Lesa's previous 
Adobe® Photoshop®
 CS5 tutorial on CreativeLive. Lesa dives further in-depth into advanced filters such as Puppet Warp, Liquify, and Lighting Effects, which all take advantage of the new processing power of 
Adobe® Photoshop®
 CS6. Lesa also spends a full day covering 
Adobe® Photoshop®
 CS6's brand new video features.
Software Used: Adobe Photoshop CS6

Reviews
Lesa's methodical way of coaching is done with ease and clarity. Together with John Greengo and Sue Bryce, she is one of my favourite mentors in CL. I purchased her CS5 and even before finishing it got the CS6 intensive class. Now Photoshop is no monster to fear but a powerful monster to create impact-fully beautiful photos. Good for both beginners and advance users!