Use Google Images to find your Image Before Retouching
Daniel Walter Scott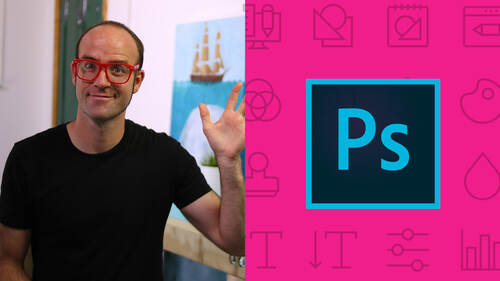 Use Google Images to find your Image Before Retouching
Daniel Walter Scott
Lesson Info
60. Use Google Images to find your Image Before Retouching
Lesson Info
Use Google Images to find your Image Before Retouching
Hi there. This video is just a little tip to do before you go off and start retouching and like in the last video use content aware fill to remove things. A client of mine sent me this and they said, hey, can you show us how to remove it? And I said, yeah, it's super easy. You grab the rectangle tool and you drag across it and you go to edit fill and this one's going to do a particularly good job. It's gonna be fine. Ish Okay. In that case it wasn't the best. It's okay. I could go into a different selection and try and fix it up but they're just going to be times were like actually this looks like a stock library image and I've got some text burned onto it or in that case a logo. What you can do right is you can take that image. I've got it here in my own nine retouching here. It is example spelled badly. It's ex maple and I've got google images open. So on google images, I can click this so it's images dot google dot com. And I can go to search by image. I can say I would like to uplo...
ad an image please. I'm going to choose the file, I'm going to say x maple and then click OK and google images is amazing. It's going to go off and try and find images that kind of look like that one. And because it looks clearly like a stock library image, it's come up with images and you can see it's actually being used on quite a few different websites. What we're gonna do is we're going to click on this, find other sizes and basically you can see there like I was just like, here you go. There's that image. They had the rights to use this image. They paid for it. They just somewhere through the process had lost the version that didn't have the graphic on it. Now, what they can do is one or two things they can download this particular one. Okay, this is a nice big quality. Once 300 pixels why it's the largest one there. What I tend to do is hover above them. And just so you see this, you are all here. Often eventually you're find has been used on so many sites. I'm trying to find like a stock library image site. Okay. Something like stock dot adobe dot com or in vado elements. Shadow stock, what else is there? I stock. Okay. I'm just looking for all these stock library images where I could go and buy it. Okay. They probably got a really big version on there or I'm going to grab this one and once it fully loads I can right click it and I can save image as now again we had the rights to use this image. So well, basically I'm not a lawyer, but you get the idea right. It's a great way of finding images without the jungle oriana, it or manipulations or it's just a really small image. Okay. And, you know, you've got the big one somewhere, but you can't find it, dub it into google images and go find it somewhere else. Try and track it back to its source, the photographer or the stock library site that first sold it and buy it from there. All right, just a little tip. Let's get on to some more retouching.
Ratings and Reviews
Adobe Photoshop Fundamentals is very useful for a photo editor. I learned very important tricks from this course.
Student Work