Perfect Wedding Portraits
Shoot: Bride Portraits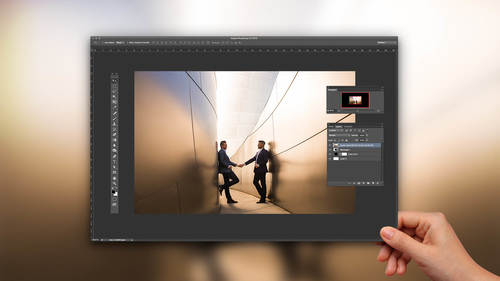 Perfect Wedding Portraits
Shoot: Bride Portraits
Lesson Info
Shoot: Bride Portraits
when we're shooting in this area and we're shooting the groom, I kind of want to go for a more dramatic sequence of images. Right with this, I want to go for something a little more soft. Now, I can put a flash up. I could do that. I just need to modify how we did. I want to show you another type of light source the ice light, which is a fantastic thing in the tool kit. This is nice because we're talking about now a constant light and with constant light. The benefit is you just turned on, get to your power setting and go. So all we have to do is just kind of hold it and what we're gonna do is Max gonna bring us over and let me just mention while I'm kind of moving things that there's Ah, the ice light is like, I think it's like 4 500 bucks. It's it's pricey, it's not. It's not an inexpensive piece of year, but there's, ah, a lot of, like debate about, like, cheaper alternatives Now, first of all, usually the cheap guys are rip offs. There actually patented these air patented products ...
so anything that comes out that's like that is a rip off basically. And what you want to be aware of is, if you're buying a light, that's 100 bucks that thinks it does this. It really doesn't. It looks like a light, but the difference is the c r I c r. I is the color rendition index. What that means is, this kind of a light is gonna put out a much cleaner light. It's gonna look like daylight, as opposed to a light with a CR I below 90 or whatever it is, that light that comes out is gonna look green. Okay, you're gonna get muddied tones. It doesn't look good. So a lot of testing goes into these to make sure that not only is a durable but the CR rise above 95 97 there really ridiculously high. So that's the benefit of having like something like this. But what we'll see is if we hold it. So we have this little barn door was just kind of helps to It does what a grid would do, right? Kind of. It just funnels the light forward a little bit, but we can do it without and as we adjust. If we go this way versus this way, we get two different types of light. This is a softer light. Why? Because we're whiting the edge of it. This is more of a vertical light that goes top down almost like a strip box, like, Okay, So I'm gonna have you actually go this way. And what we're gonna do is can I also get ah, Apple box flown out. I'm gonna have you stand on the apple box in here. Yeah. Okay. So what we're gonna do now is let me go ahead and switch off to an 85. Okay? So thinking about this scene and what would work best with this scene? Well, again, we have this kind of nice, bright look in the background. It looks fantastic. So let's go off on that for just one second. I'm gonna go ahead and just kind of lets get our settings right first and give you guys a couple test shots here, so I want the background to be fairly bright. That's cute. Hello? That out whips. Let me turn that off. Just pop this off for now. Okay? So what I want is I want my seem to be fairly bright I'm at 102nd F 1.4 Isil 115 100 degrees Kelvin. The only thing is, I need some attention drawn to her, right? Everything else is so brighten the image, but her face is dark. And so we take that test shot so you guys can actually see That's where we want to bring the light in. The difference this go around is that I'm not gonna modify this to look super dramatic and super dark for her. I'm gonna choose a brighter kind of mawr airy look to the images because most of our bride is really funny. Most of our groom's wana look debonair, dramatic, powerful. You know, they wanna have that look they want have they always say, Like I want those really epic shots like That's the word of the most of our brides want the soft images. They want to feel feminine. They want that look, so there are bribes that want the more edgy kind of hard light. But for the most part, I would say they go with the softer look. So we're gonna shoot that we're gonna go for the software. Look with her shots. So what I'm gonna do is let's adjust you just a tiny, tiny bit. I'm gonna go ahead and move this first and let's adjust. You come down for one second. Andi, I'm Persian, So I say level on. Just sorry, Kurt. I'll hit you up with some loves next time. So yeah, that's my thing. That's great. So there's a big black bar that goes to the center of this background. So we're gonna try and do is I'm gonna for some close up shots, focus more on this piece. And so what I'm gonna have you do, my dear, is turned towards the audience. There you go. And I want you, Teoh kind of have a nice kind of drop to the step. I know that. That's a really small platform. Should we? Why not? Oh, I thought you meant like you're gonna make even higher. It's like raising the stakes if you OK, so you're going to kind of step and then let the back kind of arch. And what we're gonna do is we're gonna show the curve of the back. I want this right handed drop back Usually she has a bouquet. I'll have her hold of okay with the left hand and let it hang to the side. And I want you to look down and towards this side perfect. Just like that. Okay? And I want to see your right arm, so it looks like you have a right arm. So from my angle, if I take the shot guys, you'll notice I got tangled. I'm all tangled. I don't know why I do voices, guys. It's kind of my thing. Okay, There you go. So if I If I pop this shot, you guys gonna notice it Kind of looks like she's missing an arm. Okay. And like she's angry at me, Don't be mad at me. It's OK. So what I want to do is kind of reveal the arm. Now she is perfectly slender, but what we want to do is make sure the arm positioning is flattering. Now again, you don't have time to go over this entire thing. But the Incredible Engagements has a full section on posing. We're gonna put her arm across kind of the body like this. If she has a tummy, we probably want to avoid that? Because anywhere the hands and the fingers go is where attention is gonna be drawn. Right? So you wouldn't bring your hands to the belly if you didn't want to feature that. Unless, like, it's, um, attorney shot again. We want a feature that isn't a maternity shine. No. Okay, so let's just try this. That's going to get more awkward before gets better. Trust me. Okay. Uh, now, bring the fingers kind of clothes, like, on the right hand. So I kind of let it be soft and let it almost hang down a little bit on the body a little bit. There you go. Look down to that side. Perfect. Perfect. I want you to relax your right shoulder to, so relax down. There you go. Okay. Now, let's go ahead and add in that light, John. Okay? And I'm gonna have that light I want to go for, like, this soft kind of Rembrandt light. Let's go from right about here. Now it's it's lit flat into her face. But think of my angle. My angle. That's actually a very dramatic angle for the light, right? Because on my angle, I'm shooting from this profile. Okay? So now look at me when you bring the chin down there you go on a soft smile with the lips Perfect. And I want you just to turn the body little and relax the right hand. Actually, let's relax the right hands and bring it off the body. There you go. Just like that. Bring the chin down, smile towards the ground a little bit. There you go. And put the right hand just on the dress a little, like, almost like you're holding the dress. Little. There you go. Beautiful. I like that better. Okay, now we don't have to worry about Flash, and we've kind of matched that soft daylight look while fixing the attention. Right? So now we've drawn attention into her, and I'll go flip back and forth between these. So look at these two. Okay? So do you see how darker faces now, we're kind of bringing that up a bit? We're matching those out. Okay, so let's keep tweaking this. Oh, dear. I want you to go arch the back. Bring both hands right to the front like this. I want to get a shot of you looking down so we can kind of see the veil training behind you. Is that a word training behind you? It is now perfect. This is like a very industrial scene, right, guys? But we're still making this scene look fairly soft and camera with that super shallot. The field with the right kind of lighting exposure. And then I don't want kind of a softer actually. Go behind. What if we went behind the back? That's cute. I like that. I love that. Bring the chin down into my side A little bit. Kind of rotate a little bit there, Ugo. Soft smile towards the ground. A little bit beautiful. Once you bring the eyes to me so turn open up a little bit Enemy. There you go. Right there. Really cute. Let the right hand drop and be against your side and let the left hand drop to so left hand. Kind of drop. Right hand kind of comes and holds onto the dress from your right side. There you go. Right there. Beautiful. I love that smile. And there it is. Or just look down as you're laughing. Beautiful. Okay, let's see what we done with this natural frame. So that's why I had him grab an apple box. If we have, like a chair, something to stand on, oftentimes I'll put the bride up. And one thing I want you guys remember is my height. I'm still shooting down. Like if I get close, I'm still shooting down on her. What want to avoid is getting close, putting her too high and then going up. So I know a lot of, you know, our our female photographers. They're gonna be a little bit shorter. It's It's a great idea to take around a little stool with you, like a little. They're like £2 stools you can buy that gets you like two steps up and take it around the shoots because it will really help toe get higher. We never want to shoot up on somebody because it's it's just unflattering, right? Unless it's a guy, I want to make him look powerful and dominating over the frame. But for girls is generally going to kind of unflattering. We're gonna go into the nostrils. It's not something that we want really feature. I don't want to drink. Maybe, yeah, it's a little bit sure why not? Okay, lets play around a little bit. I'm gonna go onto one my favorite lenses for showing off the details. So we've kind of gone. Ah, Semi. Now again, If we were in a hotel room or somewhere else, we're gonna generally shoot through that doorway. We're gonna shoot some sort of a shot. We can kind of set the scene with her dress and everything. We can still do that. We have time, but I want to get into the details right now and shoot some of the details. So I'm going on to 100 million macro and whether she's wearing the dress or not, I like to go in close. And when you bring your hands just to the front like that, I'm just shooting the detailed address. So I just want to get some of the lace kind of pieces. I'm gonna go ahead and look at my exposure live You hey, cheat when you can't, right? It's my rule. Don't tell my kids. I said that. That's okay. So I'll take little pieces of detail. Shots. Um, like this again? We're thinking about this story, right? So in an album, this actually makes a nice little square cut out to show like the lace will show the lace of the veil So I'll just kind of bring that open a little bit. I'm giving my my my album designed people things toe work with up Do we lose? Perfect. There we go. Okay. Simple little pieces. So we're just at 1 of a second. I so 400 to 8. Right now. Now, I'm gonna go for the makeup. John, can I get Oh, you know what? I remember? I said I'm totally gonna forget to tell you guys this Could we turn off these lights above us when I walk into a hotel room? One of the first things that I'll do is if the lights above us don't look good. We ask them just to shut him off. Just so we have nice, consistent lighting. And since I'm bumping, you're not gonna notice this kind of stuff with him. Right? So if I go back to these with him, why don't we see it? He has no Why don't we see the yellow coming from those lights? It's well, yeah, distance. The lights is kind of soft, but the main reason that we don't see it is because we are. We're adding so much additional light. So we're exposing for that flash that we're adding, which is so much brighter than those I started noticed in the yellow right now, because now we're balancing to brighten the scene. And once we did that, I started seeing yellow cast coming through on her skin. And then we go, Okay, the lights are on. We need to put them off. Okay, so when you're flashing, it's not as big a deal because you're overpowering those lights. But when you're not, then it becomes an issue. So let's go back to the set. And so you can see that yellow cast. I was like, Why are we getting a little bit of yellow on the skin and then? All right, let's grab the ice late. I love those, though. There's they're adorable. Can you see it? You like it good? She has to say that it would be terribly like No, not really. You look amazing. Okay, So what we're gonna do is I want to get some shots now that focus on the detail of her. So I want that toe come to the front. Let's hold it like this. And there you go. And let's actually bring it more towards my side. Perfect. Okay, I'm gonna show you guys this, and I'm gonna show you guys the poor man's version of this. Perfect. Okay, look down. Perfect. I want to focus just on the dress details. So bring the hands. Okay, let me let me take a quick shot, Guys. Look down a little bit. Soft smile. And by the way, I would never I'm just gonna point something out. I would never do this on an actual shoot, obviously. But, um, you're my model, and so you're you're flawlessly skinny. But anybody, anybody that's doing this is gonna have this arm thing going on right here. If I have the arms crossing the body, you just move. This guy hopes that's not what I meant to do. So what we want to do is is just a just a little bit of ham positioning. So I want you guys to think of all the different areas of the frame as you're going and get me shots. Your focus is is her and her makeup and so forth. But you still need to watch those corners and edges of a frame. So we're gonna do what areas? Bring the hands kind of the back a little bit. There you go. Perfect. And maybe like do. There you go. Bring this hand, like, right to the sign. Just leave a little bit of space right there. Perfect. Look down to this sign. Perfect. Bring that light. And right there. Beautiful. Okay. And show me behind the back. That's what they keep. Beautiful. Okay, I'm gonna go crop a little bit wider. Soft smile, okay. And then this is where I would go. Let me get in tight for a makeup shot, and I'm just kind of shoot this close up her and then one shot of you looking up towards me. There it is. Beautiful soft smile. Be really careful. This she has. I wanted to show this because she has a low cut dress. If you have a low cut dress, it can make them look nude if you, uh, crop it all out. So just show a fringe of the dress in the frame. Cool. So I want to show you that, and I want to show you. Well, there are ways like we try and teach you guys that you know, tools like this make our lives easier. They make like they did surgery. That's what nicer gear does is it simply makes your life better. But we can do it any way we want. And that's why we try and teach you all to master Lighting because this is my reflector and I've actually had this for a long time. And they recently released the Westcott Omega. So I have a silver and don't have a silver with a Peeping Tom. Right? So it's a shoe through, uh, reflector. And so what we'll do is I will actually bring her. So I'm gonna say, Let's come off the apple boxes for one sec. I'm just gonna do the rest. Of course, like this, if that's cool, you think it's good, right? It draws attention. My face. Okay, so let's have you step back to the That side actually saw a really cool tutorial featured recently. I think I saw it on Peta pixel. A guy had a reflector, and he cut a tiny hole just for the size of his own lens, which it makes it so you can't really move around much inside of this area, but he was holding it himself because he could less arrested on the line. So that's another way to do this. So but this is the guy I have had for a long time. So what I'm gonna do is bring this up close. And I love the look of this. Has it Looks like this Close up soft beauty. Look. And can you see this? How much light is putting on her? Can you guys see that? It's crazy, huh? Tip number 295 baby. Okay. John, can you hold that right there? Yep. Totally, but yeah. Yeah, it feels great. Just try it. That's flowers right there. I love that. So I'm going to go to get a quick little balance here, and that looks gorgeous. I'm gonna leave this fairly bright guys because I wanted to be bright, so we're gonna leave it. There you go. Right there. Done. It's perfect. I love that smile. Gorges looked down into the right side a little bit. Look down here. Right there you go. Right there. Beautiful. Lift up a little bit, John. Right there. Perfect. That's fantastic. And then from right there, bring your eyes in the camera. Give me a little laugh. Perfect. Ah, what did this disconnect or is just slowing down? Okay, you have a question. Any questions? Sure. We can get Earlier, we had asked if somebody had asked if they could see you actually holding up the prism like, See where you are in terms of It's a beautiful shop. There you go. The prison relative, the prison relative to the lens. Got it. So yeah, like usually what I'm doing is you take your head off, you take the hood, offer reverse because you need to get it right up to the glass. Generally going to shoot these a low aperture. So any between, like, 12 up, 2 to 8. Okay, so they're great actors. If you go to high, it becomes too and focused, and you kind of tell what it is. So just bring it up and you're gonna close off like a side of the lens that your side of the image that you don't wanna show and then you gonna rotate this. The interesting thing about a prism, any one that you use is that you're actually not seeing What's the surface that's close to you. You're seeing the opposite side of the edge. So when I hold this right here, I'm actually seeing where my thumb is. Okay, so that's the reflection. I'm gonna kind of angle in a position, and then I'm gonna get a little focus right here. Smile. Former day. That's what I'm talking about right there. Okay, so you just bring it any move it in and out. Teoh kind of control. How much of the frame you're actually adding? Cool. Good. Okay, let's do this. So I guess we got to do that real quick. Again. Let's bring this up. And I want to see what it looks like without this. So let's go. None first. And then there you go. Love that. Perfect. Great. And now let's bring it up. Okay? I'm gonna just a little bit there. You got tilt right there. Perfect. Perfect. I love your smile. Perfect. Look down on the right side. Beautiful. Bring the hands the back perfect. And then just kind of bring it back a little bit, John. Right there. Fantastic. Beautiful in from right there. Given your eyes saw smile on the lips and now full smile and give it to me. The real deal. There it is. Perfect. Those are really nice, right? Like very simple and easy to do. Just take old reflector and cut a hole in it. Now people asked like, should I buy the Omega? I kind of like the Omega because you can put the whole back. So, like, I don't have to carry around a ton of reflectors. But I've had this forever. And so it's like, Why not just keep it? I like to save money where I can, but it's still a really cool product. So let's go ahead now. And I want to start working the veil a little bit, and so we're gonna switch out to a fitty. So you guys see how I'm showing a little bit address at the bottom to show a little bit that dress so we can actually see she's wearing clothes. Not me. The same boudoir guys. Gen. Rosenbaum will do that all day long. All right. Okay, let's bring, um We'll see how we do on on time. Gonna I got to keep moving about 10 minutes. So let's do this, then. I'm gonna demo these shots then, with Kurt in them. So let's do a couple of shots with Kurt. Let me actually let me do one other shot for just feature her. I forgot to get this real quick. Real quick. Real quick. Sorry. Okay, There's a couple of, like, really nice shots that I really like doing that. I wanted to show off, not show off, because that sounds arrogant and conceited. Okay, so let's bring the veil over your head if they have a veil. I love doing the shot. It shows, like, close up detail. It's really fantastic. The trick toe making this shot look awesome is to get the right light on the veil. So generally you want the light kind of coming at sort of an angle, and you want little crimps in the veil itself. So, like, I kind of just tease it a little bit and get it to kind of pull in. Look down, my dear, To that sign, look down, straight down, like 10 down a little, you know, There you go. Perfect. Okay, so we're just gonna kind of tease a little bit, So we have a nice I'm making sure that her like one I that we're gonna be focusing on is clear. That the word? That's the word. Yeah, that's a good word. Clear. And then what we're gonna do is get in tight. This is one of those shots where sometimes I won't add light to it because it ruins the the light on the vale. Perfect. I love that chin down a little bit. I love that. Let's add a just the ice light and we're gonna go from the direction I go from the direction of the window just like that, just to give me a little bit of cross over into the face. Let's see where the exposures that bring exposure down by one little stop. Beautiful. I love that. I'm gonna do one brighter to just we have it. Same brightness. I love that soft smile. Perfect. Okay, the rest the veil work I'm gonna do You just make sure that yeah, the rest of el work I'm gonna dio. So the really cute thing to do is get her to laugh like, Well, she's in this. So, like, if you could just get now, she's just gonna laugh cause she's my She's my model, so it's really cute to get like a laughing shot inside of the veil. What I generally don't do inside the veil is have them look into the camera. That feels weird. Why? Because we have this foreground element that's coming over. And so if there's a foregone only coming over and they're looking into the lens, it kind of looks like they're like a fish cotton in it. Like I like I shouldn't be in here, okay?
Class Description
The morning of a wedding day presents a fantastic opportunity to capture great portraits of the bride and groom. In this class, Pye Jirsa will walk you through creating a beautiful, cohesive set of portraits from start to finish. You'll learn techniques for developing and retouching the image in Lightroom. Pye will share some of his favorite Adobe® Lightroom® presets and retouching brushes, and work on a few images in Adobe® Photoshop® to show how he keeps his editing time to a minimum.  
Software Used: Adobe Photoshop CC 2015, Adobe Lightroom CC 2015
Reviews
Very nice class and very nice instructor, a lot of information is presented in a cool and easy way, you will love to follow along with the instructor. Thank You.