Perfect Wedding Portraits
Shoot: Groom Portraits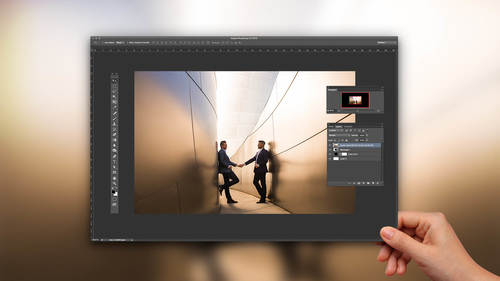 Perfect Wedding Portraits
Shoot: Groom Portraits
Lesson Info
Shoot: Groom Portraits
OK, so let's walk through this scene right here. I'm just gonna tell you kind of what I'm seeing. So going this direction, I have this beautiful backlit seen which would look fantastic as a bright and airy kind of a look. So when I'm thinking of, like, bridal portrait side go Hey, this is money right here. I can set up right here, do a little bit of stuff to modify, and it looked fantastic. This area is gonna need a little bit more work, like we have a lot of kind of plugs and kind of junk against the wall. But we have a good background. We have a light coming in from this side. We have a little bit of light coming in from this side. I know that if I place my subject here, most likely I'm gonna have to modify light, add light and adjust the exposure a little bit. But it's still a good background they could potentially use. I'm gonna show you how we can knock out certain things like plugs by using special effect type stuff going in this direction. Well, this is pretty much flawlessly go...
ing in this direction. We have a beautiful background. We have this kind of nice, uh, patina. It's a patina wall, right? I learned that later on. I was like, They have this cool wall and someone said, Oh, that's a patina. Well, it's a pity Noble. So these patina doors are fantastic. That background would look amazing. We have a beautiful flat light coming from these windows, so it's a very flattering direction. Want to shoot that way? So we had a lot of good stuff in here, and we actually have a nice background going this way, too. If we're to place like, say, a sofa right here and shoot against this side, that would look great as well. We have two lights coming in from each side. So what we always try to do is work to the scene strength and modify as as needed, as little as possible. Basically, the more we try and make this look like what it's not the worst. It kind of looks, you know. I mean, like like if we keep it just kind of make small modifications, it'll look fantastic. But if we try and turn a scene into something that it really isn't, that's where we run into a little bit of issues. Let's do this hurt. Come on out, buddy. We have our debonair groom. He's actually married already. And your wife in the back. It's gonna be awesome. Thanks, buddy, for coming up. Thank you. Were to do a set of portrait's. You look fantastic, by the way. I'm not just saying that. Okay, so let's do some portrait's. And what I want to do is I'm gonna decide now kind of the look that I want for Kurt's images. Ah, before we start shooting. So I'm gonna say for the groom a lot of times for the groom, I like to shoot a little bit more dramatic types of images. Okay, so I like toe have darker backgrounds. I like to have more contemplated type images. I like to have that kind of a look. So I'll try and set them up in a scene where we have that, naturally, if we don't will modify a little bit. So what have you do is stand right here and let's flip over to our tethered view. And I'm on a 50 right now, so let me just get a quick little gauge. So I can see we have that nice light coming in from that side, and I'm gonna step right here. We'll move the tender, take a little bit. Perfect. I'm gonna use my live you tips galore, Guys, Tips galore. Okay. Remember everything that we talked about, right? Everything we talked about in those 1st 10 tips we're going to reiterate and we're gonna work through as we're shooting. So what I'm gonna do is dialing and exposure. I'm gonna get to about Let's see what's looking at the history Graham I want to do first is I'm gonna actually shoot this so you guys can see the progression. Basically. Now, normally, I would just shoot the images that I want to get, but I won't get to see how different gonna make this scene look from start to finish. OK, so let's go ahead and get started. I went to 100 a second. I'm at I so 400 F 1.4 and we're gonna go to 5500 degrees Kelvin. I'm gonna take a shot. Now, this is going to read as prettied armed, right? Okay. Okay. And now my high level er is what tells me if you look at this close, you can see it's telling me a little bit of his face is knocked out, right? So I'm just gonna make a little adjustment. My history am didn't really tell me that it's the highlight Lor that told me I'm gonna make a little adjustment here. Okay, That's pretty name close. We'll go upto 1 This is that 1 1/60 and let me switch this to, uh, 1/60. Okay, but here's the my issue with this is that right now it kind of looks a little bit plane. When I look at the image, I go, Yeah, the red brick is a little bit too bright. I don't like it. Like I want this to look more dramatic and have a better feel to it, right? So when we start doing is actually doing a little modification, and the first thing I want to do is actually let's set our exposure for what we want the brick toe look like, so real quick. I'm gonna go down to I. So I'm just gonna use live you real quick and to see I'm gonna go out into probably I So 100. That's where I want. So 1 202nd at 1.4, and I so 100. This is what I want the brick toe look like. So this is what I mean is about thinking about the composition and the attributes. What do you want the scene toe look like. Now, when you look at this, it looks pretty darn dark, right? He looks dark. I mean, you go ahead and just go shift after we go full screen. There we go. All right. I need to bring him out a little, but the brick looks good. So this is where we go. Okay? Now that we have that dialed in, we're gonna add in our light. So what I'm gonna do is I'm gonna put a light right here, okay? I'm gonna make it a little bit higher than him pointing down towards him. I'm gonna have you take a small step forward right there and then rumor. Guys, we have this cool little button on here. Let's see if we can get that test toe fire. So I'm on a faux ticks. These are fairly inexpensive full feature flashes. This is set to channel to be. This is controlling channel to be were on 11 20 of the power. Okay, now, if I press this little button right here, guys, this is the depth of field preview button right here on the side of the camera. You can set this to do a flash preview when a flash attached. So if you guys see this as I press it, it pulses. Do you see it pulsing against his face? Look at it in the camera. Tips galore, people tips galore. Okay, so I can actually get a reading on where that light's going from. Right there. So let's put the zoom at 20 millimeters. I just want to take a little shot. I'm gonna have you bring the chin down to this side. There you go. I'm going to see where that light's hitting Perfect. Right there. Check this out. Okay, We get a nice look. It's not quite perfected, but it's better. Okay? It's a little bit too dramatic. I need to control the angle of the light. What I'm looking at right now is that I want to go for a Rembrandt light, but see how it's just split right off the eye right there. We're not quite there yet, and we have a little bit right here, but it looks pretty decent. The only other thing that I feel like is missing is I don't want this light as I'm looking at this like I'm getting splashed on the background and I think I actually want to pull the exposure down a little more to I'm gonna go down too low. I s O So the bricks even drops even lower. But the only other thing is is I don't want that light to spill everywhere. We can control that by controlling the zoom on the flash right now. Right now, it's set to 20 millimeters. But what I'm gonna do is I still want Even if I went to 200 zoom or whatever this could go up to, I think this goes up to 200 says it goes up to 200 thing is actually 100 something I'm gonna throw in a mag mod grid. This is gonna tighten up that pattern even more, and it's gonna prevent it from hitting the wall. That's what I want to prevent. I don't want to hit the wall. I wanted to just get him. So I love these because they just pop right on. I can see where it's coming. I'm gonna bring this over to this side a little bit more. Now. If you're looking at this, you can see it's on Lee hitting him. And I'm just gonna adjust the angle this down a little tiny bit. Wouldn't be also if I drop my camera right now. Not really. Not really awesome. All right. Okay. So, Kurt, what I want to do is have a strong open stance. I want you to kind of open up to the camera. Whitmore. There you go. I want to bring the chin down to this side. Perfect. Just like that. Let me see where that light's hitting and brother, I'm gonna actually bring this light over just a little bit so I can actually see where the light's hitting once I get is chain into place. I can actually move myself and just kind of see where that's going. Okay, I went down to a low is so so I'm gonna power this guy up just a little bit, you know, to 1 64th power. Let's check that out. That's what I'm talking about. Okay, so we got that Rembrandt light. Now, we just need the a nice expression. We need to put some action to it. We need to block out some junk in the frame. So I'm gonna show you guys my special effects kit. Is there a bunch of little? This is like tips galore. Right here. Look at this. Now, this is the typical prism. People like Sam heard They made these things really popular for photography. They're fantastic. I love using things like this. Like glass. Like people been putting things in front of lens for ever. If you watched anything Hollywood, they used to put gasoline over Lindsay's well over there like plastic, glass, anything. This is a piece of glass that is bought on Amazon that has a beveled edge to it. So I have a beveled mirror anywhere I go like super simple stuff. This is my favorite prism has my paperweight to this gigantic pyramid, huh? Amazon is going to see, like, all these sales of, like, prisms. What is going on? Why did Prism just become so popular for, like, five minutes? Okay, so this is part of this is like my favorite prison because it gives me a lot of surface area to work with. And it also looks like a snow cone. When you hold in your hand like this, it looks awesome. Or like a glass ice cream cone. Maybe some like that. So I can take stuff that I don't like in the image. And I could say current want you to go and adjust that. Like, Imagine you have a cufflink kind of adjusting. Bring the chin up a little bit. Perfect. Look down on the left side. Right there. That's fantastic. Bring the, uh, bring the face this the chin back to me a little bit, and then straighten up the head. And so you have your little creek to the cider. Now, there you go. Straight ahead. Looked down towards their right there. That's perfect. And then turn the chin a little bit into the left side. I'm sorry. You're right. There you go. Look down to the hands. Kind of adjust the cufflinks. You're going. There you go right there. Okay. And we can knock out kind of all these little plugs that make a scene. Not so good. We just knock it out with, like, a reflection. What? Everyone? We can place that anywhere in the frame that we'd like. Okay, Now I'm gonna actually pick up like the studio in here on certain angles. I'm gonna be careful with this, so keep going. There you go. Right there. Okay. So the worst this scene is, the more that we're gonna do stuff like this to kind of block things out. Okay? Really simple. It we first step to make postproduction faster. Don't do any. How's that? Take it out in this. So are other special effects stuff we talked about in. You know, we don't have necessarily a time to run through all this stuff, but we have our led lights. We have our sparklers. Can I be known for spark? Loring? Is that a thing? And could not be my thing? Spark. Loring doesn't sound as good as like, presuming or freelancing. I am Mr Harris. All great stuff to take around, get a little bit of atmosphere in the room. All right, so let's actually shoot a few images. I want to get a few basic portrait's right here. I'm gonna go into an 85. We're gonna go even tighter just so we can get a few basic shots of our groom. So let's actually get a sequence of images that I would use for him. Now, if I'm gonna bring his eyes into the camera, what I'm probably gonna do is soften the light a little bit. I can do that really easily, John. You wanna help me out if you just grab that scream right there. Watch this, guys. You can set up one like light like this. Tip number 130. Okay, I'm just gonna bring this up right here, and I'm gonna look at the pattern that's hitting this. So what I'm gonna do is I'm extend it to the point where the pattern is filling most of the scram. Right? That's increasing the size of light source. If we bring the scream back here, if you look at the pattern that's hitting, it's really small. Can you guys see that small? It is. So we bring the pattern out. So we get in a nice large area. Okay? Now hope I lost my tether. There we go. We're gonna have to adjust power from that. I'm gonna guess we're gonna lose about two stops of light. Okay, so we're gonna go toe one once, 1/ Power. Bring the chin down on that side. Right there. Perfect eyes right towards me. Fantastic. Chin down to the left right there. And I want you Look down to that left side. There you go. It kind of looked down to the ground limit. Contemplated, like Internet in more. There we go. Right there. Perfect. Just like that. Those are great. I'm gonna go ahead and look at the history and real quick just to make sure we're actually really good on this cream. You see how we have a much softer light coming in? Yeah. Instead of using the Reflector, could you get away with using on umbrella? Yeah, totally. The reflector gives us a little more control in terms of like where we place it. Your umbrella, your distance of control is here to here, and so it's the same thing. But the reflectors gonna give us what? What we're doing right now is an umbrella is gonna you know, the shape of the umbrella is kind of spherical, right? So you're gonna spill light everywhere. What this is doing is I'm still utilizing the grid to make sure the light on Lee goes in this direction, and right before it hits him, we just open the light up. And so we were basically creating a soft box with almost a grated soft box. So it's not hitting the background still, so that's really why we're doing that. That was pretty concise, right? Everyone's like pie. You gotta not be so pie when you answer questions and I'm like, OK, all right. So bring that light up again. Let's make a couple adjustments. What I wanted to do is just the cuff links. So go down to the hands. Their Ugo kind of adjust right there. Perfect and solid. Fantastic. Bring the chin a little bit more. Toe your right side. There you go right there. Look down to the cufflinks. Keep adjusting. Perfect. Sometimes we'll do like a little bottom up shot on this so we love the bottom up on this angle. It kind of gives the guy a little sense of dominance. Like over the frame Looks nice. I want you to go from right. Let's go to adjusting the tie, actually, so bring your hands up to the tie and then bring the chin over this left side and then look up towards the lens a little bit. So chin down, down and then straight in the head out a little bit. There you go. Tilt a little bit. This way. Right there. Perfect. Give me a smile for the cameras. You're adjusting their job perfect. And looked down while you're jesting. Chin up a little bit. Keep the eyes kind of down like, Is your adjusting the time? There you go. Solid. That didn't fire. There we go. Perfect. No. Okay. And then I wanna do is adjust. So bring both hands of the time Like you're adjusting the not of the Thai. I'm gonna get in for that tight kind of crop shot. Let's go right here. There we go. So these air a little bit of detail shots that I would get is like this this tie shot. If he had a watch on, we can focus on the watch. We can get that, but there's an update. It No, we didn't lose. There we go. So we'll crop in the bridge of the nose, so we'll set this down a little bit. And we have, like, a nice shot of, like, kind of the Thai be smiling in that kind stuff. It looks great. As, like, we're thinking of these little squares that going the album, right? So as we're thinking about everything, were thing about those little pieces that will be filling in. Now, What I need is for him, I would still need that scene establishing shot. Usually we try and shoot it like through a doorway through somewhere where we can get a look into the environment that he's in, and we'll use, like, a light like this to kind of bring attention to him. So what that would look like was kind of the first set up. I'm gonna go back to a 50 mil, Okay? And then let's go. Just No, no reflector on this one. So let's bring that out. I reflect your dirty helps to add some warmth to it. Yeah. There you go. John knows I'm gonna hide behind the TV for a second. I'm brother looked down to your right side. Right there. There you go. You just get a quick shot right here. Okay? That's something I'm gonna power down a little bit on the flash, so I'm gonna take it down to one. 30 seconds. Okay? And we choose something wide. I want you to get a little bit more of open stance. I can see through the legs a little bit. There you go. Right there. And you know what do this do? I want you to go, um, kind of almost like you're taking, like you're taking a step. Like where you can rock back and forth a little bit. Foot feet. There you go. And bring one hand out. So bring the right hand out. Keep the left hand pocket. There you go. And then with the left leg just opened a little bit of the site. There you go. Right there. Perfect. What I'm trying to you guys is open up the leg of it so I can actually see that he has two legs instead of just one. Okay, we actually had a pretty cool shot, right? I mean, it's very like industrial because we have, like, the stuff in the background, but it looks really cool. And the light is what takes attention off of the background because we're burning down the background quite a bit. And so these elements take a much lighter piece of the frame. Now, we can even go down mawr and we can keep if I run this. Actually, Teoh, let's go up to I'm gonna go into high speed ST guys. This camera can actually, or the flashback to do high speed sink when we go in a high speed sink versus using an nd filter, we need to power up the flash cause we're gonna lose power on the flash. Okay, so I'm gonna go up to high speeds sink just to see what it looks like with a slightly darker background. So now I'm taking the flash power I lost by going upto 1 402nd Actually lost two full stops of light, so I'm going upto 1/8 perfect right there. Okay. Bring the hands down like you're adjusting the cufflinks again. Perfect. Just like that. Perfect. Bring the chin down a little bit towards my side. There you go. Right there, Chin a little bit more. There you go. Right there. Hold that. Adjust the tie. That's good. We can show the before and afters bring the hands back down like you do in the cufflinks? Let's get a flash on that. There you go. Right there. I like that smile to you. Fantastic. Nice. We got a good amount of no flash versus flash. The reason why we're not getting the flash right now is because when it runs in high speed sink its pulsing. So when the shutter is open for 14 of a second, it's not actually getting any faster, like it can't shoot faster than 1 200 a second, right? We talked about this in detail in in some of the other courses, so I'm gonna just give you the quick version of that. This doesn't get any faster. What ends up happening is when you go to high speed sink, it does this, that pulsing thing. It does that. Okay, so this requires a lot more power. And so it's basically trying to pulse and is trying to squeeze one of those pulsed flashes into your shutter speed so it requires more power. You lose. The higher your shutter speed goes, the less power you're gonna get from your flat because it has two pulse that much quicker. Cool, but look at how dramatic like these eso check this out. So we we often get asked is how do you make a scene look better? Well, it's drawing attention to the areas that you want via lighting. Right? So for him, we went with a more dramatic Siri's. Usually when I get closer as we start shooting the face and shooting the eyes, we softened the light a little bit so that we're not getting such a hard edged the light Cool. And then we have a prism. Let's play for a second. Gonna bring up my small guy. Let me have you stand right there, brother. And I'm gonna have you. I don't think we can actually knock out the, uh, left side, Actually, kind of like the left side I'm gonna do is knock out a little the right kind of create a little reflection on the right side. Look down. Perfect flash. Look a little bit down to your right side, right there. So it
Class Description
The morning of a wedding day presents a fantastic opportunity to capture great portraits of the bride and groom. In this class, Pye Jirsa will walk you through creating a beautiful, cohesive set of portraits from start to finish. You'll learn techniques for developing and retouching the image in Lightroom. Pye will share some of his favorite Adobe® Lightroom® presets and retouching brushes, and work on a few images in Adobe® Photoshop® to show how he keeps his editing time to a minimum.  
Software Used: Adobe Photoshop CC 2015, Adobe Lightroom CC 2015
Reviews
Very nice class and very nice instructor, a lot of information is presented in a cool and easy way, you will love to follow along with the instructor. Thank You.