Class Project 03 - Components
Daniel Walter Scott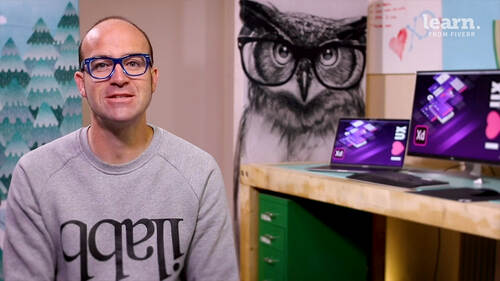 Class Project 03 - Components
Daniel Walter Scott
Lesson Info
23. Class Project 03 - Components
Lesson Info
Class Project 03 - Components
Hi everyone. It's back to our class project. Okay. So you're gonna be working on your menu, furniture project and there's going to be kind of two main things. We're going to learn you some of the tools that we've learned so far. Plus you're going to build a couple of pages. So I want you to, first of all go through check your assets panel and just delete anything in there that shouldn't have been in there. You know how if you copied from that wires outboards, you might have brought in stuff unintentionally to clear it all out and then make your top navigation and that foot symbols for me, give them names. Then I want you to create a new outboard called your category page. Okay. So it doesn't have to be living room. Um I've just given you a suggestion here. So remember we had a home page and then you can't just like dive straight into products. Okay. You could link to the homepage products but often people want to go and look at bedroom or kitchen room. Yeah, get your room, then living ...
room, dining room, that sort of stuff. And so pick one of those categories and you're going to have lots of stuff in there. So let's say it's the living room, you're going to have a list of things that go in the living room, like armchairs and couches and I can't think of anything else but have that list because I want you to practice using your repeat grid. So make one kind of listing either a card or remember the cards we did were like these ones here on the dashboard. Okay, so um kind of nice little cards or it might be listing this kind of way more like a category listing. So do that on that page. What our street cred, So also list out everything you think should go on this page. So I haven't given you specifically what should go on this category's page. So have a look at some existing sites. It doesn't have to be other, it can be any sort of e commerce site but you might as well look at stuff that you know in terms of furniture shops and just see how they do if you go to one of if you know if you go to Ikea and go to their kitchens, what's the kitchen page? What kind of gets listed on these pages? So you get an idea of what potentially should get on there. You've got to remember to keep Katherine in mind as well, Remember our persona. So what would she need to make a decision? So it might be very different. Like amazon is going to have a lot of different stuff on that kind of like category page then say something like habitat or IKEa or Ebay. So we're gonna have like a little bit different users using it. So um keep Katrina in mind to decide what should go on that page. So that's that page. The category page. You're also going to create the product page. So that would be okay, so home page, click on living room. All right, I click on armchairs or right click on an armchair from that page and I go into it. Okay, the little three cedar and I go into it and what would be on this page? So again, go through some of the other links up here or your own ones, list out what you think Katrina would like and what would help her make the decision to buy and move. Our goal is for her to be able to buy and get it delivered to her house. So list out what you got on that product page and then add that to your wireframe. Once you've got those pages, Okay, category page and then a product page you can pick any products and prototypes them altogether. So just get all the links working so that you can actually test it and click through from the home page to the category page to the product page. Get all those mock ups working. Then using some of the techniques we've used earlier, take a screenshot maybe of all the wires and the pages you've done and share it with us. Remember on this page or in the assignments or in the comments or on social media, remember instagram, I am bring your own laptop and on twitter, I am dan loves adobe Also remember there's a link here in the word doc, you'll find it one of them for the facebook group. And the other thing you need to do is if you upload one, you've got to jump in. Even if you don't upload one, jump in and give somebody else a thumbs up smiley face or some uh some criticism, constructive criticism, okay. Or just what you liked about it. We're all getting started and a lot of people are doing it in isolation kind of in their spare time or you know that it's just nice to jump in and help out other people as well. I'll try and jump in as much as I can as well and that's it. That's class project video over onto the next video.
Ratings and Reviews
Thank you, Dan Scott, for providing such a beautiful Adobe XD course. I completed the course today and noticed a couple of things that are missing. I want to share them here so that you can upgrade the course, which would be helpful for us. Hover state and toggle state. Dragging pages from 1-2 to 2-3 and then back from 3-2 to 2-1 with dragging is not working. Another thing is that we learned scrolling the website from top to bottom, but scrolling or pushing things from right to left has been completely omitted. These are the things I have noticed, and I would like you to upgrade them so that we can improve our Adobe XD skills.
Student Work