iPhone & Android Status Icons
Daniel Walter Scott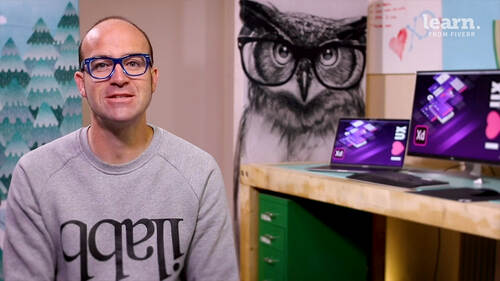 iPhone & Android Status Icons
Daniel Walter Scott
Lesson Info
27. iPhone & Android Status Icons
Lesson Info
iPhone & Android Status Icons
Hi everyone. Welcome to this video of spot. The difference. What's different between this mock up in the last video. You got three seconds. Did you get it? It's this thing here. It's a status bar. Okay, so we've added this for a bit of realism when we're mocking up our iphone versions. Okay, so I'll show you places to get it from and that's what we're going to do. Let's go get it and add it now. All right. To find a lower status icons, A couple of places For IPhone which will use here. I've downloaded it for you in your exercise files if you want to get it yourself because I'm going to use the IPhone eight. It's going to be the future when you're watching this. So IPhone nine or 10 or 11. What do they call the next one? You might want to get that icon. They haven't changed for a long time so you might still use it. But you can see and hear file you tickets and you can go to this one that says either IOS okay for the iphone version or google material. If you're doing Windows, you can go...
there, follow the link, download it, but I'm going to cheat and you can cheat too because I've downloaded it for you in your exercise files in UI templates and we're gonna open up Apple. They kind of hide it a little bit. I'm going to use the iphone eight options. Okay. And open it up. So in UI elements. Open that up and there's a handy group of stuff that we're not going to use too much in the wire frames, except I want all of this stuff. Okay, so what is it called? What is it called? Because sometimes you're like, oh, what is this called? The status bar, but you might not know that language. You can click on it. Right, click it. It's a revealing symbols and will actually, you can see there. It kind of highlighted it. So it's called the status bar. Call it the notifications. Okay, so the status bar here and sometimes it's nice to know what Apple calls things versus google and you can see here this is the light status bar. So I'm going to select it, copy it, move it across and I'm going to zoom in on this guy, paste it. There it is there. Now it's linking back to that original. Am I that worried about it? For some reason, it does bug me that it's connected to another art board. It's useful when you're doing it, but when it's connected to something else, I'm going to make a local symbol. So it's just kind of stuck here or you cannon group it to break it and to make it your own symbol. There. It is. There lights that as far we're gonna use our trek to copy it across all outboards. And remember just like that at once. Boom, boom, boom paste. Oh, so good. It's not the only place to go get it, it's probably the easiest. Right? But remember you can go to the Adobe assets marketplace and start searching for it now that you know what it's called. Ok, so look for the status bar and you might look for the one for windows or android, Easy peasy. And you'd be like, why are you adding that? Your phone is already got it, Especially if you're testing on the phone, it doesn't actually show up. So when you are testing on your, remember the last video where we're doing using live preview, actually deletes, well, it hides everything on your phone and just shows you the mock up. And if you're trying to go for like a realistic look, you want to have those, um, status bars at the top there, but you don't have to, but we need it for this next thing because I want to show you how to do a fixed position in the next video. Basically we're doing it so I can show you something else to add yours and I will see you in the next video
Ratings and Reviews
Thank you, Dan Scott, for providing such a beautiful Adobe XD course. I completed the course today and noticed a couple of things that are missing. I want to share them here so that you can upgrade the course, which would be helpful for us. Hover state and toggle state. Dragging pages from 1-2 to 2-3 and then back from 3-2 to 2-1 with dragging is not working. Another thing is that we learned scrolling the website from top to bottom, but scrolling or pushing things from right to left has been completely omitted. These are the things I have noticed, and I would like you to upgrade them so that we can improve our Adobe XD skills.
Student Work