Plugin Lorem Ipsum
Daniel Walter Scott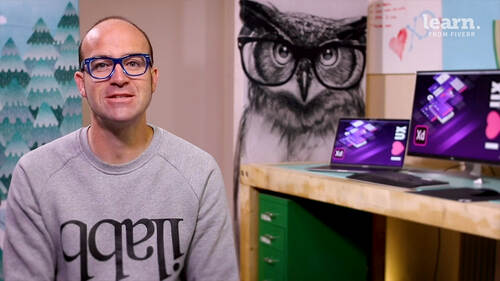 Plugin Lorem Ipsum
Daniel Walter Scott
Lesson Info
42. Plugin Lorem Ipsum
Lesson Info
Plugin Lorem Ipsum
Hi everyone, I hope you're ready for. Amazing Nous, It's time to look at plug ins in adobe XD Now there's lots of plug ins, we're gonna in this case. Look at Lauren ipsum plug in because it's nice and easy. But throughout this course we're going to look at more and more plug ins as we go, what is a plug in? So adobe when they made XD, when they're making it, they've built all the kind of core features for it. Okay. Plus some really other cool stuff like the repeat grid and character styles and the assets panel. So they've done some really nice stuff. What they've allowed though is they've said to the world, if you know how to make a plug in, you can go into development and make one. So if you are a software engineer or a Cody nerdy type person, you can make your own plug in. So they've given really good documentation for people to go off and make plug ins. The cool thing about that is, it's just stuff that's missing and somebody's going off and like, I'm gonna make something to fix tha...
t problem. And the benefit for us is that we don't have to wait for adobe to do it. Somebody else can do it added to the library and we can use it. Let's look at making one. So we're going to use, first of all, let's look at the plug ins. So go to plug ins along the top here and go to discover plug ins. So plug ins are coming out all the time. I'm going to cover a few in this course, but latest release is a great place to get started I guess in terms of which ones. So these ones will come out today. Okay, so brand new today. I haven't even gone through them yet. So I'll have a look through these as we go through the course. But you do the same. There's gonna be stuff in here that's going to be new. They do all sorts of different things. Pattern maker, color blend, what else is nice user images. We'll do that later on. The one we want for the moment is in here in search we're going to go to Lauren. It just happened Lauren. So we've done Lauren. Remember it's the placeholder text. So this one here works. You can click on see details, it tells you a little bit about it before you install it. Click install when you're ready. I will tell you it's installed. When it's finished there. It is going to close it down and they appear here in the plug ins panel. You can see you've got a few already installed. This is the one we're going to use. So they all have their quirks this particular one. You have to grab the type tool, you have to draw out an area type box because it needs to fill it. Right? So it means a width, you need to have some text in there. Some text if you it's a weird quirk with XD if you don't have any text in the text box. Watch this, you might have noticed this already but do this and I forget to type in it, it's no longer there, it's like completely gone forever. So just jam in some text, get it to be the right size. Like in our case we're going to use the Roboto point, I use my style there, you have to have it selected with the black arrow. Otherwise this doesn't work. There's a lot of rules for this plug in and you can't be in your cursor like this, you can't have your text kind of highlighted or your cursor flashing, you have to be on the black error. Cool, so we've got a text box, I want to add some placeholder text. I'm gonna go to plug ins Lauren ipsum and I'm going to go to quick Lauren ipsum just throws it in there. How much better is it than going to this file here that I gave you the beginning and opening it, copying and pasting it. Not much when this thing is open but going and finding that file that dan gave you in that course a year ago can be tough. So a little plug in like this super quick, super easy to have a look at some of the options for it. So we went to the quick fill Lauren ipsum, let's look at this one here. Okay, this top option gives you a few more extra things. So by default, that's what it's given us. We can turn off line breaks if we want this one here doesn't do it. Can you see this is empty gap at the bottom, this is going to trim that box. Look you see, just tucked it up nicely at the end here, handy. I guess next thing I wanna do is in here. Same thing you can use. The shortcut is Lauren ipsum might be useful, you could use the cicero option, what is the cicero option? I might butcher this, but he, I think Lauren ipsum is just mixed up latin words, but they mixed it up based on something and it was an essay by this old roman dude and he wasn't just an old roman dude, he was a famous old roman dude. But anyway, they've derived that this original kind of mixed up. Lauren ipsum came from an essay of his and you can use it. The only difference really for me because I don't speak latin or not today anyway, is that that's actually proper sentence structure, whereas Lauren Gibson is all mixed up, but for me it doesn't matter because it's all mixed up. What else can you do? Just quickly? Same one, there's this one here. Pentagram is the quick Brown Fox, it's got all the letters available, which might be handy when you're kind of doing like this stuff you want all the fonts to or see what all the characters look like. Now, I can't think of anything else. It does. You can do different languages, which is cool for placeholder text and what you'll also find out if you're using the exact same plug in, it might be updated and there might be different things it can do. I love it. If the shortcut worked the moment, mine, that shortcut actually zooms in and out of my XT, they kind of battle with other things in here and also just so you know, XD doesn't allow you at the moment to go into preferences, which is really weird. I'd like to go in there maybe play around with keyboard shortcuts. That will change as well. But if you're like, Googling, why is it great out? You will find a forum post that says, oh, we've done that on purpose because it doesn't work. And then you'll think to yourself, why did you put it in? And then they say it has to be because of something MAC does anyway, at the moment, you can't change any of the preferences and you can't update the keyboard shortcuts, which I can't wait to do because I'd love familiar these plug ins to be a keyboard shortcut that actually worked awesome. Alright. We kind of looked at Lauren ipsum, but really we're looking at plug ins in general and how they extend the ability of a W X D. We'll throw more in in the course as we go along. I just want to throw in nice and early here to get used to them and we'll do more as we go along. All right. I will see you in the next video.
Ratings and Reviews
Thank you, Dan Scott, for providing such a beautiful Adobe XD course. I completed the course today and noticed a couple of things that are missing. I want to share them here so that you can upgrade the course, which would be helpful for us. Hover state and toggle state. Dragging pages from 1-2 to 2-3 and then back from 3-2 to 2-1 with dragging is not working. Another thing is that we learned scrolling the website from top to bottom, but scrolling or pushing things from right to left has been completely omitted. These are the things I have noticed, and I would like you to upgrade them so that we can improve our Adobe XD skills.
Student Work