Hidden Features for Repeat Grid
Daniel Walter Scott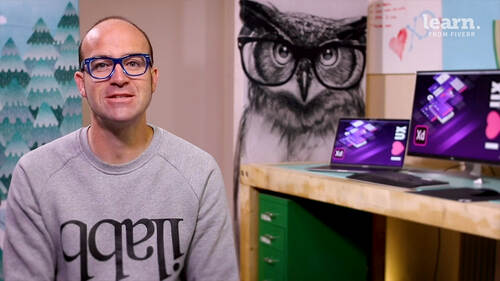 Hidden Features for Repeat Grid
Daniel Walter Scott
Lesson Info
63. Hidden Features for Repeat Grid
Lesson Info
Hidden Features for Repeat Grid
Hey there. This video, we're going to look at the repeat grid but I'm going to show you how to like dump in loads of images and it just flows through here. Plus the text, all updates automatically. Nice and quickly. You have to copy and paste images or copy and paste text, which can be a drag. It's one of the hidden features for the adobe xD repeat grid. Let's jump in. Now look at how to do it. All right, first up I need to create a quick little page and I'll try and do it super fast actually we'll fast forward it with the editors help just to create this. Okay, so that's all I wanted. Um I just went and stole most of it from our wire frame and just changed the colors and changed the farm's got rid of the icon in here and this is already a repeat grid. So I guess this is the repeat grids trick. So you might be jumping into this course without all the repeat grid. Goodness knowledge. I'm going to little that. So the first step is really easy. Right? We say repeat grid please? And we dra...
g out a bunch of them. Okay. And we adjust this middle bits and that's the repeat grid. What if there was more? Well there is more. Okay, and I want to fill this one with images. Okay, so I could go to my exercise files, lets find the images. I've got one in here called where is it? Course images. Okay, so I've got a bunch of them so I could drag one of them in, drag them here and they all repeat. Which is kind of cool. But it would be cooler if I could just grab all of these and you're ready. How cool is that? Okay, so are you working on this? I've got these because I use these all the time when I'm walking up stuff because that's what I do. I make courses so it's just really easy to kind of drag in a chunk of images. Doesn't doesn't have to be the same size. It just fills them all up into a nice repeat grid. Imagine if you could do it with a text though, you can. Okay, so what we're gonna do is in the folder called text and fonts. There's one in here called of course names. Now this is kind of a weird one. I've made this because I do this so many times that I love to have just like I spend time copying and pasting this from um when I'm, you know, from the courses that I make. And so I've just got this sitting on my machine now. It just needs to be a txt file. Can be like a word doc or anything fancy so you can credit inward, but just make sure you save it out as a dot T. X. T. It's real simple note pad, does it? And I'm using max tech said it makes it good as well so no formatting nothing. And all you need to do is it's kind of weird. Right? You just drag that in there and ready kuwait as long as they're on separate lines. So there's a return in between them all. That's how it knows where to break it. Pretty sweet. And those little hidden features for the repeat grid. One last thing I want to show you before I go is this thing here. I use random list dot com. There's a bunch of different sides. It depends what you need because sometimes you're like, it's for a client, you don't have stuff lying around. You're like actually just give me some random countries. Okay. And the flag. So it's just going to go through down the bottom here. You can decide how many Netherlands some more. I know, I know. Anyway, Let's have a look. Let's get 10. Come on. New Zealand, Tonga. New Zealand. Anyway, you can keep going and at least it just gives you some names. You can start using and copying and pasting. And the other quickie thing about it is watch the Survivor shrink it down and I can see XD on the other side, you can actually do this. You can just go rip, nope. Did that work. Doesn't work in a repeat grid. I know it works in just regular old images. So say remember this one we used. So if it's not in a repeat grid, man it did work. I swear, hmm weird. It's working. Maybe you have to have it selected first, then drag it in. Maybe it's a different kind of images. Let's have a look. I was using this one here. So why isn't that? What kind of image is this? That is an S V G. Cool. So, it doesn't work for SVG. I want the SVG. Don't get me wrong because it's cool. You can right click it save image save as SVG. That's a I'll leave this in the video because everything else I tested works perfect. Okay. So I use random movies and this works great. So, Jpeg PNG is you can just drag it straight over. Here we go. And I say, and if it's an SvG scalable vector graphic, it's even better. But it doesn't do that trick. Now, you will find a random list. I don't know the internet. There's a bunch of people who decided we're gonna make random list generators. This particular site has a bunch of them. Okay. But there is hundreds of randomness generator sites. You will find something that works for your industry. All right. That's enough. I got a little bit lost there, but we made it back and we learned I learned something refugees. Don't drag in. All right. Let's get into the next video
Ratings and Reviews
Thank you, Dan Scott, for providing such a beautiful Adobe XD course. I completed the course today and noticed a couple of things that are missing. I want to share them here so that you can upgrade the course, which would be helpful for us. Hover state and toggle state. Dragging pages from 1-2 to 2-3 and then back from 3-2 to 2-1 with dragging is not working. Another thing is that we learned scrolling the website from top to bottom, but scrolling or pushing things from right to left has been completely omitted. These are the things I have noticed, and I would like you to upgrade them so that we can improve our Adobe XD skills.
Student Work