Getting Started with XD
Daniel Walter Scott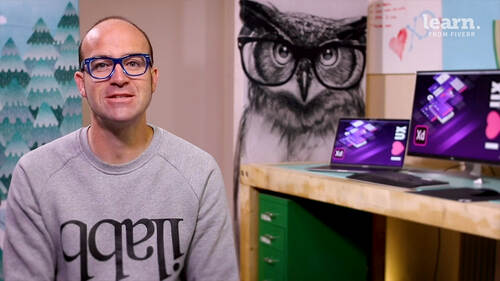 Getting Started with XD
Daniel Walter Scott
Lesson Info
1. Getting Started with XD
Lesson Info
Getting Started with XD
Hey there. You made it in the course. Welcome a couple of things before we get started. Is that you need to download the exercise files. So we've got some files that you can use to play along with the course, there'll be a link on the page here somewhere to download those. So do that first. Um Next step. Well we need to make sure that XD is the latest version of the version. Okay, So we just need to make sure your XD is the best it can be. So we'll jump into the computer now and I'll show you how to do that. Alright, so first thing is you need to have downloaded the Adobe XD software to your computer. Okay? You can go to, you can actually just go to adobe dot com slash XD and it will take you to this page here and then along the top you will have, once it reloads there'll be an option to say ah it's free. There you go. Go and download it. Okay, so once you've downloaded it, you might already have it on your computer. Then once you've got it, you need to double check you've got the late...
st version. So I've got it open here. Okay, This is extremely close that one down. He's confusing. You've downloaded it installed it but you did it a few months ago. Unlike some of the other adobe products XD gets updated really quickly. So you just gotta make sure you've got the latest version. So to do that, you go to the app. Okay, so the Creative Cloud app is this little kind of curly cloud thing here, click on it at the top. If you're on a Mac, if you're on a pc, it's in your task bar down the bottom, just look for that icon, make sure on apps and then scroll down to find XD. If it says open, you are ready to go. If it says update, you need to click on it and update it. If you don't have or can't find the CC app, you can just open up the product. Okay? So find it on your machine, open it up, go to help and go to updates and you'll end up in the same place. But it'll kind of like drag you. There you go now to note about this course. I don't be a pouring lots of time and effort and money into updating XD and keeping it fresh. So I feel like there's an update every like week or two. So what I'll do is when there are any significant updates or anything noteworthy, what I'll do is I'll create a new video at the end of this entire course called updates. And in there I will throw all of the any updates that might have come in. So if there's no such video at the moment, that means there's no such updates. But eventually there will be all right. So we've got our exercise files, you've made sure XD is installed and up to date. Let's get started
Ratings and Reviews
Thank you, Dan Scott, for providing such a beautiful Adobe XD course. I completed the course today and noticed a couple of things that are missing. I want to share them here so that you can upgrade the course, which would be helpful for us. Hover state and toggle state. Dragging pages from 1-2 to 2-3 and then back from 3-2 to 2-1 with dragging is not working. Another thing is that we learned scrolling the website from top to bottom, but scrolling or pushing things from right to left has been completely omitted. These are the things I have noticed, and I would like you to upgrade them so that we can improve our Adobe XD skills.
Student Work