Adjustment Layer Presets
Dave Cross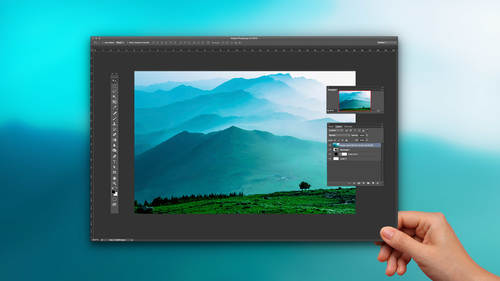 Adjustment Layer Presets
Dave Cross
Lesson Info
4. Adjustment Layer Presets
Lesson Info
Adjustment Layer Presets
one of things that I personally like to do is play around with adjustment layers. So I shot this photograph deliberately. Kind of Ah, high key look, But I want to play with that even Mawr. So I started playing around with adjustment layers like, let's say we'll add a black and white adjustment layer and maybe change the blend mode to overlay and then add maybe, Ah, I don't know. I'm just playing here radiant map and change that too soft light at a lo opacity. And then finally, and I this is I'm not trying toe have any plan in mind in destroying example. And let's create a maybe a scion look, just so I'm going to pretend for the moment that, yes, that's beautiful. And I love that. I want to make a whole Siri's images look that way. Well, you can make presets for a lot of things, but up until recently, you couldn't make a preset based on multiple adjustment layers. Now you can through something called a color look up table. So this is probably Photoshopped cc 2014 I want to say and later...
, not earlier, man. I'm not sure. Maybe see a six. I don't think so. Living with Sisi. Anyway, most presets are for this tool or for this function over this setting. This is an example of one where I can take this combined look that includes the adjustment layers and any blend modes and any transparency and opacity things that I've done and say I like that look, I'd like to be able to click on to apply it with one click, as opposed to remember all those separate adjustment layers. So, oddly enough, even though I've created over here in the layers panel, I export it somewhere else. So I have to go file export, and then it says color look up tables and then in here basically the best advice and give you just blindly click OK, until asked you to name it. Don't even worry about all this other stuff. Just click, OK, that's gonna say What do you want to call it? And I'm gonna call it, uh, bleach blue or something, and I'll just save it to my desktop. So now let's pretend here that this is a different but oddly similar photograph that I want tohave that same looks instead of me having remember, what were all those things? I just go to my adjustment layers for this time. I use one called color. Look up, and when I get to there it says, Which one would you like to use? It comes with a series of built in presets that are kind of interesting that you can play with if you want or come right here and just choose load. And then I'll go and find the one that I just created. Open it. Think about it, apparently for a second. There we go. So you see now I have one adjustment layer that basically has applied all that look in one shot. Now it doesn't mean it's not like I could dig inside of it and say, Now I want to adjust it So it's kind of a one shot deal. But if you've taken the time to combine several adjustment layers and or blend modes and a pass it ease and really like that look and want to apply to a series of images, that's another former preset. Maybe I'm missing something, but why would you do this as opposed to creating an action? Well, it's just another option because on action. There's two different possibilities and action. You could do this, but then it would say I will add these three adjustment layers the way that I created them this way. It's just I like this. Look, I don't want to edit it, So I want to be one simple layer. It's like, Decisive and I would probably do have reasons do both. In fact, I'll show you what we talk about actions where I would create a knack Shin base, one that allows me to very quickly have a whole series of looks that I can choose between. Okay, okay, so in this particular instance, there's no ultimate difference other than the deal between having a net result of multiple layers versus one that's just created the way you want correct other than overall globally, like masking or opacity or blend mode or something like that.
Ratings and Reviews
Dave Cross really knows his stuff, and his knowledge is up to date. I didn't know there's a Photoshop "mail-merge" kind of capability - now I know how to use it! He gives clear instructions on how to save time in Photoshop in various ways. I highly recommend this course.
Student Work