Batch Processing
Dave Cross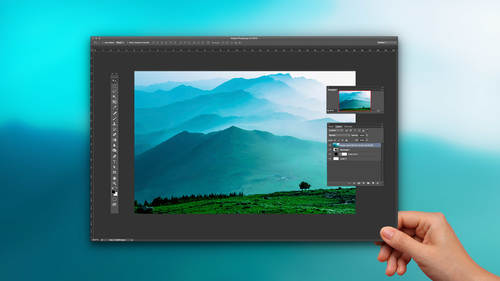 Batch Processing
Dave Cross
Lesson Info
9. Batch Processing
Lesson Info
Batch Processing
The other thing we can do is, as I showed you earlier, if something didn't work, is a batch action. So I have in here action that I do. I shouldn't tell people, especially if there's any people watching who are actually customers. Don't listen to this part, especially because I learned this trick from a re toucher and they said they do this on every single photograph they've ever taken, and everyone says, Well, my I look so good in this photo and basically the action on this open one of these to show you what it does. The action is called here. It's down here, Slim. What it does is it sets the selection, select all free transform like 98%. So it takes the photograph and goes, Not like where you like. Whoa, what's happened there? 2 to 3%. Select that, and then re Crop said. So now just looks like Oh, look at me. I'm I'm slimming from now, so that's a very simple little action, and it's got just those feudal steps in it. But if I was doing it, the whole series of images I could take will...
pretend there's 30 more than three to do a batch action. My suggestion to you is if you're going to try and do a batch action to many, many images, like 100 I would try it on, like to just to make sure it works before you invest the time and running it on 100 only to find something goes wrong. So photo shop batch. It's kind of nice because it remembers the last one you happen to click on. If it didn't, though, you could dig down and find it. I'm using bridge as my source because I like toe visually pick the image. You could also do it right from within. Photoshopped I'm also going to override or suppressed these options is in case I happen to have a photograph that has a different color profile or something I don't want to. I want this to be a completely automatic batch action, so I'm gonna turn off all of these now. One of the steps in my action was savers J peg. So let me show you what happens if I don't turn off this little check this little check box. So I've got three images actively selected and I said, OK, let's run this back to action and I'll just get up and start to leave and all of sudden it's asked me, What do you want to say? This I'm like, Well, wait. I recorded a step that says Save a jpeg, but by nature, even though I did that, it wants to prompt me every single time to click. Save to this so you have a couple of options. One would be find something heavy that you just put on your enter key. So it's constantly entering or one of those little I know what they're called. There's through those little birds that would let go like this and like sip water. So if you could really time, it could be like Click Click, which would be really pointless. Or a much better option is to use this command, which is very unusually worded, in my opinion. But this is how we use it is override action save as commands, which is a quick way of saying Just remember the file format, nothing else. And when you do that, then it goes through and just says, Let me just do all these so this becomes a leave it and walk away. And when you come back, you'll have a folder full of slim JPEG files, with the originals being safe personally, almost every batch action I ever do. I'm putting it in a separate folder, so I resist any fear of overriding my original file, even if they don't want the rules anymore. I just don't want toe, have something go wrong and suddenly find that it's not working anymore.
Ratings and Reviews
Dave Cross really knows his stuff, and his knowledge is up to date. I didn't know there's a Photoshop "mail-merge" kind of capability - now I know how to use it! He gives clear instructions on how to save time in Photoshop in various ways. I highly recommend this course.
Student Work