Conditional Actions
Dave Cross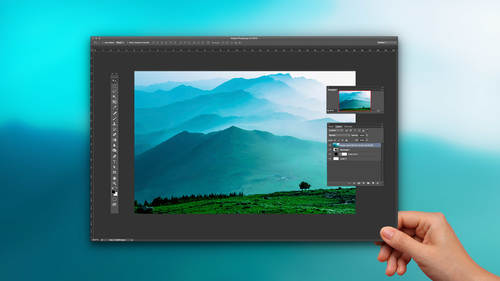 Conditional Actions
Dave Cross
Lesson Info
7. Conditional Actions
Lesson Info
Conditional Actions
one of things has always been a problem. Up until recently, with actions is, let's say we have a folder full of images summer tall or summer white, and I want to place my logo on there. Well, if I record in action on the tall one, it's going to be off on the wide ones and vice versa. So what people always used to do it was record two completely separate actions. One for tall images. One for wide images, which you can still do. But thanks to the latest couple of versions of Photoshopped, there's now a wonderful thing called conditional actions. Or, you can say, based on a condition like Tall vs wide. Here's what you do. So here's how that works. I'm gonna create a first of all the new set and call it add logo and let's see and hear, I think yes, okay, so on this one, I'm going to add make a new action that's called Ad too tall, and I hit record and I choose place and I find my logo that I want Now it's very important to do this kind of thing that were making sure we keep our logo in exa...
ctly the same place. And for some reasons, not finding it. That's interesting. Try that. This way. Okay. All right. Then we'll go with another plan, which is less useful, but okay, for some reason, all my this is really not final. Okay, hold on one second. Hate when that happens. No idea why. Well, let's do it this way. Actually, a better idea. Let's use our library since we have our library. Okay. Sorry. So, back to this one. Start recording again. Library, drag it in there, scale it down to this size and position in the middle, and then go back to our action and stop recording. And then And this is a good example of the reality of using actions is at first it's gonna take a while of set ups. I wouldn't do this if I was only ever going to use it once, but this would be something I'm going to do on an ongoing basis. So now I open a wide image and add another action called ad too wide, and I could say landscape or portrait. But I'm just using these numbers, these methods, and then we'll drag this one in here make it this big and put it down there. Stop recording. So now I have these two actions. Now I need to make a overall action is going to say based on this condition, so we'll make one more. Call it something that I know what it is. Master had logo and I hit record and all I do is from this menu. I do something called Insert conditional and it comes the big long list. And it just happens that the very 1st 1 is saying If the document is landscape that just happens, that's the very 1st 1 But there's all these different conditions. So I say if the documents landscape, then play the action, add too wide. Otherwise use the action. Add too tall click. OK, stop recording. So now I have this master one that if I did it correctly and look inside a folder and say, play this action to all of them Then as it goes through, it'll go tall. One. Put this one and wide one. Put that one and so it's gonna alter on the fly as opposed to what I used to do was pick all the tall ones run in action. Take all the wide ones Run in action now with a very false sense of security here. I didn't prepare a backup plan ahead of time, so I have no idea that's gonna actually work. But let's find out together, because that's just the way I am. So I want to run all of these. I got a photo shop. Sorry. Tools Photoshopped batch. And I'm going to say I want to use the ad Master. Let's make a new folder after so we can go and find the results and click. OK, It didn't work because of that whole library thing. Okay, so enforce is not gonna work. But that's least saw the procedure. I'd something. The place command was not working. Probably cause that's how it normally do it. I have no idea why it didn't work. But that's the procedure to make a conditional one that once you've done that, so it means you have to record the actions for each in this case orientation, and then add that other one with that conditional. So sorry that I didn't actually show you how it works. But just use your vivid imaginations that it worked perfectly because it normally does, if if the place command is actually working. I don't know why it was uncooperative today. So there's, as you might have seen, a whole bunch of different conditions. They can say if it's rgb, do this, otherwise do something else. That's kind of the procedure of how it works. Do you? Can you still make droplets? You can still make droplets. Droplets are away where you take an action that it becomes little icon on your desktop. You can just drag things on top of. So yeah, it's just a fight. Once you've done the action, then there's a step that says Export has droplet.
Ratings and Reviews
Dave Cross really knows his stuff, and his knowledge is up to date. I didn't know there's a Photoshop "mail-merge" kind of capability - now I know how to use it! He gives clear instructions on how to save time in Photoshop in various ways. I highly recommend this course.
Student Work