Keyboard Shortcuts
Dave Cross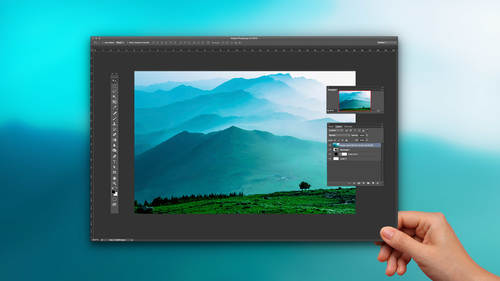 Keyboard Shortcuts
Dave Cross
Lesson Info
3. Keyboard Shortcuts
Lesson Info
Keyboard Shortcuts
personally, I have always loved using keyboard shortcuts. My philosophy is, the bigger the monitor you have, the more likely should be using keyboard shortcuts. Otherwise, putting in a lot of real estate to come over here and then pull down this menu and hold. Go over there. There are is a keyboard shortcut for that that's going to save you time so often, when I'm teaching, I deliberately move my mouse over and click on a tool so people can see what I'm doing. But if you looked over my shoulder when I'm normally working, I never touch the tool panel. I just press a letter because every tool in photo shop has a single letter you can press to choose the tool, and I would say most of them. But it's probably more real to say. Many of them are very logical, like em for marquee and see for Crop and T for type and eye for eye dropper. And there's others are a bit more of a stretch like W for magic wand and things like that. So basically, all it means is as I'm working so we can see where my m...
ouse is right up in the top right hand corner, and I've used my lasso tool and I want a paint instead of leaving where I am, I just pressed, be for brush and now have my brush tool right in the same place, and I go V for the move tool, etcetera. So part of this takes some time. If you're not used to using keyboard shortcuts, I always tell people that it will initially slow you down toe. Learn how to use keyboard shortcuts, because what will happen is you'll go once the shortcut for that again and you look and say, OK, it's I. And then remember Okay, it's eye for eye dropper, etcetera. Ok, for me, this is I can't imagine how much time this is. Saved me because I can keep my focus over on way on one part of the image and just switched tools on the fly by holding a key. It's very intuitive, so if you don't aren't sure, you can just it'll. You'll know, because if you press a letter and see what happens, okay, that's the type tool that's the crop tool, etcetera. Then it's pretty easy to tell. Do I have the right one? or not. If you have a set of tools like the Lasso Tool or other ones where there are several tools sharing the same slot, you press shift and the letter to toggle between those three choices. So if I'm working on the brush tool and I press L for lasso and it's the wrong lasso because I want the regular one, I just press shift l until I get the one that I want. So as a result, clicking on tools to activate them is an unnecessary step for me, and it just saves time. In addition to that. Needless to say, there's tons of keyboard shortcuts built into Photoshopped, and that's great. However, my feeling is I'd be much more likely to use a shortcut if I made it. And also there are some functions in Photoshopped that I wish had a keyboard shortcut that don't and the good news is you could make your own. The challenge is finding a shortcut that's not already spoken for because they've used almost every conceivable combination of tools, and that's fine. But here's an example. I can't even imagine how many times in a given day I want to add a layer mask. So I come down and I click on this button to add a layer mask. I wish there was a keyboard shortcut for that because I do it so often. So why not make one in order to customize photo shop and make your own short cuts down on the very bottom of the edit menu, there's a command called keyboard shortcuts, and this shows you the existing shortcuts for tools, the pop up menus that come in panels and the overall application menus, which are the main ones that we use. So I want to, for example, come up with a keyboard shortcut for Adelaide or Mass. So I have to find it, and I know it's under the layer menu, and sometimes it takes a little while. They're going to scroll down and find eventually in here somewhere. There's a thing that says layer emeritus layer mask. So I click in this space now my challenges. What should I use for a keyboard shortcut? And I'll tell you right up front, the chances are whatever you choose is already spoken for. But that's okay, depending on what it iss. So, for example, I know that commander control Ella's level, so I don't use that. But I'm thinking, What about command shift or control shift l for Layer Mask. Well, when I choose that I get this big warning message and says this is already in use and will be moved from auto tone if accepted. My philosophy is auto tone, the function I have never, ever used, nor my likely to personally. So therefore, I would happily accept that. So I do. And from now on, that's my keyboard shortcut. I click OK, not want a layer mask done. I don't have to go down a click. Anything is just there. And like a lot of things in photo shop, once you customize a shortcut, it stays that way. And what's also kind of cool is as soon as you do it, I've already got one their home. Just get rid of that second as soon as you customize a keyboard shortcut, you see now that shortcut is already showing up. If I forget what I used so because I happened to choose that one that said auto tone, that made me think, I wonder what else is there that is currently being a shortcut? that's currently being used for something that I will never use. So I started looking and said, Well, I'm not going to use auto contrast or auto color That's just personally I don't like auto things. So then I start looking through it. I'm like, Well, it's the vanishing point Hardly ever used it, if ever so that's another shortcut. So fairly quickly, I found at least 6 to 8 shortcuts that, for me personally, are currently allocated to some function I just don't think I'll ever use. Or if I do use it so rarely that I'd rather allocated to something that I know I'm going to use. And I've talked with a lot of people who have felt the same way. It agreed that if you defying your own keyboard shortcut, you're much more likely to use it than trying to remember. I think it's some awkward combination that was made for me, so this is a way that you can customize it. Here's another example of how I would use this in almost every class ever teach out. We suggest that we really shouldn't use these adjustment commands because these air very destructive command. So, for example, curves has the easy remember shortcut. You know, Commander, control em for curbs. It's one of my colleagues. Just eight curves. That's how he'd remember. But the problem is that it pops up, and when I do it, I'm applying it directly to my photograph. And then I'm done. I personally would much rather use this curves adjustment layer. But I have to do that manually. So one day it occurred to me, Why not? And I'm not advocating. You should do this. I'm suggesting this is an option you might consider as I went and I found under layer that the new adjustment layer levels and I made it command L So now it said, Hey, wait a minute. That's used by levels. I know, but I want adjustment layer levels, not regular level. So I'm gonna accept that. So now when I need levels as an adjustment layer, I can do it through the keyboard. So if this was my working set up, because I have kind of my tutorial set up to show all this and might working set up every adjustment layer. Excuse me? Every adjustment under here that has a keyboard shortcut has been switched to the adjustment layer version of it. Because to me, that's amore efficient way to work. The other thing we can do. And this is a less important perhaps from a time saving standpoint. But I'll just mention it is when you go to do things in Photoshop. It's like they never remove anything from photo salvagers Atmore. So menus get more and more what I would call cluttered. So under the filter menu, for example, I want to do sharpen. And there's all these sharpening methods. But realistically, I only use half of these. So for me, these three are sharpening methods I just literally will never use because there one shot deal, we have no control over them. If you didn't already know this, by the way, any filter that has the ellipsis dot, dot dot beside it means I will open a dialogue box and the other one just says, I'll just do it So these three mean I'll sharpen your photograph and give you no input whatsoever. So I don't like that so personally, I'm not gonna ever use those. So just like we can edit keyboard shortcuts, we can also edit our menus. So I can go in and say OK, so this gonna take me digging filter and I'll scroll down really defined sharp And there's all the sharpened filters So it is Go No, thank you. I do not want any of these in my menu anymore. So as soon as I click OK, now to go back to that filter menu, look at that. Just only the ones that I want. So imagine taking a bit of time and thinking I never use this. I never used all of sudden you've got slimmer trimmer menus. It means when you are looking through things, they're not being distracted, inevitable past. All this other stuff you never use anyway. And for anyone that panics at the thought of doing that, this is just a temporary measure. In fact, if you look at the bottom, there's an option, says show all menu items, and it shows all the different sharpening methods is so they're never really gone. Um, so here's a little suggested. I do this when I'm setting up computers to teach beginners in the classroom. I secretly go around to their computers and I do this. I go to the menus to the panel menus down two layers, and I go right down to the bottom and take away flatten image so they don't even know it exists, so they'll never even learn about flattening because it won't even be under their menu. So I take it away from the layers menu and the panel menus to the only way they learn. Flattening is by saving a flattened version, so you might want to do that. But that's the little suggesting along the way. So again, not sort of what I call traditional automation, but still, I think you could see how that could speed up your work as you're not spending as much time doing things by clicking on tools or using menus and things of that nature.
Ratings and Reviews
Dave Cross really knows his stuff, and his knowledge is up to date. I didn't know there's a Photoshop "mail-merge" kind of capability - now I know how to use it! He gives clear instructions on how to save time in Photoshop in various ways. I highly recommend this course.
Student Work