One-step Actions
Dave Cross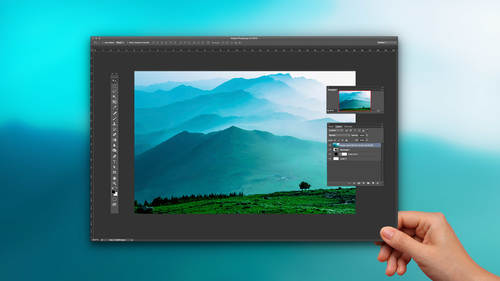 One-step Actions
Dave Cross
Lesson Info
8. One-step Actions
Lesson Info
One-step Actions
one of the other things that I do with actions, and this is to kind of get your mind going as to actions don't have to be really complicated. Multi step kind of things is there are certain functions in a photo shop where it occurred to me that the default settings and Photoshopped aren't once that I like. And up until recently, I couldn't change them, or it's a function that it's in photo shop. But it's buried several menus deep and doesn't have a keyboard shortcut. So, for example, now this has since been changed. But some time ago there used to be this little problem where if I wanted to add something like to say, I know a white box he said, White box for shop is not voice activated. So when you say white box, you have to actually press the right keyboard shark up to make it white. And, uh, all I want to do is have a black stroke around the outside. Now what used to happen and this is what prompted me to do this was if I added a layer style called stroke, it would always default to t...
he stroke being read and outside, which are both not very good features for a stroke. Now, thankfully, you can make your own default. But because of this it occurred to me that I kept doing this over and over again, changing it to black, changing it to inside and picking the size and then clicking. Okay. And I thought, I wish I could apply like a keyboard shortcut to that, but you can't to that specific thing. But what you can do is something kind of similar, and that is recorded action. And all that action is is at a black stroke. That's it. Just that one thing a little. I want this lightbulb moments I want, but there's a lot of those things that are just one little thing that I do all the time in a photo shop. So one after and I sat there made a whole bunch of one step Actions rotate 10 degrees clockwise roti 10 degrees Kleiner clockwise flip horizontal flip, vertical, those air there. But you have to go image transforms or edit, transform and fine, you know, it just it's buried down. So now I have all these little things duplicate layer, make smart object etcetera. So once I've done all those, one of the options in the actions panel is called button mode and what it does. It displays all of these things as actions are such as buttons. So now, for example, if I want to add a black stroke, I just click the button. And if I want toe make a little smaller. I have scale 10% smaller. Rotate, rotate, rotate, rotate So these are just clickable buttons that may stop me from having to go under this menu. Rotate. Go back to that same menu. Rotate. So for me, this was an investment that was well worth a little bit of time of making these little one step actions. And then in but mode, they simply become clickable. This where you can see that color coding thing someone else made some. These are not mine. That's is them, the ones that come built into Photoshopped that have color coding in them. That's an option for you. And then once you have done that, you can go back into kind of regular out of button mode if you wish. But that's another really nice way to take advantage of actions. Is just go through and think of all these functions that either can't have a keyboard shortcut or and or their just buried down somewhere would take you a couple of clicks to get to it. Now they're just in there like this, and just to get your mind's going a step further. Once you have created a series of single step actions, then you could record an action that plays a bunch of single step actions. So now you could have an action that was like Play this action, play this action, play this activities, action. Once they're in there, they become available to all kinds of things for you. Some people like simply using keyboard shortcuts. Some people like having, but mode doesn't matter. You will see lots of places where they'll say, Hey, purchase our actions and they look like a panel like that. A lot of them are in action someone recorded and then displaying in but mode. So that's OK, too. But personally, I'd much rather say I want to find ones that make sense to me because I record them for the what I want them to do. I got to be honest. I learned the most about actions by downloading some from some source and then slowing it down. You condone, even though you want actions to be fast. One great way to learn about actions is there is an option called playback options, and you can slow it down. So now you can actually watch the action, see what it does. And I was kind of Oh, that's how they did that because there are some things like in photo shop. Normally to do something, you might just click on a layer. But for a action to record, you might have to duplicate the layer, do something and Merson together just for it to work properly. So by watching someone else's action, quite often, you can sort of make note and go OK, That makes sense. That's a good way to work around that particular problem or issue
Ratings and Reviews
Dave Cross really knows his stuff, and his knowledge is up to date. I didn't know there's a Photoshop "mail-merge" kind of capability - now I know how to use it! He gives clear instructions on how to save time in Photoshop in various ways. I highly recommend this course.
Student Work