Basic Portrait Retouching
Color Grading in Photoshop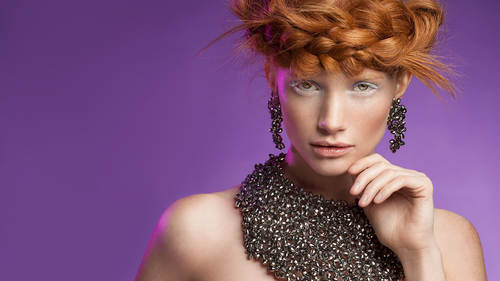 Basic Portrait Retouching
Color Grading in Photoshop
Lesson Info
Color Grading in Photoshop
The last thing that I did here was call a grading, and this was not necessary because I already like the colors here, but I just a couple of things that I want to show you with caller grading, um, I added highlights I've added just a selective collar just I mentioned before that's my favorite color correction and tolerating adjustment layer I went into the whites, and with I added science to the white by that I made them a little bit more cooler color. Also I've subtracted magenta is yellows and blacks, and brighten the whites and made them again even more cool, because I've subtracted those warm colors from the whites, okay? And then once that was done, it was a little bit too much. So I went into the channels and cold in command, clicked on the blue channel for a shop, selected the luminosity mask off the highlights in the image for me. Then I came back and added a new folder, which contained that selective called selective caller adjustment layer, and applied this mask that I've jus...
t created the luminosity mask that I just created by doing that, this is the mask that most created by doing that I've actually on ly allowed those changes in the selective color to be polite into the highlights. Moreover, ivan to all of this this whole composition and put it into another group and on ly unmasked the areas where I want those highlights to be cooler not everywhere, not all over the image but on lee on the face s and just the areas that matter for me this is something that you choose what to do the whole point off what I'm showing here is remember that you can messed your adjustments within groups and applying new and you and new masks and you can kind of married down to where you only want them remember about luminosity masks if you don't know much about them there is a lot of information on the internet I have been using them for a while and I really love the way you can call a great and actually do a lot of things while in beauty photography and portrait photography to by selecting those masks you can effect separately highlights you can also invert that mask and only apply whatever color grading onto the shadows. So you know it gives you precision as to where you're applying your color grading changes and not only tolerated also called corrections earlier in the day in the whole retouching process and they really want to jump on to one more portrait and just quickly walk you through same steps so this is the finally meet and this is where I started there was glare on the um the glasses and I actually selected this image because it had it because I had a lot of images that didn't have the glare. It's just as easy as making sure that you don't see it when you take the shot. Okay, so I actually selected this image to show you that with, um, adjustment layers that I've talked about the human situation, selective collar and having a new layer set to call aplenty mode. You can even fix that so move closer and I did those changes between the frequencies, separation layers so I did it all under the texture it's not necessary because it was only the call corrections but I went underneath and applied selective collar, inhuman saturation and just the layer one blending mode, another selective collar you can see there are many, many steps that I actually yeah oh, many, many steps scene one two and I will show you the masks see just a little bit here. Iris the iris was green. I made it blue. I'll get in so you can see I've just to the saturation um, out of this and shifted the collars. Then the whites were a little bit dark, so I added a curve layer and this is what I applied with the curve here than skin behind the glass. This was green I made it a little bit to purple, but I just couldn't get too close to the color that I wanted, so I left it at that and started working on top of it with selective caller minus magenta minus magenta, minus yellows and step by step, I actually applying on different areas and then warmer shadows right here by subtracting science from the threats like I mentioned before. So the whole point here is that select those areas that you need to adjust and use as many jet adjustment layers as you need and mask everything else out so that you have a lot of precision and again, human saturation, the blending, more color blending mode and selective color are just as perfect for, you know, to change completely the collar off the whole area. And then here I've also worked on the hair she didn't she is one of my most favorite models for the entire time that I've been shooting, she didn't dye her hair before the photo shoot obviously was just for us, and you can see that it's a little bit last warm as the rest of the hair, so here within the frequency separation, it's one of those great things that you can do it with. Frequent separation. I've changed the caller slightly underneath the texture is so the texture wasn't affected by my changes. So I got it a lot closer. It's not as gray it's more in the tone that she has the rest of her hair and the rest of the things I've applied all the same. A little bit more dodging and burning here. But one of the things I really want to show you because we're talking about the frequencies separation today more than tomorrow. I actually did a lot of work with the frequencies. Separation on her shirt here. This is what it wass and why applying the frequency separation and with then between the high frequency and low frequency lair I could paint in and dark in those are brighton. Those shadows on the, um, on this area in the color. And then the short at the bottom here it was such a big area and had so many different little just slowly. Brinkley but if I start painting, I'm probably not going to get it right. So what I did here, I actually selected this whole area just with this election tool and this was probably going to look horrible because I'm trying to show it so fast, then I refined the edge. Just to make sure that it's not cut out not too sharp off the edge in my selection, subtracting contrasts and fathering usually does that just to make this election just a little bit sulfur than ok. And then I took it to the new layer command j again and applied medium noise. I can actually look at what I'm doing and soft and that, and what happens is see, it was still most off the details they're still there, but that ring clear stuff goes away now from here, I can actually add, uh, mask again and just mask out on lee the parts that I want. For example, if I didn't want tio affect this line, I would just unmask this area or the opposite I could just mask is back. There we go, so frequent separation turns out I finish on this note the frequencies separation is actually agreed technique, even though a lot of people don't like it and don't use it, but for portrait photographers, it is really great not only working on the skin just be very careful and your changes should be very, very subtle, but also for problems like hair and outfits.
Class Description
Every photograph is unique and there's no one retouching rule that will work for all photographs you encounter.
In Basic Portrait Retouching, Julia Kuzmenko McKim will discuss how to develop a solid retouching workflow that will have you quickly and efficiently achieving the kind of results that keep clients happy. You'll learn how to retouch skin while preserving its texture, fix makeup and hair, and finalize your portraits without spending countless hours doing it.
Software Used: Adobe Photoshop CC 2014.2.2

Reviews
Happy to have purchased this course. It is a great introductory course for anyone beginning to retouch portraits and looking for a good workflow with the goal of saving time and effort. Frequency Separation is explained and tips given on how to properly select pixel radius to avoid bringing too much into the high pass layer along with many other tips for retouching. It is a basic course as the title states but it's a great place to start.
Julia is such a pro at her trade! her passion for detail and knowledge of the human form along with the subtle maneuvers of Photoshop are incredible. I'm not sure how she manages to spend so much time on a single image - must be her dedication to perfection. This is a course well worth the asking price!