Shooting an Editorial Assignment
Laura Grier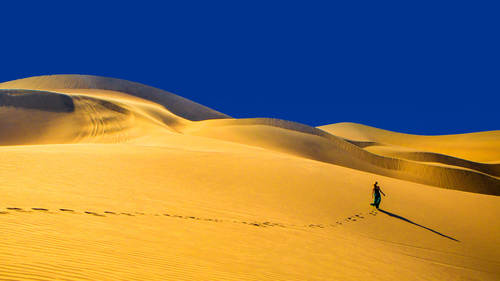 Shooting an Editorial Assignment
Laura Grier
Lesson Info
31. Shooting an Editorial Assignment
Lesson Info
Shooting an Editorial Assignment
Okay. So some people would ask me about shooting an editorial assignment. There really is. No, um, I'm gonna shut this down. That's okay. There really is no formula to how to shoot editorial assignment. I think I kind of touched on this idea a few times because the worst thing in the world is when you go somewhere and you come back and you're like, I forgot, Like, I should have shot this. Or like, I could have filled this in with that. Why didn't I do that? Well, is there? Why didn't I shoot some video clips while I was there? Like, there's the worst thing is to go and to not take your opportunity to do some of those things. So I'm always trying to think ahead of story ideas, But like I said, a lot of times I'm thinking of story ideas on on the fly. And, um, you know, I'm inspired by something totally different when I'm there. And so when I talk about shooting editorial assignment, every story is different, So there isn't really quite a formula, But I will say this. That and I don't kn...
ow how many, how many? Because they're in weddings have experience. I think only a couple of you, right? You've done wedding and out there. I don't know how many wedding photographers out there, but as a wedding photographer and photojournalist, I feel like what we do. Her wedding is really helpful. So I talked about it on day one a little bit. Where you want to get these wide, establishing shots, you want to be able to get detail shots you want to be able to get what I call B roll I'm talking about here were, you know, kind of like filler photos that can fill in your stories that, like detail, shots and and things that can illustrate a certain point. And maybe that would be food. Or maybe that would be certain locations or activities. And then, um, but definitely the atmosphere wide shots are very important, but also shooting, editorial and lifestyle. So when I started working with my with Robert Harding, which is my travel stock agency, they they like, put two categories into travel. They put lifestyle and then regular kind of travel atmosphere, shots and lifestyle. This is an example of a lifestyle shot. We're in Flores Island in Indonesia on a finny sea boat like this old fishing boat, and we're going on a tour of the Indonesian islands, and I put friends of mine slash models that you know, just doing things like this. They're not recognizable. It's their backs. So I didn't need to get releases from them. But I did a series of shots of people enjoying the boat, right? So it wasn't just all beautiful shots of the boat or the scenery that we were seeing. Ah, lot of it is also putting people in and making them enjoying that environment, and that's very sellable for travel lifestyle. So I'll show a few more examples of this, and this is a shot. So I I'm going to switch gears and tell you about this trip that I did to Indonesia. Same thing. Ah, there is Ah, never heard of a fin easy boat, which is on old kind of old self fishing boat that they haven't Indonesia. And they do all the It's like it's like a pirate ship almost looks like it's very like Moroccan kind of hippie theme, and they do tours around Indonesian islands to places that you can only get to like Comodo Island, where the Comodo Dragons live. Or there's an island where every night at exactly six PM cause they're on the equator millions of these giant Fox bats fly from one cave to another island to another to go feed. And they're just millions of huge bats like flying over your head and all these boats. You have to be on a boat to see this. All these boats go out exactly like 5 58 they park their boats and wait for the bats that fly overhead. And so that was when the experiences you could do in this boat the woman who owns this boat, I met her randomly. I was in Bali on another job for Novica, and we're just like at a bar. And I met her and she's telling me about this uneasy boat I'm like, That's amazing. I'd love to go on this experience, and, um and so if I was like, show me your website, just like, Oh, yeah, I haven't had time to put together a website like what's How do you get people to come and go? Just word of mouth. I'm like, oh, like pick people about bars and tell him to come on your knees either. And then I'm like, OK, I'll come. So she we kind of had this great conversation and I did a trader there. I said, I will take awesome photos if you bring my mom and I on this trip and, like, take us around the islands and news. It's like a dream to do what you're talking about. So she did. She took, We did a trade, and I just did all this kind of photography, like all kinds of atmosphere shots and some people enjoying the boats of the scenery from the hotel like that she owns on this little island, you actually go to a private island. This is the dock where you land on that private island and it's surrounded by a coral reef and like she's no good pictures. I think she'd taking IPhone photos and was like putting him on Facebook. So I got up really early and and did sunset and early morning light shots. And this is the boat, the Finnessey boat that she owned that we were on, and I just did a lot of I did atmosphere shots that kind of showed the beauty of the water cause a lot of what we were doing was traveling on water. And so I just wanted to take some photos that really evoked that emotion of being out in the open ocean. And some of them had people in a someone didn't. This was a guy like our little personal gondolier guy that had to take us out to the boat. It was like, has little skiff boat to take you out the boat you're gonna live on. And then we had our own crew and everything, but this came from talking to somebody at a bar that had a terrible, like no website or terrible photos and needed help, and it turned into this epic adventure. So this is a good idea of showing you kind of different far away shots the shot of the boat. I told him, you really need a good shot of the boat s. So I jumped on another boat to go take. Actually, I think we ended up going, Yeah, I would jump in another little boat around, and I did like a 3 60 video of just kind of going around the boat and then I also went and took pictures of the boat at a different times of day. Sunset morning. Bhola and I just wanted to make sure she had all our bases covered. And I think when you're doing an editorial assignment, you want to think that way to you. Want to think of how different is it gonna look at sunset or sunrise? Midday? Like maybe you should think about taking pictures at different times. Maybe you should go on Instagram and hashtag these locations and see what they look like at different times. And it doesn't hurt the have, you know, like different lights and times of day. And back up your images. This is a shot again. I did it from a boat just to show the resort. She had all these pictures that were from land of the resort. But she didn't have anything really from the water. And so I wanted to give different. This is like sunrise and you can see this coral reef all around. It's really beautiful. And so I just did a whole different Siris of the different times a day of the resort. And then I did close up detail shots so a lot of magazines like and who I write for a venue less and stuff they wanna. You know, sometimes they just want toe showcase a hotel. So I wrote about this whole experience for Ben us. But certain places might want to just feature the hotel on the island or just the boat. So you need to take sort of room shots and details and interior shots and exterior shots that air clean. They love these kinds of stuff of any type of, like, hotel or place that you're staying at. This is also just sort of showing Indonesia. So these things are very iconic to Indonesia. When we went to Comodo Island, I should have gotten that close, that animal. But we got very close to the Motor Jagan's they This is, by the way, the crazy thing. So we go to this island. It was like straight out of Jurassic Park or something. We land were like, awesome. So where do we see these Comodo dragons? And they're like, there in the wild. I live in this island, so you just have to look out for them. And you're like, Well, how close is that? They're like No, you're not supposed to get close to them. But you, you know, like if you see why, I will let you know. So you're walking like through a trail and you, like, hear birds on. Then you will hear like like a rustle in the end There weeds and you're like, don't know where the animal is and it's kind of scary and got him paying money to be dropped on an animal in their habitat. They're hunting me like someone hunting me, you know, and I just I don't know, it was really nerve racking, but I was determined to get a shot of Comodo Dragon because that was one of the selling points of her tour was that you go take a boat to this island and you, like, try to hunt these guys down while they're probably hunting you? I don't know, but that's what we did. And this I got him in mid yawn. Looks like he's being fierce, but I wanted to make it like him like a little fierce. I took a lot of pictures of this comodo sitting there, but the picture on the left is of Bali and the secret monkey forest. I included this picture because it's obviously one of the islands, but it is the starting point from this tour. You kind of go from Bali, two floors island and then go through the islands. So I wanted to shows up an image that really evoked the feeling of Bali to me and showing the prayer offerings and the monkeys and there, and someone in a traditional outfit sort of said it all right there and then the picture in the bottom, right are these little girls that air drying sardines on one of the little fishing villages that we came across, and so we would make little pit stops on these islands that were just inhabited by maybe a one little fishing village. I think Indonesia has, like 1400 islands or something crazy so that some of them are just big enough to have a few houses. Some of them are really big, and it's amazing. You can just, like, just stop in and check them out and take photos. So I wanted to show that as a whole, because that is, you know, all atmosphere. I wanted to evoke emotion I wanted to show with. She was offering. I didn't want toe like make it so super touristy. I wanted them to feel like the emotion of being there. I didn't show the pictures of the bats on there, but there is. If you go like my website or check out the article I ended up doing about it, you can see all the pictures of the bats. Yeah, just a couple of questions before we move on to the next slide. Chazz is wondering, other than the time of day, you were talking about photographing the boat at different times. He wanted to ask Laura, ask you about location scouting. So? So how much more locations got into typically, Dio And do you do that remotely? I think you mentioned Instagram. I do a lot of it remotely, but with location scouting, I'm always showing up a day or two in advance and and really trying to see what things look like in different light. I never show it like the day of a shoot or leave it all to the day of the shoot. I try to figure out sometimes I'll change the entire shoot schedule based on what I saw the day before like the light really changes here. Like we should probably start a little earlier. It really helps to do research. I got there early, but I also got the this particular shoot in floors Island. I was on my own schedule, like, literally, they were taking us where we wanted. I could spend as much time as I wanted. So it was different than being on a typical tour. But But this is crazy, just in a zone example. So my mom and I, like I said, I was there for a shoot for Novica and we had to get back for this photo shoot at a specific time and day. We take the jumper flight back home floors to get to Bali and in mid air the pilot gets on. He's like so just let you know that the volcano just erupted and we have emergency land on this local island. Lombok. I'm like what? And so we land on this island and they shut down the airport for 24 hours and over a volcano erupts over there, which happens frequently because planes can't fly in that. So I'm like, Oh, my God, We have to get to the spiritual tomorrow. Like where this is a really terrible And so my mom's like, Well, we should really just wait in line and get like No, no, no, We're on an island. There must be guided the boat. We got to get to the next island. That's what we're gonna do. We're gonna get a boat, some asking around every airport, like who knows someone with fast. But we need a fast boat, and this guy's like, I'm just some one of the fast boat And then I asked him, How do we get to it? He's like, well, leaves in in an hour. And I said, How long does it take to get there an hour in 20 minutes? And I'm like, How fast can you drive? He's like, Okay. And my mom's like, it's a reputable taxi company and, like, this is the word like this here in the museum on were jumping on this card. This guy's gonna rushes over this boat. We're gonna try to get on this boat. We're gonna get back to Bali. We're going to get there. So we're like racing across the village is really going on unfinished construction roads and he doesn't really speaking as she looks back. He's like no traffic and I'm like courses. No, traffic is not a real road. What are you doing really going with me through my mom's like pulling her seatbelt like Holy crap and way. Get there and we get right to the boat and we make it there in time of the boats full. So we're now climbing on top of the boat with a bunch of like Australian Stowe is, and they're like allowing people to sit on top of the boat, which is very Indonesia, because it's like, so no legal and we're sitting on top of the boat. They're selling beer out of a cooler on the top of the boat while you're like holding on for dear life as we're crossing the ocean to get some Bali. So at this point, I'm like, This is crazy and I look back at my mom to be like, make sure she's okay and she's like, That's amazing, like the waves or splashier Ezra when you're driving And it was like planes, trains, automobiles, crazy stuff to get there. And like sometimes things that happened while you're traveling and for me. I usually don't cut it that close. I'm trying to get somewhere the day before because things happen like that. So I always try to get there a couple of days before and acclimating like check out the surroundings and make sure that lighting's good like everything's good. But that one was the super adventure. We made it back for the shooting. Everything went well and it was a great story to write about, so
Class Materials
Art, Life, and Business Discount Code
Writing & SEO Guide for Travel Magazines
Sammy's Photo School Discount Code
Ratings and Reviews
I've been listening for, like, two hours. OMG. Like, I could, like, you know, get more from this if, like, she stopped jibbering and get to, like, you know, the topic? She sounds more like a rambling stream-of-thought teenager than a mature adult giving a succinct organized presentation. In two hours, I have, like, learned about two or three things I can, like, use. Like, Ehhhh...? It's like, bor-ing! Like, whutttt? Is she, like, 15 or what? Sheesh.
I have to start by saying that I was lucky enough to be part of the live audience in this class! What Laura has shared this 2 days, is something that will have taken me a few years to learn. Thank you for remanding me that we create our own opportunities and we have to go for what we want instead of waiting for it to happened and will these tips your share in this class, will make it a lot easier to approach editors or potential clients to be able to conquer my goals! Thanks you very much Laura and Creative Live for making all these possible for the photo community all around the world. Thank you, thank you, thank you!!!
Student Work