Beginner Drone Photography
Creating Panoramas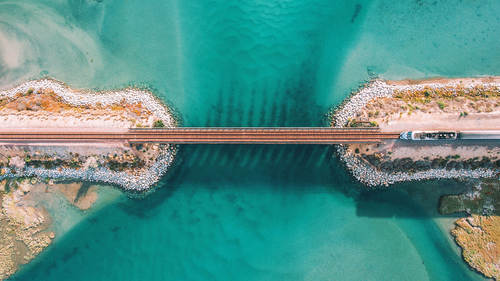 Beginner Drone Photography
Creating Panoramas
Lesson Info
Creating Panoramas
How to Create Panoramas. I'm gonna open up my Lightroom and we'll start doing a little Lightroom demo. So what I'm gonna do is I'm gonna use Lightroom. I use Lightroom CC. And this isn't so much about you using exactly what I use. It's more about the principles and ideas of what I'm using. But for those that are interested, this is what Lightroom looks like when you open it up, and I'm just gonna show you how to import, yeah, I'm gonna show you guys how to import some images and I will then show you how to make a panorama just so you understand the importing process. And then from there I'll just start doing some edits on some photos. So when I pull up Adobe Lightroom, I'm gonna go down to the import dialogue box. And if you shot raw photos, you can just add them in. I personally like to convert mine to the DNG just because I can save a little bit more space. They do have a little bit smaller file size, and it's still raw, but it's Adobe's DNG file format. And what I usually do is I se...
lect, I pop my SD card into my computer and then I get the drop-down box right here to select it. In this case, though, we'll just pretend. I'm gonna go find it on my hard drive. I've brought in a few photos. And I'm bringing in these photos. And because I'm showing you guys how to import and how to make a panorama, I'm just using jpeg so it's fast, but I would normally be shooting raw, just so you guys know. So before I import those, let me show you what I'm working with. I took six photos at the beach and I just got different angles. I just yawed, twisted around, and I basically was looking for a 30% overlap from image to image. So you can see that some of the images have an overlap from the previous image, right? So working with something like this, I can then take all these six images and make them into one panorama, right? So I'm gonna import all six of these images, and they load up right here. I have the Copy as DNG selected, and I'm going to click on that to twirl it down. And I'm gonna go to custom text and I'll just call it like Pano. And my start number is at one, so my file is gonna be Pano-1.DNG and the only other thing I really do is I give it a keyword. So I usually always put what drone I'm shooting with in case I need to do a search later. I will also say pano. I'll give a couple of descriptions. Beach, coast, something like that. I'll throw in drone as well so it's not on my DSLR. And then from here I can select my destination, where do I want it to go? I'm happy with where it's going right now, so I'll leave it, and I'll choose import. I'm getting this dialogue box, because again, I used jpegs, but remember, you'd probably typically be importing raw. So this won't pop up. So here's all my jpeg images. I'll just say here's my six images for the pano. All I need to do now is select them all by shift clicking the first one and shift clicking the last one, and they're all selected. And I can right-click down here and I can go right here to Photo Merge. You'll see there's two options. There's the HDR, and there's the Pano. I'm gonna actually choose the panorama. And I get this dialogue box, and this is just a preview of what my panorama might look like. Now depending on if you're shooting a pano looking out or looking down, you might wanna play with these projection settings right here, but typically, the spherical, that first one, is what I will use if I'm looking out. You might wanna play with perspective if you're doing one looking down. But again, play with these. So I'll leave it on spherical. And this auto crop, this is what it looks like without auto crop on. You see that I have a bunch of white boarders there, but Lightroom is already taking care of perspective and overlapping and blending. If you turn on the auto crop, it crops out those white areas. And then the next important setting is this boundary warp. If I shift this, you see I get a little bit more information there on the edges, right? My image becomes a little bit taller. I kinda push out. So depending on the effect you're going for, I might just leave that on the 100, and I'll click merge down here. So that will process. Because this is jpeg, it's gonna be pretty quick. If it's raw, it'll take a bit longer. I'll space bar that, hit F, and then there's your panorama. So pretty easy to make panoramas. The big key is you wanna take, I would say, at least more than three images and have a 30% overlap. Keep your drone in one spot and just twist the drone; yaw the drone to get the other angles. I will say that, depending on what DGI drone you have, there is an auto option, so there is a smart feature for you to do that. And I will also say that on the original Mavic, you can actually turn the camera vertical and you can get a tall panorama as well. So pretty cool. Or you could use that to, 'cause you see that this is a pretty skinny one. What maybe I might have done if I was really trying to get a great one is I might have taken six higher. Like, pointed at the sky. Like, tilt my Gimbal up. And then I might have taken six pointed down a little bit more, and then this whole image would be filled, if that makes sense. But one thing that's cool is if you have a drone whose camera can flip. You can get a tall one, a tall one, a tall one, a tall one. Unfortunately, they didn't include that feature on the new Mavic 2. Kinda bummed about that. Okay so let me just go back to my slideshow here real quick. And merging the automatic exposure bracketing images, right? The auto exposure bracketing. I encourage you guys to shoot with more than three. Three would be the minimum. I would say shoot with five so you have some more variety. And I will demo that real quick. I'm just gonna go down here to my collection and I wanna show you these first three images. These first three were shot as just three. I had it to the three setting. And you can see that my sky is really blown out there. If I go over, I have a little bit more information in the sky. And then over there it's kinda like a blend of the two. So for me there's not enough information that was captured, right? I actually would rather have more information in that sky. So I recommend the five option, and then you pick the two photos you wanna blend. So here's an example. When we were out down at the river, I did a five. And here's all five. You see that one's really dark. Lots of sky detail, right? And that one's pretty blown out. So what I might do is I will just pick the two extremes. So I'll pick this really dark one and then this really bright one. So I don't need all five. I'm just gonna take the two. So I'm gonna shift click the second one, so I have two selected. I'm gonna right-click and go to Photo Merge HDR. So pretty straightforward right there. You will get a preview of what your image will look like. You can check on the Auto Align. You can check on the Auto Tune. I usually just have these on, and now everyone's probably thinking, like, the song? Or what singers use? What rappers use? No, it's just toning the image to be consistent. The deghosting, this is really beneficial if you have something that moved, so if I did my five shots but a car went by, you might wanna play with these settings in here. I don't have that, so all I'm gonna do is check merge. I'll give it a minute. It's creating the HDR. And then there it popped up. And what's awesome is this is a raw image. I still have a raw image. So this is a little too hyper HDR for me, personally. So even on some of my other images, you might see I blow out my sky a little bit. That's just a personal preference. It's like a style thing for me. But what I'm gonna do is I'm gonna reset these by hitting CMD + Shift + R. And now what I can do is I can play with the highlights and blow 'em out, or I can bring 'em all back in. And I can double-click on it to reset it, and I can do the same thing with my shadows. I can turn them up or I can really crush them. You hear that term crush. That means you've lost the information. So I have black. I have, like, no detail essentially in those trees. So this is a really cool way for you guys to get images that still have detail in the sky and have detail down in the ground. I encourage you guys to play with this. My recommendation is the five option.
Class Description
AFTER THIS CLASS YOU'LL BE ABLE TO:
Confidently fly a drone
Understand basic legal requirements
Execute simple to intermediate drone maneuvers
Adjust settings for aerial photography
Simultaneously adjust the drone and the camera
Use drones to capture a variety of still and video perspectives
Edit aerial photography and aerial videography
ABOUT DIRK'S CLASS:
Sure, drone photography looks just like playing a video game, but controlling an unmanned aerial vehicle while simultaneously working a camera takes essential know-how and practiced skills. Take off with confidence and capture aerial photography and videography at angles you never thought possible. In this beginner's class, learn essentials like safe drone flight, essential photography settings, and basic post-processing.
Work with award-winning aerial photographer Dirk Dallas as you learn to control your drone. Whether your drone is collecting dust or you've just opened the box, this class provides the essentials to fall in love with drone photography and videography. From legal restrictions to selecting and operating a drone and accessories, this class covers all the basics of aerial photography with a drone.
Explore a drone's controls, then learn exercises to help hone your flight skills. Flag potential legal restrictions in the United States. Learn settings and tips for capturing great aerial photography, then incorporate motion with video. Finally, work in image processing and video editing to fine-tune your captures. Whether you want to capture aerial images for real estate, environmental studies, commercial advertising, independent movie production, land-use planning or simply creative photography, start flying with confidence.
WHO THIS CLASS IS FOR:
Any user new to drone flight
Photographers looking to expand to aerial photography
Videographers eager to add a new angle with drones
Drone newbies that want to learn new moves and tricks
ABOUT YOUR INSTRUCTOR:
FAA licensed drone pilot Dirk Dallas uses drones to capture new angles in his commercial photography and filmmaking. Also a speaker and professor, Dirk is the founder of FromWhereIDrone.com and the host of the AdoramaTV series From Where I Drone With Dirk Dallas. Along with his creative work, he enjoys teaching and inspiring new drone pilots.
Reviews
Dirk really did a nice job taking new students thru exercises to gain confidence. The work in Lightroom and Photoshop was helpful, but I wish more time could have been focused on flying or tips. Dirk has presets that he offers. It would have been helpful to see the results using those presets. Looking forward to the free which Drone to buy class and the advanced class
I definitely recommend this course if you are thinking about getting into drone photography looking for the fundamentals. I now feel pretty confident I can get started and that my learning curve will be greatly shortened thanks to the technology available today and a great roadmap of getting started. If you are already started... follow up with his advanced topics... I know I will.
Super class. As a beginner I had little idea what to expect and never got started because of all the talk of people crashing drones right and left and losing a fortune. Dallas made it seem simple. So I bought a Tello beginners drone (great starter by the way), got hooked and am now flying a DJI Mavic Pro 2 and studying for a commercial license. Not sure, this is a great class to start with.