Beginner Drone Photography
Post Processing For Videography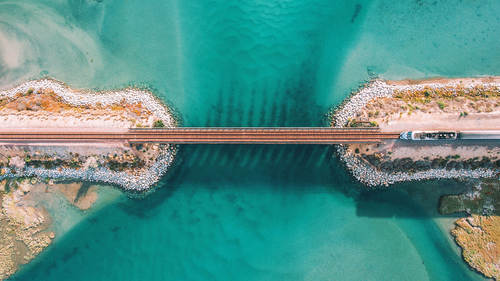 Beginner Drone Photography
Post Processing For Videography
Lesson Info
Post Processing For Videography
Kind the last thing I'm gonna run through today is some post processing stuff. So I'm gonna open up my computer. And maybe after this, Kenna, we could have a time for Q and A? And I just wanted to show you how I kinda approach a short clip. You saw me do some of those short little videos of like my buddies or just something kinda fun. We're not making a commercial here. But what I'm gonna do is I'm gonna take one of my clips like this one and I'll just kinda show you what I would do with this. If I double-click this on a Mac and I hit Command-I, you can see that I've shot at, I have a format of four K. So this is a big file. (Dirk clearing throat) So one of the things that I'm gonna do is open up Premiere. And I'll show you how I import and start my project from the beginning. If you use Final Cut, awesome. Final Cut is great, so are many other editing apps. I just happen to use Premiere because it plays nice with Adobe After Effects and Photoshop. It's more about though, the ideas. So...
I'm gonna open up a new project and I wanna name this so I'll call it CreativeLive Beach. I'll save it, just on my desktop. Hit Choose. I'll hit Okay. And there I go. So this is my starting screen. And actually, it probably normally looks like this if you're going to do some editing. And before I start, I need to get in some footage. So there's multiple ways to do that. You guys can go to File and you can import it from here. You can double-click right here where it says Import Media. You can navigate to it. I'll hit Cancel. I'm gonna hit Command-Tab and go to my Finder and instead I'm just gonna click on this file, hold it with my mouse, Command-Tab over to Premiere, and just drag it in. So it's gonna analyze that file real quick. If I pull it up here, here's the clip. So it's playing nice. And let's just pretend to illustrate that I just wanna post this to Instagram. I just wanna do a little social post or something like that. It's not gonna be outputted to a commercial or anything like that. Well what I could do is I could make a new sequence and I could figure out what is my output, so maybe I would go to my Digital DSLR. I'll do like 1080. (Dirk clearing throat) Let's see what frame rate I shot this at. (computer clicking) Did you catch it? 24? Okay, thanks. So I'll just select 24. I've got a 1080 by 24 frames per second project. I'll hit Okay. (computer clicking) And I'll double-click on that to stay organized. I'll call this 1080 24 frames per second, just so I don't get too confused when this project gets filled with files. And I'll double-click on my sequence and now I need to bring in my clip. So I'll drag and drop this over, I'll let go and you'll get this setting, says hey, your footage is a lot bigger than your sequence. What do you want me to do? And I'm just gonna say do nothing. Keep it how I put it, I did this on purpose. But if for whatever reason, you're new to all this, this is a helpful setting because you can be like oh thanks for letting me know Premiere. Change it, if you needed to change it to four K. I'm gonna leave it at this though, so Keep Existing Settings. And there's my clip. So you can see that it's really punched in on the group of people there. If I Command-Tab back to my Finder and double-click on this, you see that I'm missing like all of this, right? I'm missing all of this up here. I'm missing all of this. You don't even see the people down here. So what that means is I'm actually, I can actually zoom out. I can scale this down. So I'm gonna load my clip into my preview window and I'm gonna go over here to Edit Controls. Oops. (computer clicking) Well, I'll do it manually. What I'm gonna do is double-click on this frame over here. And do you guys see, I got this little circle thing right here? When I double-click, that means I can move, I can move my clip around. Let's see, am I doing something wrong here? Sorry, let me check something real quick. Effects. Okay, sorry, so I was on editing and what that means is when my clip is in here, I do not have access to my effects, which is what I wanted. So in this top tab, I'm going to click Effects. And then now I have what I wanted. I wanted to find my motion control. So this is exactly what I wanted. So I just wanted to show you that I can adjust my scale here. So I could type in Scale 50 for 50% and there it is. You see it zoomed out. It's no longer scaled all the way up, right? So one of the helpful things I can do, I'm gonna reset this since I kinda messed that up, is you can also move your frame right here, so you can reposition it. So I might try doing 70 for scale and then I wanna see some of those waves crashing. I wanna keep this kinda centered and I definitely wanna see some of these people here. So I might move that down a little bit. Looks pretty good. I obviously have a lot more though, I can add in this complete whole side here, right? This is a really cool way to work with four K video if you're not outputting the four K. You can completely crop out those people and just see that, right? So a lot of options here. I actually do like some of that blue, I just don't want these people to be too small. So I might try changing this to 60. Make sure some of that blue comes in. Yeah, so now I have blue right in here.
Class Description
AFTER THIS CLASS YOU'LL BE ABLE TO:
Confidently fly a drone
Understand basic legal requirements
Execute simple to intermediate drone maneuvers
Adjust settings for aerial photography
Simultaneously adjust the drone and the camera
Use drones to capture a variety of still and video perspectives
Edit aerial photography and aerial videography
ABOUT DIRK'S CLASS:
Sure, drone photography looks just like playing a video game, but controlling an unmanned aerial vehicle while simultaneously working a camera takes essential know-how and practiced skills. Take off with confidence and capture aerial photography and videography at angles you never thought possible. In this beginner's class, learn essentials like safe drone flight, essential photography settings, and basic post-processing.
Work with award-winning aerial photographer Dirk Dallas as you learn to control your drone. Whether your drone is collecting dust or you've just opened the box, this class provides the essentials to fall in love with drone photography and videography. From legal restrictions to selecting and operating a drone and accessories, this class covers all the basics of aerial photography with a drone.
Explore a drone's controls, then learn exercises to help hone your flight skills. Flag potential legal restrictions in the United States. Learn settings and tips for capturing great aerial photography, then incorporate motion with video. Finally, work in image processing and video editing to fine-tune your captures. Whether you want to capture aerial images for real estate, environmental studies, commercial advertising, independent movie production, land-use planning or simply creative photography, start flying with confidence.
WHO THIS CLASS IS FOR:
Any user new to drone flight
Photographers looking to expand to aerial photography
Videographers eager to add a new angle with drones
Drone newbies that want to learn new moves and tricks
ABOUT YOUR INSTRUCTOR:
FAA licensed drone pilot Dirk Dallas uses drones to capture new angles in his commercial photography and filmmaking. Also a speaker and professor, Dirk is the founder of FromWhereIDrone.com and the host of the AdoramaTV series From Where I Drone With Dirk Dallas. Along with his creative work, he enjoys teaching and inspiring new drone pilots.
Reviews
Dirk really did a nice job taking new students thru exercises to gain confidence. The work in Lightroom and Photoshop was helpful, but I wish more time could have been focused on flying or tips. Dirk has presets that he offers. It would have been helpful to see the results using those presets. Looking forward to the free which Drone to buy class and the advanced class
I definitely recommend this course if you are thinking about getting into drone photography looking for the fundamentals. I now feel pretty confident I can get started and that my learning curve will be greatly shortened thanks to the technology available today and a great roadmap of getting started. If you are already started... follow up with his advanced topics... I know I will.
Super class. As a beginner I had little idea what to expect and never got started because of all the talk of people crashing drones right and left and losing a fortune. Dallas made it seem simple. So I bought a Tello beginners drone (great starter by the way), got hooked and am now flying a DJI Mavic Pro 2 and studying for a commercial license. Not sure, this is a great class to start with.