Behind the Podcast : Lewis Howes on The Chase Jarvis Show
Q&A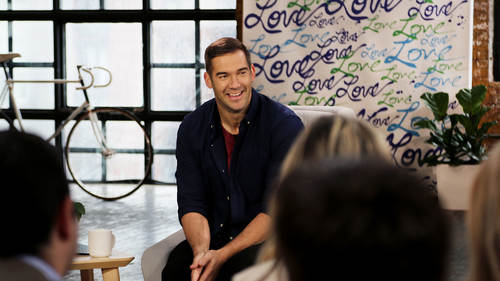 Behind the Podcast : Lewis Howes on The Chase Jarvis Show
Q&A
Lesson Info
Q&A
So now what we reserved is like 15 minutes of Q and A so that you can ask us questions about anything you saw, what was what felt weird, what felt natural. Anything that you want to know about either of us. Um, in this context, just feel free. So it's you can ask questions of either of us. Um, and if you don't ask questions, I'll just keep talking. So let's ask the question, please wait a second row. You, sir? Yep. Right there in the black, in the black. Me won't stop. Stand up. Tell us who you are, What you're grateful for. My name's Keith. And I am grateful for the concept of the the season. Like having something on my wall that I can refer to on a daily basis. Questions for you, Chase. Maybe you have some ideas to Luis. But you just showed us a riel. Great example of of an interview with a lot of flow. Um, I'm wondering if you could share with us some behind the scenes inner thoughts that you had along the way of moments where you found, like, anything that might be an illuminating ...
like Oh, I need to move it along here like, Oh, I need toe loop back to this or Sure, you know, I think that's an excellent question. And what I would like to, um to share before I get into the details of my answer is this is something I've done for thousands of hours. So, like, I'm not ashamed to say the things that I am a master and the master photographer, I'm OK, it running the company. I'm a very good interviewer, So I have thousands of hours and this stuff becomes natural. It's just like a muscle and what I'm now we're going to the tactics. So, like, just I think it's important to know that your 1st 10 or 15 or interviews are gonna look or feel like that. Maybe they will if your natural and there are a lot of natural in the audience, and some people have this natural inclination and gift pull things out of people. But there are a handful of things that are going on one. I know the themes that my show is about. It's about world class performers. It's about vulnerability. It's about, um, mastery. It's about how to recover from failure. And so these are things. At any time. I hear one of those things, I'm sort of marking it and saying, Great, I'm gonna go back. I'm gonna pull on that because it's something that I have programmed my audience to look forward to understand some of the reasons I know they listen in care. And so I know that they want me to go deep. That's one the reasons they listen to the show and I try and decide This show is not for everyone. But if you try and make something for everybody, end up making it for nobody. So I orient around creators and entrepreneurs, and I try and bring in people from different disciplines like yesterday I had the bachelor on, okay, and and we were like, Well, what's the connection with the Bachelor? He had no experience in acting whatsoever. You have to wait to the episode comes out and I could say who it is. But he had no experience in acting and decided he was just coming out of a really horrific divorce and wanted to, like, literally meet new people and get an adventure. That's why he did it And so there's a huge and to me when he says that I go right to and like, That's so it doesn't matter if you're coming out of divorce or going into something, what you want, what I heard you want to transition in your life and you're willing to do anything to get it, because that's relevant to everybody in my audience. So I'm constantly knowing who's listening and relating these stories that I'm hearing back to that audience. There's some core principles that I have decided to stand for in this show and that to me. You know, if you listen to Lewis's, it's about greatness. Ready to listen to Tim Ferriss is it's about deconstructing. How did the master person master chess player, Master chess? So there was a couple of times I'll just look when he said, and I had mastered this. I'm like, Boom, I'm putting a mental pin in there. And then if he finished the story and I go, let's go back to something you said earlier mastery of what? What does it feel like to master? I also try and ask open ended questions because I don't know if you if you realizes I'm doing a lot of talking now, but lucid, a lot of talking. And that's because I didn't say, you know, and I wait. I waited for my like, short answers to the end, because short, punchy answers. A lot of people like use those as warm ups. I don't I trying to get the guest talking. So like, how did that make you feel? That's a very open and question. Tell me you have a fascinating story. Take me back to the beginning. You like in my head? They're going home. We shut the beginning. What, Michael? A where? Life the time. But you know what? We're programmed as humans to just respond. So I asked an open ended question. I shut my mouth and he kicks and let me ask a question. You know, we're in the meta here. What did it feel like when I'm asking you these open ended questions? While I think in some ways it's good in other ways. When you create structure, you create freedom as well. Yeah, right. As an artist, it's like Tell me about when you were from 5 to 10. What was that like then? It's like an open ended with structure. That's what you know. It's like shifting gears. Yeah, like No, no, I know. We're in the speed round, Lewis, huh? And then he's laughing. Oh, go. I got too long of an answer. And then the next question Yeah, so it was more structure. Yeah, we're basically creating open structure and I start on opening, like, just how can we be really open? Because the guest gets lubricated there like a All right, Cool. There's another technique that I use and I were both mutual friends with Vanessa Edwards Triple triple Not they will just keep keep going talking. And I just keep nodding the whole time just like it's like that cause in I'll Come all had turned triple nod. That is the human condition that evokes Keep talking. I think I think also not trying to jump in will keep people keep talking. Sometimes I'm actually blank and I'm like, What am I gonna ask them next? But I just don't at a filler word or something, and then they'll keep talking again. It's like I thought they were done in, like, shoot. I gotta think something quick, but then they feel comfortable so they keep going. But let me tell you more about this Cool. I think I think quiet. Like letting silence be, Ah, piece of the pie. I think that's a really important thing, being okay with just letting it sit there because that's a dramatic You've heard some, some of the storytelling, some of the folks that earlier in the week so far here, podcast We have talked about that. Used that. That's a vehicle in an audio recording. Silences power. Yeah, I've tried something a few times. Someone did this to me when they were interviewing me. They had a like a no pad notebook, and he was like writing things down as I was saying them. He was like taking notes, but it wasn't distracting because he would look up and he would like to write a word down in circle it and come back and tell me more about this thing like that. You said five minutes ago like I want to hear more about this going to take more notes, and it was a cool experience. I've done that a few times while just write things down and secular interested more. Yeah, it's almost like you're being interviewed by a reporter, and And if you think again, this is where your personal style matters. Don't be different. Sorry. Don't be better. Be different. Like what is your thing gonna be? You don't have to follow any rules. You don't have a table with the mikes and with headphones or the like. Doesn't matter if maybe it's a phone. Maybe it's like you bu I think you're gonna experiment. Find out what works and what doesn't. I think if you go back toe, you know what was what were some of my thought process is It's now it's it's ingrained. It's on. Yeah, because I have done of them. And I know what my style might reach with my range. My relationship with the guest? Um, yeah. I hope that that paints a little bit of a picture. Um, awesome. Just keep getting more questions and we'll go back to you in the cap in the middle back there. Please Stand up. Tells you or what? You're grateful for who we are grateful for Ohio? Yeah. Wage. Um, I was just curious, actually. A both of you. There are things. Podcasting is the latest thing for me that, you know, I have a dream of but haven't done anything with until here I am today. Bitch is a big commitment I want. I want to acknowledge that it is. And I'm very thankful, very thankful for that. That actually took action and click the button and got on the flight. And here I am, very Ohio that. Yeah, well, no, actually, from Alabama, Born in Ohio raising Huntsville, Um, Tuscaloosa. I went from a Buckeye. Teoh comes all right. It's very confusing. But, um, my question for both of you is are there things that you did at one point say, I really want to do that? I think I might be good at that. And then they fizzled out, and you never did them. And if so, what is the What is the thought? As you look back at it now, do you regret those things, or does it feel like you know what? That I didn't know it at the time, But that wasn't the right thing. I went over this direction and that was better. Go first, Like hobbies or like career things that are important. Important? Yeah. Now everything is led me to warm at now. You know everything. The last my whole life has led me to where I'm at now. So I just look at all of it. Was like, Oh, I learned that thing at 13. That was weird that maybe I didn't keep doing, But it's now I'm a master observer, you know, as an interviewer. So it all kind ties in. It makes sense now, but, like it's all made sense. I mean, I try to learn Spanish. I really wanted to learn Spanish, but I couldn't learn that there was a four years of wasted energy, but I still want to learn it. Go move there. I know that's what I will try to learn that English high school is not gonna work. So I got a couple of thoughts on that one. I think life happens for you, not to you. And another way of saying that is the universe has your back, and you do the things you're supposed to do when you do them. Um, and I believe that, um and I think resistance is a part of it. So I often trying. If there's something I'm not doing that I say I want to do. I look at the contrast there, keep saying I want to do this and I'm not doing it. What is what's keeping me from that? And usually it's one of two things. It's either like, this is not my time now and I'm comfortable with that. Or if I give that answer, I'm just not. And I'm like, Don't you know what I really do? Want this? So then I look a little one layer deeper, like what is the thing that is that I'm resisting and is usually a fear of success if you're a failure, fear of being judged. And so I will give myself than small things on a regular basis to overcome whatever that thing is. In this case, it might be recording 10 episodes of a podcast and not publishing it or recording episodes and publishing four or five. Or, you know, some small step for just recording conversations, friends using your phone, not buying all this gear, like whatever the thing is, I try and get myself a small, um, you know, small structure through which to achieve. And then the 2nd 1 is, ah, thing that my friend. I got to give full credit to Ta McCann. He's an entrepreneur here in Seattle. Dear friend. He won the America's Cup. United States sailors. Great, great human. Um, he just gave me this phrase called attendee. Important things I'm not doing yet. So you're putting a pin in something? You're saying it's important? You're also saying I can't fry all the fishing really can't boil the ocean. This is an important thing that I'm not doing yet that I want to make sure to get back to. And if you put it on your attendee list, you'll get back to it at some point. If you haven't got back to it for a while, you're looking at your attendee list if you like. It really wasn't that important. It's not interesting now. Yeah, um, so I think you know, I've got a couple of filters from it. You heard from Lewis? I hope that helps. Um, go Ohio are written for now. Um, okay. I think I would love to take all of your questions. The reality is we're out of time, so I think we'll hang out well after the cameras rap and what we'll do. We can to get some questions answered, asked, hang out from pictures or whatever I want to say. A huge one more time. A huge thank you to Mr Lewis house for being Theo. Folks know how to follow, You know you're on. Then just give us some coordinates. Get those house on every social, media and school grayness podcast school. The greatness podcast will pay attention to that.
Class Description
Artists don't have a monopoly on creativity. In fact, the very act of making anything—including waves—in any profession is a creative one.
On the Chase Jarvis Live podcast, Chase talks with some of the world's most celebrated entrepreneurs, award-winning artists, and bestselling authors about what makes them tick, so listeners can get actionable insights on how they, too, can reach their full potential in career, hobby, and life.
On this episode, Chase talks with NYT bestselling author, lifestyle entrepreneur and former pro athlete Lewis Howes.