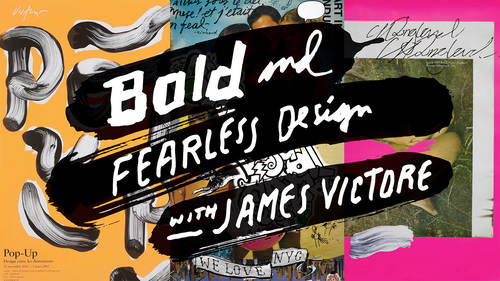 Class Description
An empowered designer is a truly creative designer. Let designer, author, artist, and activist, James Victore show you how to trust your instinct and embrace imperfection in Bold & Fearless Design.
When you follow the trends your ideas stagnate and you don't create the kind of memorable pieces that get you noticed. Victore knows the antidote to that creative rut. Victore has been exhibited at the Museum of Modern Art in New York and is represented in the permanent collections of museums worldwide. His commercial work continues to wow by being sexy, strong, and memorable.
Learn how you can make work that is captivating and uniquely you by taking a behind-the-scenes look at this renowned designer's method, thinking, and inspiration. Victore will talk about playing with different tools (not just digital ones) and rethinking the role of a designer. 
You'll learn:
Exercises for generating concepts and design solutions
How to incorporate your hand into your work
Unexpected image-making tools and techniques
Software strategies for turning the analog into digital
Poster design inspiration is the perfect blank canvas for experimentation. Posters can be adapted for anything from a book covers to dinner plates. In this class, the poster format provides a launching point for discussing by-hand design and reimagining creative possibilities.
Don't be boring. Watch Bold & Fearless Design with James Victore and energize your unique creative spark.