Boudoir on the Edge
Brianna and Ewan Phelan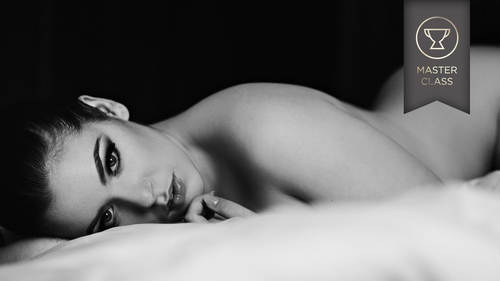 Boudoir on the Edge
Brianna and Ewan Phelan
Get access to this class +2000 more taught by the world's top experts
24/7 access via desktop, mobile, or TV

New classes added every month

Download lessons for offline viewing

Exclusive content for subscribers
Class Description
Join Ewan and Brianna Phelan for Boudoir on the Edge and learn about their unique approach to shooting boudoir photography.

Brianna and Ewan see creativity as a planned process rather than the result of spur of the moment inspiration. In this class, they'll discuss how they apply this philosophy to their work and how it shapes the way Ewan shoots. The pair will also discuss how they've integrated their wedding business and boudoir shoots, while protecting the artistic integrity of their work. Ewan will examine a selection of images and explain how he came to that pose and what each element in the image does to promote what that photo is trying to say.

You will walk away from Boudoir on the Edge with a new appreciation for the art of boudoir and skills for integrating an artistic sensibility into your business.

Reviews
This is an amazing class. The best I have seen so far on the art and business of boudoir photography. Brianna and Ewan covered very difficult subjects in this class in a very effective, professional, informative, and entertaining way. I loved how they addressed the human sexuality in the most beautiful way in relation to art of boudoir photography. It was fascinating to see how Ewan was able to get the models to pose into very sexy and beautiful poses by providing clear instructions in a very respectful manner. Brianna was very informative on how to run a successful boudoir business. I sincerely believe that both Ewan and Brianna shared many of the secrets of the trade that they learned over many years which made their boudoir business a success story.
This couple is awesome. I really enjoyed the intro into Ewan's posing techniques. To be honest I would have loved more. Please CL have them come back and continue this workshop. I appreciated the very clear directions to the models without being crass. I'm sure it comes with time, but his methodical tone and direction helped to (IMO) communicate his expertise and improves model/client confidence. Ewan and Brianna helped us to define not only our why, but the how. Very worthwhile to my wife and I for our boudoir photography. Much love Brianna and Ewan, and uh...sorry (lol).
I bought this as an online course, and I was very pleased with it and felt like it was worth the investment. From reading other reviews, you can see that other students have their own opinions based upon their own expectations and interests, and my review is the same. I was more interested in the art of the photography and the posing of the models, and I was very pleased with that part and would have liked to have seen a little more of that and less of the business side. However, I thought the information on the business, marketing, contracts, legal etc. to be very informative and helpful if I wanted to do this commercially. I would recommend that they shorten the first lesson by editing some of their own personal journey and opinions, the latter appearing unnecessarily defensive. I thought one reviewer was unfairly critical of Ewan's "control". I appreciated his directness and instructions, and I think this reviewer may have reflected some of her own issues about either males or control issues. Overall, it was highly informative, and I highly recommend the course. Just go in knowing you're going to be exposed to the business side, as well as the creative side.