The Bulletproof Life
Class Introduction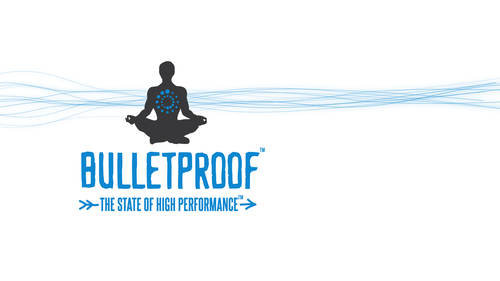 The Bulletproof Life
Class Introduction
Lesson Info
Class Introduction
This course is for you if you're interested in learning how to be better at everything if you just want to learn how to eat there's lots of places you can learn how to eat or how to eat in a healthy way in fact, there's lots of opinions on that I'll share some science backed things that I do and I'll explain how to do things and why to do things and how things work but it's really not about that it's about you and it's about how you can perform better and when we talk about performance, people think of mixed martial arts or, you know, it's a guy thing except you can perform well at being a parent, you can perform well at sleeping, you can perform well at whatever it is you're doing right now even sitting so it might be more work to do things well, here's the problem, I'm super lazy, I don't want to spend more time doing something well, then I have teo so what brought me to where I am today is this kind of relentless focus on the system of the body and mind and trying to figure out what...
can I do in less time or less energy to give me more mental focus, more mental energy, more physical energy so I can apply that to whatever it is I want to do and this is why we have in world championship poker players using bulletproof principles what we have professional athletes and when we have hundreds of thousands of people from all walks of life who are using some of the principles to improve their quality of life in the way they interact with other people the way they interact with themselves now there's a lot of stuff you're gonna learn today in fact the bulletproof diet which you're going to hear about in a little while has a lot of detail in it I would encourage you to not make the mistake of trying to do everything right now because you'll get stressed there's going to be more information than you can absorb today, which is why we wrote the guides that are available for download pick one thing picked two things try those out see if they work and tweak it because at the end of the day you are your own experiment if I suggest something, then give it a try but if it doesn't work for you don't feel like you have to do it, try and troubleshoot it if not there are hundreds and hundreds of things you're going to learn here each of them is a small step on the path to performing really well I went from literally in my undergraduate studies I never made it through a course without falling asleep this is not a joke so I went from that all the way to the ability to work two full time jobs for two years on end with relentless focus that was effortless without having to really try I can pay attention all day long, which for me was an amazing gift because it's something that I wasn't apparently born with these are the types of things transformative big things that you can feel in a day or in a week not I lost a quarter pound this week I'm pretty sure that I sweated a little bit none of that if it's not a big change if you don't feel it, find something else that makes a big change small effort, big change that's our goal for the next three days we're gonna fill your head with stuff to try and you can pick the stuff that works for you, so we're literally going to talk about how you can upgrade yourself and you can do is if you're an entrepreneur and I chose that because all people have different jobs, they do different things, but there are a huge number of people out there who either our entrepreneurs or want to be entrepreneurs, but for the rest of us it doesn't matter what your job is or whether you even have a job if you want to be a better human being better at being a human, this is the course for you this's my twitter handle. Feel free to ask questions, it's. Better to ask questions here on the creative live system, because I'll be able to answer them in the studio. But by all means, this is a social world social media. So reach out any time you like.
Class Description
Part of the "Get Fit" bundle. Click Here for details!

Learn to lose weight, increase your IQ, and focus your mind with the revolutionary Bulletproof system. Dave Asprey, founder of The Bulletproof Executive, is a Silicon Valley investor and technology entrepreneur who spent 15 years and over $300,000 to hack his own biology. In this 3-day workshop, Dave will teach you how to upgrade both your body and your mind using his proven Bulletproof techniques to enter a state of high performance that everyone is capable of reaching.
During this class, you'll learn to how to effortlessly lose weight without counting calories, how to turn off inflammation in the body, how to actually upgrade your IQ by at least 10 points, how to turn off your stress response, and how to have more control of what happens in your head. Oh, and Dave will also teach you how to make his world-famous Bulletproof Coffee.
Reviews
If you care about healthy living - [healthy food/maximizing your mind-body performance] - this course will provide, to the minutiae, inside information on food & merchandise that will help you accomplish just that. Great course. I'm glad there are people like Dave Asprey out there fighting for proper foods, natural approach to healing the mind & body, providing all the information we need to avoid detrimental products. Thanks Dave!
Buy this course! I don't remember the last time I was this excited after sitting through a "class" for 3 days but this course was riveting. Dave is amazing. The things I learned about my body and mind were so profound that I still feel a bit stunned from it all. This course was so very informative and life changing. I immediately started incorporating a lot of the stuff I learned into my daily routine. BulletProof Coffee will change your life. If you want to experience a real and lasting paradigm shift in the way you approach your mind/body wellness, I can't recommend this course enough. Thank you Dave Asprey and CreativeLive! Stay BulletProof :-)
I've been following Dave's podcast and blog for a while now, but there was so much in this course that was new to me, and in such great detail. Love Dave's breadth and depth of knowledge - all delivered in such an easy going style. And can't wait to make that ice-cream!