Neurofeedback Demo
Dave Asprey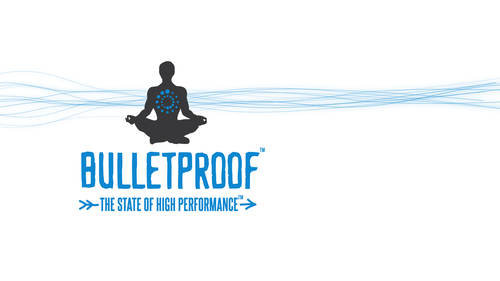 Neurofeedback Demo
Dave Asprey
Lesson Info
23. Neurofeedback Demo
Lesson Info
Neurofeedback Demo
This is going to be one of those sessions that you don't see very often on creative live we're gonna do some active brain hacking today so I have my victim I mean volunteer their worldview words this tina you're with south bay crossfit uh no go there go there so you know each other all right, what do you do? Uh I'm actually, uh marketing director for a food company awesome organic food some we're working on to get answers were working on that's the best answer you could have given because it's really about working on perfection isn't required move in the right direction, keep him honest. All right? You have something dangling from here and you know that would be an electrode. This is one of the two forms of neuro feedback that I use on myself and that I use with my executive coaching clients what we're gonna do is finish wiring up tina's here these electrodes are I believe these bones are silver plated and you have a little bag of group right? Normally electro gel comes in a little too...
, but because I've been flying all over the place I didn't want to carry a whole tube of electro joe so I was cal easy what I'll do is I will put a little bit of electro gel from my baggie of it on these ear clips. This black clip is a grounding wire we're goingto be reading with pretty high precision what? Is happening inside tina's brain. We'll have color photos, not really, but what we will have is an electrical signal, she's going to be hearing some sounds that are her brainwaves in music, social, her music, and every time her brain moves from one state to another, it's goingto actually be telling her brain, hey, you just changed from one to the other, comfortable, all right, and there's some more hanging down here. If you were to go somewhere and do e g, this would be what you'd experience, but this is another thing that I carry on the website. It is eighteen dollars per session, but you have to buy a bunch of sessions that wants to cover the cost of the laptop and the amplifier. This is one of those ways where, instead of driving somewhere in spending hundreds of dollars per session, you khun get many, many sessions if you're willing to sit still for thirty three minutes at a time and stick electrodes to your hair in exactly two places, this electrode goes on the top of the year, and for anyone who thinks that the body is not particularly electric, we're getting a pretty clean signal off of our brains these days, from consumer level devices like this one, the last one goes at a point on the scout there's, a standard twenty ten electrode arrangement that you can use and if you look even on the opening slide today there's a picture of me with sixty four channels so we carefully measure when you're doing multi channel e e g we very carefully measure from the top of the head down to the ear and we take ratios of percentages but I'm using a very scientific measure for replacing this one I'm going to the top of the year approximate kind of the head approximately fifty percent in the middle I'm looking for a little ridge right here that is about right very nice hair care products by the way I'm gonna push hard for a second it's important when you're putting electrodes on they use enough of that goopy gel that sticks them on and then you push hard enough to get a good signal and what I'm going to do is put you on a fifteen minute neurofeedback program it's not gonna be that exciting for us we're going to sit here and stare at you when you said that the icicles not gonna happen what's going to happen is uh we're gonna have terry walls on in about ten minutes so she'll be talking and you'll be sitting here doing what your brain wants to do uh most of the people will be looking at the screen next to you and when you're done just kind of waving me and let me know and then I will just disconnect you if you want. You could even just connect yourself and I'll ask you what it was like when we're done. There's only the fifteen minute version. So you're getting a pretty lightweight one, but still it's pretty neat. So this you can hold or put somewhere and this is the left. This is the right don't put him in quite yet because we have to get this thing started and get the volume right. Once you get this set up a home, it does not take very long to do this kind of work. Now, what is happening now is nothing yet. We're getting a signal and you may take it one second to get warmed up. Here was that unit here in here? Yes. This is called e g neurofeedback. And the system I'm using here is called a neurotic dimel. You confined these an upgraded self dot com. I have a write up of them. The reason that I use this is that this is the only home unit. This is the lowest cost neural feedback that you can get. That works that I've been able to find, put on the earphones and tell me if you hear anything really quick, I wanna make sure that we have a volume check that works negative negative, all right. Well this would be kind of unexciting if I had to reboot the machine even though I just tested in a minute ago so let's hope that's not the case if it is we'll go directly to the slides and we'll get you during terry's presentation as that thing gets going beauty of live television dave that's the beauty of life demos that's for sure coming out of the software industry I've had lots of demos bomb so I'm not particularly worried if this doesn't work we've leased shown electrodes and what it's like and uh I used this quite a lot at home without any issues so it's been traveling across the country with me two more seconds and if we don't get it we don't get it there we go this is looking hopeful if you hear a sound say something check one more thing here this's entirely unexciting if we don't get a green light in a minute every one of those days where you break your e e g machine are getting zero electricity into this which means I'm not gonna be able to fix it with software so if this next thing doesn't move then that means that this heavy travel that I did didn't really do good things man I think I broke my e g machine in my suitcase son of ah well let me tell you what would have happened just gonna ask that what would have happened is for fifteen minutes, she just sat here and heard relaxing music a little bit kind of new agey sounding, but honestly, you can take any music you like and your brain gets used to this music and it it's going along and then all the sudden the musical and you go what? Every time the music glitches like that it's your brain telling the music or sorry it's, the music telling your brain that something changed and your brain shifts constantly from an alfa it's, a tow, a beta state, a little bit of data, so we're just telling the brain, hey, you're doing it, you're doing it, you're doing it and this happens without you consciously doing thing. You sit there, listen to music and you'll feel different when you do it. Sometimes people have, like, interesting memories, they relax, they might feel something different in their body, but all this is is the brain becoming aware of itself without any conscious input from you? And I'm really bummed that way can't even get that makes it so well tell you what next time I'm in southern california all look up, but right now I'm not going to keep you on states and it's like, I don't have any electricity going to this thing.
Class Materials
Bulletproof Diet Infographic.pdf
Bulletproof Life Body Curriculum
Bulletproof Life Happiness Curriculum
Bulletproof Life Mind Curriculum
Bulletproof Life Sleep Module Curriculum
Bulletproof Life Stress Curriculum
Bulletproof Life Toxins Curriculum
Introduction to Bulletproof Principles
Ratings and Reviews
i 've read 2 of his books. Can't wait for the upcoming third one. i am forever grateful for his research. His brain octane oil is THE reference point in my life. BEST MCT OiL out there. We only have other options of MCT oil's because he brought his research UP to the table. THANK YOU so much, Dave!!!! i tried biohacking my own "system" for 20 years because of lots of same issues and only after i found his insights it all started making sense. i had already given up of going to MD's. Because of Dave i now consult with biochemists. Boy, how can a doctor prescribe medications without knowing biochemical? Anyway, this class is not really his best .... his books are SOMETHiNG ... much deeper and written in such ease language ... and his podcast has the cutting edge scientists and conscious MD's EVER. LiFE CHANGiNG!! i am into the bulletproof diet and i have never been so fit working out so little and feeling so happy & bright! i don't crave for junk food. i dont use the nootropics but i sleep better knowing i will have a cup of a bulletproof in the morning!!! so delicious. i think he actually is part of a new wave of education system. Brilliant!!!
If you care about healthy living - [healthy food/maximizing your mind-body performance] - this course will provide, to the minutiae, inside information on food & merchandise that will help you accomplish just that. Great course. I'm glad there are people like Dave Asprey out there fighting for proper foods, natural approach to healing the mind & body, providing all the information we need to avoid detrimental products. Thanks Dave!
Buy this course! I don't remember the last time I was this excited after sitting through a "class" for 3 days but this course was riveting. Dave is amazing. The things I learned about my body and mind were so profound that I still feel a bit stunned from it all. This course was so very informative and life changing. I immediately started incorporating a lot of the stuff I learned into my daily routine. BulletProof Coffee will change your life. If you want to experience a real and lasting paradigm shift in the way you approach your mind/body wellness, I can't recommend this course enough. Thank you Dave Asprey and CreativeLive! Stay BulletProof :-)
Student Work