Sustainable Service Business Framework
Tara McMullin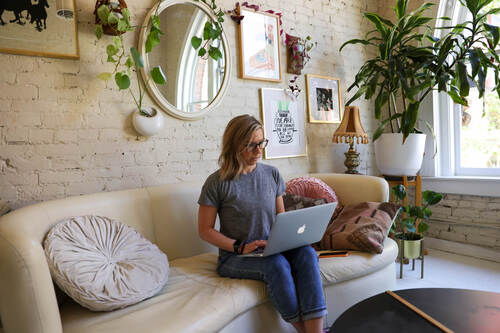 Sustainable Service Business Framework
Tara McMullin
Lesson Info
2. Sustainable Service Business Framework
Don't overwork or neglect areas of your workflow hustle. Keep all areas of your business working smoothly with these secrets to sustainable business management.
Lesson Info
Sustainable Service Business Framework
a lot of business owners want to get into the creation mode, the innovation mode. They love doing the work. They don't love maintenance so much, they don't love the admin? They don't love the upkeep and this class is really designed to help people see how that maintenance work really supports the rest of the business so that they can enjoy that work as much as possible in addition to the work that they love. All right, welcome back. It is lesson one sustainable business framework. In this lesson, we're going to take a look at the key components that make up a sustainable and profitable service based business. So first and foremost, let's talk about operational sustainability. Operational sustainability is really just making sure that your business runs smoothly that it feels pretty predictable, that it causes very few headaches and it feels like you can effectively follow through on all of the plans that you've made and the promises that you've made to clients. So when you have an oper...
ationally sustainable business, you're going to feel like you have clear repeatable processes. You know exactly what happens each time you sign a new client, you're also going to feel really confident each time you sign a new client because you know how to get them started in the best possible way in an operationally sustainable business. Your clients are also going to feel really supported because they know what comes next at every step of the journey. And then finally, in an operationally sustainable business you don't drop the ball or lose track of deliverables for your clients. So that's what an operationally sustainable businesses take a second and think is my business operationally sustainable today. Does this description match my business? Or is this maybe an area that you need to work more on? Next up? Let's take a look at financial sustainability. And I think this is something that we can all agree is top of mind for all of us, at any stage we want to make sure that the business is making money, but it's paying us well, that it's paying the people and other providers that might be involved in our business. Well also, so having a financially sustainable business really means that your business uses a revenue model that supports its operational evolution and the financial needs of all of the p people involved. That means it's not just financially sustainable today, but that it's financially sustainable on into the future as well. So, in a financially sustainable business, you're gonna feel super confident in your pricing, you're gonna pay yourself and pay others well, your clients are going to understand the value that you provide and they're gonna be happy to pay the price that you set? And it also means that you have a steady and predictable pipeline of new prospects. So, again, take a second and think, do I have a financially sustainable business today? Or is this an area of opportunity for me and my business? Next let's talk personal and social sustainability. What this really means is that your business is designed to care for everyone involved, that's you, that's your clients, it's your greater community, it's anyone that's working for you. We want to make sure that the business is taking care of you because you take a lot of care of your business and we want it to be a mutually beneficial relationship. So that's what personal and social sustainability really means when your business is personally and socially sustainable, your business doesn't consume you. Your business isn't your whole life, you have a flexible, enjoyable, leisurely life outside of your business as well. It also means that your business is designed to have a positive impact on your community. That doesn't necessarily mean that you've got a big philanthropic project going on. It means that you're doing something good for the people around you that you care about, that you interact with on a regular basis. Third, it means that you invest time in maintenance and organization in your business so that you're not interacting with something that feels super disorganized or something that feels like it could fall apart at any moment that's not good for your personal sustainability with running a business. And then finally, personal and social sustainability means that your business is simple and stable stability is something that especially in this 21st century economy is in short supply and as service based business owners, we can do a lot to ensure the stability of our business and that makes our lives better. So again, I've created a workbook and self assessment for you so that you can really break down each of these three components of your business and figure out where are you, what opportunities might there be for you and where might you want to direct your energy over the next few months to create a more sustainable business as you grow And as the business evolves now, a key principle for running a more sustainable business. Is that a sustainable business is a simple business and this can be a hard one for service providers to wrap their heads around. Um there's a lot of information out there that's encouraging you to create multiple streams of revenue. Maybe you've got a service business and some passive in come on the side and that's not necessarily bad advice. But if you're looking for something that's super sustainable, that is easy to run. That's pleasurable to run. Keeping things as simple as possible, is going to allow you to do that in a financially profitable way. And as we go, I'll show you some of the different ways that that can work itself out. That's it. It is so easy to make the mistake of over complicating your business. So many business owners try to earn more by doing more and that is not how you earn more business owners want to create more and more offers, They want to offer more and more price points. They want to do more and more marketing, more customization, all of that more, more, more, makes your business harder to run and 99 times out of 100 it is not going to make you more money. You're gonna be working harder for less profit, less predictable revenue than if you were to keep your business nice and simple. So what is a simple, successful service based business first and foremost, a simple business is one that focuses on doing one thing and only one thing really, really well. So what's your business is competitive advantage? What is it that you do that other businesses, other agencies, other coaches don't do or they don't have the same perspective on when you can develop that single thing that you do exceptionally well. The whole business can be based on amplifying that and making it the core of how it generates money. A simple business also only offers one or two, maybe three packages. So that means getting really clear on what you're going to offer and who you're going to work with so that you can design a package that sells over and over and over again, which means that then you can have more repeatable, more predictable processes in your business as well. And then finally, a simple, sustainable, successful service based business leverages minimalism and essential is um instead of thinking how can I do more, what all am I missing? You focus in on exactly what moves the needle for you and your business. And that is a really incredible place to be. It means that you're gonna be working less hours for more money with happier clients. And I think that's something that we can all get behind now. I know that sounds like a lot, especially if you have been sort of over complicating your business, but the good news is that we can break this down into something much simpler for you very quickly. And it actually all starts with thinking more strategically about the way you build proposals.
Ratings and Reviews
Student Work