Canon EOS 5D Mark IV Fast Start
Play Back Menu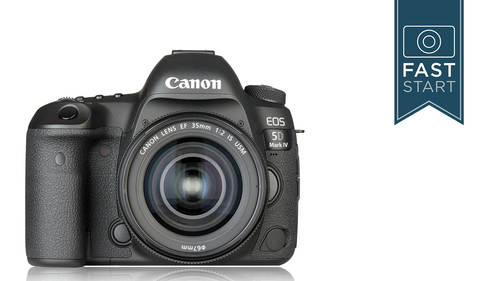 Canon EOS 5D Mark IV Fast Start
Play Back Menu
Lesson Info
Play Back Menu
Let's jump down to the playback button, because you'll notice that it's a blue button and on Canon cameras, blue buttons deal with playback and features in the playback options. So you press that, it's gonna play back the most recent image, of course. If you wanna get rid of it, that's why the erase button is there. After that, you've got the dial on the back for going forward and backward through your images. The front dial can be used for either jumping forward 10 or back 10 images. And so if you shoot a lot of images and you're trying to show pictures from a week ago, rather than going through every image, you're gonna do it a lot quicker with that one with jump 10. You can rate your images and I've always thought this was a bit of a joke, but it's actually quite valuable if you wanna get a little head start on your editing. And you know that that was the good one right there, you can give it two stars or three stars and then you'll actually see that when you download it into Canon ...
software or into general programs like Photoshop and Lightroom and a variety of other ones as well. And then you can go in and magnify images as well. And you can control that magnification with the main dial on the camera, going in and out and then you'll be able to use the joystick to help navigate around. So let's go ahead and take a quick look on the back of the camera. I have not taken many exciting photos today, but hit playback, we see our images in here. And then of course, we can zoom in and if I want to zoom in more, I can zoom in and I can move my framing around and I can zoom back right here. Now as I mentioned the touch screen, we also have the touch screen on here. And so you can see images that we've shot with this. And one of the cool things, and this is a little bit of a ... Well we can zoom in, okay. We love that don't we. But here's the cool thing, if you use two fingers, actually, you can swipe 10 images at a time. I don't have that many images on here. What I found is that if you put two fingers really close together, it thinks it's one big, fat finger. But if you separate your fingers a little bit, it tends to want to do the 10 jump a little bit more quickly. And so two finger for 10 swipe and we'll be able to customize that a little bit later. So that's a little bit on that part right there. Alright, so there is this very cool two image display and I don't see a lot of people using this. Well I don't see a lot of people playing back images all the time. But this is a little bit quirky but there's some neat things that you can do. Once you hit this, you get to see two images on the back of the camera. There will be some on-screen controls. If you press the set button, that orange box moves from left to right and you can scroll through and you can find different images to find out which image do I want to compare the first one with. Then if you press the magnify button, you can zoom in and see more closely. You can change the magnification, of course, with the top dial and then if you want to navigate back to the first image, you can copy that magnification to see how they look in a side-by-side comparison. And so this morning, I wanna show you a little demo here, I took some pictures of Alex. Let's get to our first picture. Let's go back to picture number one, right here. And I want to compare this with some other images. I want to find the best portrait possible in this case. So I'm gonna press the two image display. I'm gonna turn off the info, just because I want to see the image as clearly as possible, right there. And so now I'm gonna hit the set button, so I can flip over to the right image. And now I can scroll through different images to see which image is the best portrait. Now if I want, I'll go back to the first image and I'm going to magnify and I want to make sure that my portrait is sharp. So is this one sharp? It's looking pretty sharp. And I'm gonna switch over here and I'm gonna hit the Q button and that makes the second image zoomed in as much as the first image. And so now I can tell, is this one sharp? Like here's one, clearly I wasn't sharp on that image and so that one looks pretty sharp there and I can zoom back and forth. And maybe I like that expression or maybe I don't, but it's a very handy way of being able to jump back and forth, magnify and then getting the best sharpness that we want. And so I think it's a very good tool when you have very similar images and you're trying to judge which one is best. I mean, when they're not zoomed in, I can tell you which expressions I like, but sharpness-wise, I want to jump in and see which one is the sharpest as well. And so I think that's a very handy feature. I would say get familiar with that on your camera. The info button can be pressed at any time in the playback mode, to change the amount of information that you see. Often I just want to look at no information, but sometimes I need that technical information about shutter speed, aperture and so forth. Now the shooting info display down at the bottom is unique. And this is fantastic because now we're gonna use the joystick and we're gonna be able to scroll through several bits of data with each of our images. And you can just kind of leave it at the one that you like and change it as often as you need to. And there is all sorts of things that you will have on here, depending on what you have set up on your camera. And so, when you get to that image with the small image, the screen with the small image, scroll up and down to go through all the other different settings that you have set on your camera. It's a great way to dig in how you actually took that photo. The Q button on the back of the camera, in the playback mode, allows you to go in and tweak a lot of your images that you've already taken. Now we're not gonna spend much time on this, but these are all things that we're going to see, for the most part, when we get into the playback menu of the camera. But this is a shortcut in order to get in there and do this right here and easily. I wanna do a little demo here. And so what I'm gonna do, is I'm gonna first off, I'm gonna switch my camera and I wanna shoot a raw photo real quickly. So that it's shooting a raw image right now and zoom in and I really don't care what the image is, we're just shooting a photo. And actually, that's a little too terrible of a photo, I want it to be an actual photo. Alright, so there's my photo. So I'm gonna playback this image right now. Get it a little steadier there. Now I'm gonna hit the Q button, alright. So now I can navigate to all these different features in here. I can use the touch screen as well, yes, of course I can use the touch screen. But I want you to see my screen. So what I want to do is I'm gonna take an image that was shot as a raw, but I'm out in the field, I'm traveling, I don't have my normal computer and software for changing from raw to jpeg and I want to make a few adjustments. And so in this, I'm gonna want to change it to a raw. And I have two options on this. I can use the settings that I had on the camera or I can make more settings myself. This is Photoshop in the camera folks. Alright, so let's make a few settings. Alright, now what can we do? Well we can change the brightness level. So let's say we wanna make this, do we wanna make it darker, let's make it a little darker and make it more saturated. So that's our brightness setting right there. And we can see it brighter and so we're taking the raw image and we're making it brighter or darker. We're gonna come down, can we change the white balance? Let's just change it to tungsten lighting, no that looks terrible. Okay, let's just leave it on daylight. Alright and actually, that is looking a little bit too dark, I'm gonna make it a little bit brighter than average. I'm gonna make it one stop overexposed, why, I don't know. We could change our picture styles in here and we could change the way the exact look. We could change it to a portrait setting, I'm not gonna change all of these, but you can see there's a number of things. Oh, let's see, I'm gonna email this image, a 6,700 pixel image is a little large for email, so I'm gonna change it down to a small size, which is just 3,300 pixels across. For lens aberration correction, yeah, let's go ahead and throw on some distortion correction. And if I didn't want to do this, I could hit return, but I want to save this and I'm gonna save this as a new file. Okay, so I've just saved this new image. So now when I go back and play an image, we're gonna have two images, let me pull up some information here, and so this is a small image that I have adjusted. This is the original raw image. And so this is Photoshop in work, in your camera. It's not Photoshop, it's trademark, I don't have permission to use it, it's adjusting your images. But in any case, if you need to tweak in your camera, you could do it. Now personally, I've never done this, but, it's nice to know that you can get in there and do that, because I can see a need for it. Not everybody who has this camera always has their computer and all their software with them, to make those adjustments. And so handy little feature, nice.
Class Description
AFTER THIS CLASS YOU'LL BE ABLE TO:
Leverage the new customized viewfinder and quick menu options for superior customization
Use and understand the new 4K video recording with frame grab and Dual Pixel CMOS AF
Use Wi-Fi with NFC and GPS for remote operation and location tagging
Understand Canon camera features that cross over to several Canon EOS models
Control the camera from the biggest tools to the smallest details
ABOUT JOHN'S CLASS:
The Canon® EOS 5D Mark IV is a workhorse Canon camera, hauling features from the 30-megapixel full-frame sensor to the 4K video and 7 fps burst speed. But the 5D Mark IV's long list of features is just money wasted if you don't actually know how to find them and put them to use. Skip the floundering through menus and join photographer John Greengo exploring the camera's many features, from customizing the camera to understanding dual-pixel autofocus.
This class is designed for the photographers using the Canon EOS 5D Mark IV, from those just pulling it out of the box to photographers that just haven't found all the camera's features yet. The class can also serve as an in-depth look if you're not yet sure if the EOS 5D Mark IV is the best Canon camera for you.
The Canon EOS 5D Mark IV is considered one of the best Canon cameras on the market -- but it's no Canon Powershot, which means a big learning curve. The latest updates bring tools that may be unfamiliar even for photographers that previously used an older Canon camera, with several firsts across the entire 5D series. The dual-pixel autofocus allows for small focus adjustments after the fact -- but only if you shoot with the right image format and work with the right software. The 5D Mark IV is the first Canon digital camera to incorporate FlexiZone Multi autofocus, a new setting inside the powerful updated dual pixel CMOS AF system. The updated viewfinder has new warning signals and custom controls. And of course, there's that new 4K shooting.
This Canon camera class covers the camera from understanding the controls to customizing the menu.
What's packed in this Canon camera Fast Start? Learn the vital information in less time than it takes to analyze the menu -- and have more fun doing it too.
WHO THIS CLASS IS FOR:
Individuals who own or are considering purchasing the Canon EOS 5D Mark IV
ABOUT YOUR INSTRUCTOR:
John Greengo has led more than 50 classes covering the in-depth features of several different DSLR camera models and mirrorless options, including Fast Starts for Canon, Nikon, Sony, Fujifilm, and Panasonic. The award-winning photographer is one of the most celebrated CreativeLive instructors, leading classes covering a myriad of topics, including the previous Mark II and Mark III 5D cameras. Greengo has used the 5D series since the first 5D. He's led photographers through the ins and outs of advanced options like the EOS 80D and EOS 7D Mark II to entry-level Canon Rebel cameras like the Rebel T6i and T6.
EQUIPMENT USED:
Canon EOS 5D Mark IV
Reviews
I was reluctant to purchase this course because I already have the Instruction Manual that came with the 5D Mark IV and am committed to reading it in it's entirely. Nevertheless, after watching a preview of the course, I decide to buy it so I could view it at my leisure, pause and rewind it as needed. I am so glad I did. John Greengo's teaching method is clear and concise. He presents the material in a way that makes it interesting and enjoyable to learn. His effective use of visuals and demonstrations makes understanding every important function of the 5D Mark IV a breeze. I look forward to implementing what I've learned, his recommendations and tweaking the camera's settings to suit my own needs and preferences. Now as I trudge through all 600+ pages of the manual, I'm confident I will more easily grasp the camera's 100+ settings and can always refer back to the course if necessary.
First I have to say that I wanted this camera before it was even released. I had taken some of John's fast start courses and I had some questions regarding this camera vs. the 5D mark III and 7D mark II that I was using at that time. I emailed John and got an "out of office/out on location response". I put it out of my mind assuming that when John Greengo was back in the office, he'd have hundreds of emails waiting and my little question would get lost in the shuffle. I was delighted to receive a response a few weeks later. I was even more delighted when he released this fast start course. I did end up buying the 5D mark IV (love it) and had a pretty good handle on using it. This class opened up some new doors in how to use all of the features and customize things to suit my needs. I can never recommend John's classes enough. He explains things in an easy yet technical way that is useful to both beginners and seasoned photographers!
I have never watched one of John's courses, I have watched many videos trying to learn info regarding the new 5D Mark 4 Camera. I learned many new important features available with this amazing camera. John rocks as an instructor, his ability to teach in such informative way was very helpful. I would recommend this coarse to anyone looking to better understand this camera as well as to learn more about photography in general.