Canon® EOS 5D Mark IV Fast Start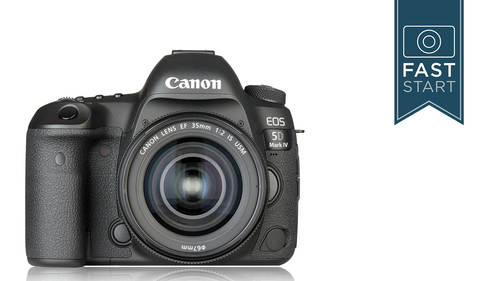 Canon® EOS 5D Mark IV Fast Start
Class Description
The Canon EOS 5D Mark IV is the latest addition to the EOS 5D series, and it includes many new features. If you've just opened the box for this camera or are thinking about adding it to your collection, you can get a complete step-by-step walkthrough with John Greengo. In this class you'll learn:
New customized viewfinder and quick menu options for superior customization 
New 4K video recording with frame grab and dual pixel focusing 
Wi-Fi with NFC and GPS for remote operation and location tagging
John is a CreativeLive veteran instructor and an experienced photographer. He has extensive experience teaching the technical minutiae that makes any camera an effective tool: aperture, ISO, the Rule of Thirds, and the kinds of lenses you'll need to suit your camera body. This Fast Start includes a complete breakdown of your camera's exposure, focus, metering, video and more. John will also explain how to customize the Canon EOS 5D Mark IV's settings to work for your style of photography.
Reviews
I was reluctant to purchase this course because I already have the Instruction Manual that came with the 5D Mark IV and am committed to reading it in it's entirely. Nevertheless, after watching a preview of the course, I decide to buy it so I could view it at my leisure, pause and rewind it as needed. I am so glad I did. John Greengo's teaching method is clear and concise. He presents the material in a way that makes it interesting and enjoyable to learn. His effective use of visuals and demonstrations makes understanding every important function of the 5D Mark IV a breeze. I look forward to implementing what I've learned, his recommendations and tweaking the camera's settings to suit my own needs and preferences. Now as I trudge through all 600+ pages of the manual, I'm confident I will more easily grasp the camera's 100+ settings and can always refer back to the course if necessary.
First I have to say that I wanted this camera before it was even released. I had taken some of John's fast start courses and I had some questions regarding this camera vs. the 5D mark III and 7D mark II that I was using at that time. I emailed John and got an "out of office/out on location response". I put it out of my mind assuming that when John Greengo was back in the office, he'd have hundreds of emails waiting and my little question would get lost in the shuffle. I was delighted to receive a response a few weeks later. I was even more delighted when he released this fast start course. I did end up buying the 5D mark IV (love it) and had a pretty good handle on using it. This class opened up some new doors in how to use all of the features and customize things to suit my needs. I can never recommend John's classes enough. He explains things in an easy yet technical way that is useful to both beginners and seasoned photographers!
I have never watched one of John's courses, I have watched many videos trying to learn info regarding the new 5D Mark 4 Camera. I learned many new important features available with this amazing camera. John rocks as an instructor, his ability to teach in such informative way was very helpful. I would recommend this coarse to anyone looking to better understand this camera as well as to learn more about photography in general.