Capturing and Processing Night Photography
Review Cityscape Library
Tim Cooper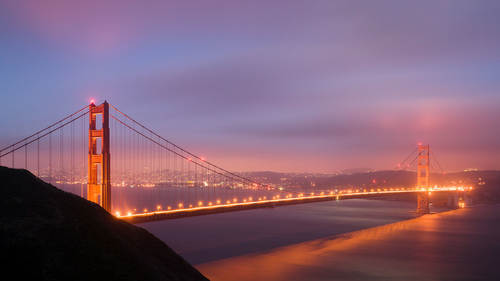 Capturing and Processing Night Photography
Tim Cooper
Get access to this class +2000 more taught by the world's top experts
24/7 access via desktop, mobile, or TV

New classes added every month

Download lessons for offline viewing

Exclusive content for subscribers
Lesson Info
11. Review Cityscape Library
Lesson Info
Review Cityscape Library
All right everybody, so we're getting ready to process some images here, but first I wanted to show you some photographs that were made under slightly different conditions. As I said, you always have to go with the weather. Sometimes you've got clear skies, sometimes you don't have clear skies, fog, whatever it may be. This is a classic cityline shot, down on the Bay in San Fran, but it's not quite as easy as it looked. For this image we had to take many different shots and blend them together to be able to capture the city lights and the blue sky. Meanwhile painting with my flashlight up and down these areas here. This image, same sort of thing. We were waiting and waiting for the fog to roll in and it was coming in and covering too much and we had to take many different shots, but ultimately ended up getting these car trails as the bridge sort of goes off into the really super thick fog. Same thing here, again, more fog around San Fran. We're talking about in tough weather conditions...
how you can use the reflections of all the wetness and the lights in the pavement and here I did that, you know, waiting for cars to go by over this wet. And it was kind of raining at this point and so just standing out in the rain waiting for the cars to come by to capture the deep blue of the incoming fog and the reflections of the lights in the wet pavement. Another night out at the Marin Headlands and you can see different clouds coming in and how they're being illuminated by individual colors, so here this is a kind of a pink cloud from the sodium vapor from the city, here we've got some pink cloud from the lights here and we've got that mixed in with blue skies, which is always creating drama when you're including lots of warm and cool tones together. Now we'll head back to the images that we shot last night and we'll show you how we're gonna process those.
Class Description
Creating night images poses unique challenges, particularly for those who are more accustomed to daytime photography. From focusing in the dark to calculating long exposures, night photography requires the photographer to build new skills and polish off some old ones. But there's more to night photography than just capturing the image in the field. Like with other photographic disciplines, post-processing often plays a vital role in crafting the final image. Join photographer, author and National Parks at Night instructor Tim Cooper as he shares what you'll need to know while you're in the field, including lens choice, camera settings and exposure, as well as how to use Adobe® Photoshop® and Adobe® Lightroom® to create a night image that dazzles.
SOFTWARE USED:
Adobe Photoshop CC 2018, Adobe Lightroom Classic CC
Reviews
This course, along with the others by Tim Cooper, are outstanding. His demonstrations and explanations are so clear and easy to follow. I've been out doing long exposure night photography using what i learned from Tim and and delighted by the results.