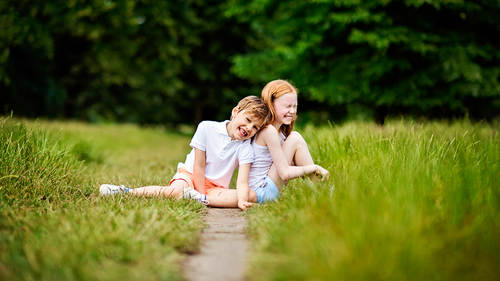 Capturing Authentic Children Portraits
Lesson Info
Class Introduction
We're gonna talk today about kids, photographing kids. When we talk about authentic portraiture, what are we talking about? I love working with children. It's just easier. It's one of the reasons really that I photograph children because you don't have to break through that wall of self-consciousness. However, you often do have to break through the walls of however they're feeling when they walk in. And we're gonna be discussing that in some detail. But in general, when I'm working with children, one of the things I'm thinking about is that they are insanely unique. They are a marvel. And they really are. Anybody here ever love a child? Yep. I have birthed a child. And I've brought home a child from another continent. And I've brought home a child from another continent. And in every one of those cases, those are the most dramatic moments of my life. The idea that I'm going to connect with this human forever. Like we are bonded together and I will never not love them. And I look at the...
m and to me, they are a marvel. Just the way they learn and the way they speak. And the way they surprise you. And I'm amazed by my children. Even though they also drive me crazy. But that feeling I have, I also recognize that my clients when they're bringing their little children to me, that's their little marvel. And that means everything to them. And I need to go in with the mentality of respecting that, appreciating that, and make sure I showcase that. I don't really ever, I'm trying to think if I've ever walked into a photo shoot and thought, "Right, get the job done." I walk into a photo shoot and I think, "Okay, how are they feeling? "How are they coming across? "What do I need to think about in terms of "how I frame the shot, compose it? "Go ahead and bring out some expression?" The course is called "authentic portraits," and for me, when I drill that down even further, it means real expression. And so that expression, no matter how I go about getting it, it's gonna have a massive impact for me. That's one of the things I don't walk away until I've got that. And so let's start talking about these great, dramatic love stories of the clients that I'm working with. When a child comes in and I'm finding right away, they don't wanna be there. The client wants to be there. The client wants the shots. But what I'm facing is a child is who doesn't wanna be there. What do I do? Do I just say, "Ah, this is gonna suck," ? "This is gonna be really hard. "I wish this hadn't happened." No. I'm gonna sit there and step back and think, "Okay, I have a bit of a methodology here." I've come up against this time and time again. And I'm going to use the practices that I know work. Simply by what I'm seeing in front of me. What the situation is that's presenting itself.
Class Description
Each child is unique and needs different techniques to draw out the most authentic portrait. Acclaimed family photographer, Tamara Lackey, talks through how to quickly identify the characteristics of a child and the posing techniques and direction that can lead to a fun session with great results. She'll cover:
The 6 basic personalities that children may show up to a photo shoot with
How to draw out a shy child in front of the camera
Tips for photographing the children who don't want to be there
Gear and accessory considerations for family shoots
How to build to a natural pose
Have the confidence and the technique to capture an authentic child portrait in every session no matter client or their mood!