chasejarvisLIVE with swissmiss
Chase Jarvis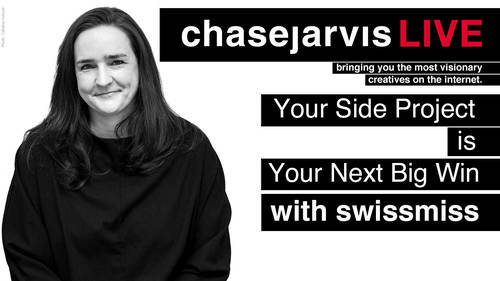 chasejarvisLIVE with swissmiss
Chase Jarvis
Class Description
Personal side projects are the creative engine behind countless thriving businesses. To dig deep on this and unlock your next big win, please join us for an inspiring chasejarvisLIVE broadcast straight from SF Design Week (in collaboration with the AIGA SF!) where photographer, Co-Founder and CEO of CreativeLive, Chase Jarvis sits down with designer, blogger and entrepreneur Tina Roth Eisenberg (aka swissmiss). In a conversation sure to get your creative & entrepreneurial juices flowing, Tina and Chase will lay down the law on labors of love and why you should take your creative side projects seriously!
In this episode of #cjLIVE, SwissMiss share her insights on all her most successful projects, including the SwissMiss blog, Creative Mornings, Tattly, TeuxDeux, and Studiomates. Tina will share her journey from Swiss design student to NYC-based Design Director, to the client-less business model she thrives on today. Specifically we'll explore WHY it is that your side projects always seem to become your next big thing -- and we'll uncover WHAT you can do to make your passion projects make your career pop.
Now in its 4th year and viewed by millions, chasejarvisLIVE is your monthly 60 minute dose of inspiration mixed with tangible, practical take-aways from some of the best creatives on the planet. Past guests include Macklemore, Tim Ferriss and Brene Brown, Adrian Grenier, Gary Vaynerchuk, The Lumineers and many others.
Ratings and Reviews
Student Work