Cinematic Lighting for Portraiture
Creating a Spotlight in Photoshop®
Chris Knight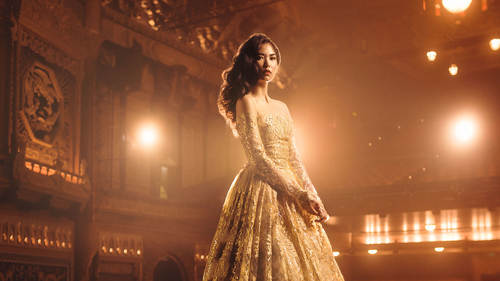 Cinematic Lighting for Portraiture
Chris Knight
Get access to this class +2000 more taught by the world's top experts
24/7 access via desktop, mobile, or TV

New classes added every month

Download lessons for offline viewing

Exclusive content for subscribers
Lesson Info
42. Creating a Spotlight in Photoshop®
Lesson Info
Creating a Spotlight in Photoshop®
What do you do with the spotlights? Or what do you do when you want to add a little bit more haze? So, what I'm gonna do here is a fun little Photoshop trick. I'm gonna create a spotlight. Now I'm gonna create it in the same way that I'm gonna play this out. I'm gonna follow what's already there and it's basically just gonna make it look stronger. So, this is gonna be done in a couple of steps. One, I create the color, then I change the blending mode, and then I use a gradient to affect fall off. So, what I'm gonna do here is use my polygonal lasso to make the line, let's just kinda guess about here maybe, probably something like that, that's a guess. So I'm gonna create a solid color fill layer, which turns this selection into my mask. And I'm just gonna sample, I don't know, maybe like this bright yellow, orange color, something like this. The color of the light, right? Change the blend mode to something like screen. And then we lower the opacity, and it's starting to look close. Doe...
sn't look like a light yet. Two things, one, the edge is too hard. So what do we do? We select a mask, and you go to mask properties, and so, it used to be when you double click on the mask, properties would come up, now it brings up select a mask, but properties is the same thing as like when you select an adjustment layer, same window, OK? So this is a mask property. You can also get there by going to window, properties, right? Increase the feather, soft edge, OK? Now what do I do? I need to put a gradient on it. I don't want to put a gradient on this, I can, but what if I just put a gradient on top of it? Well, unfortunately, you can't mask a mask unless you group something with itself because then you can put a mask on that group. And so one thing is grouped with itself so that you can layer a mask. And so my original layer had to have a mask or it was the white, but now all I have to do is grab my gradient tool or G and I can put it right on top, I can make it look however I want, strong, subtle, lower the opacity, feather it a little bit more, make it brighter, brighter, nope, less bright, feather, soft, like what do you want it to look like? You can make it look however you want. And the cool thing is is you can take this, you can duplicate it to the other side or you can just as easily do it again. Want to create another one? Solid color, same color, kinda something like that, change the blend mode, I'm gonna make it its own group. Change the blend mode to screen, lower the opacity, feather it, group it with itself, command G, and then add that gradient. Now what I would probably do here is kind of mask it a little bit off her, oops wrong one, just because that's what it would be doing, all right, just bring a little bit off, so my mask looks like that. And now what I've got is something that is a much more amped up version of the spotlight. And you can create lights in this same way. You tend to want to layer lights a little bit with like a middle, cause lights are multi, like there's more than just a solid color, so maybe what you do is you come in and you dodge, oops, you dodge the inside, right, maybe that's, that's what you do or maybe you come in and you paint paint soft light like a bright white color over the inside, right, something like that. Lower the opacity, and that helps you to create that highlight, you can blur this as well. But there are all different ways, like for you to create this affect. This is just one of them. And so this is again not where I'd finish it, but it's come a long way in a pretty short amount of time and I'm, like I said, I'm not making the spotlights, it's just helping them out a little bit.
Class Description
Most photographers get comfortable with the lighting setups they use, and tend to shy away from trying new or different ones. Pushing yourself to incorporate new lighting techniques can help to expand your photographic style. You don't need to buy more lighting equipment to start thinking about how the light is appropriate for what you're shooting. Learning to see and light a location or scene and bring it to life in your images takes an in-depth understanding of lighting, direction, and creative vision. Join Chris Knight, well-known photographer, instructor, and author, to learn how to create cinematic lighting that allows you to be more innovative for your clients and yourself.
Chris will explain:
How to think like a filmmaker but apply those ideas to a single image
Motivated lighting and how to incorporate the techniques into your creative vision
Framing and layering for your images
How to use direction and guidance to achieve a cinematic look
How to enhance the cinematic lighting you achieved in-camera through post production processes
In this class, Chris takes you through his creative process during two cinematic style shoots at two different locations to share with you his behind-the-scenes thoughts, motivations, and scenarios. Chris also takes you through an in-studio shoot to explain the importance of prop placement, intentional set design, and light. You'll learn the confidence to develop and incorporate new thought processes and get out of your everyday routines when lighting your subjects.
Reviews
This course is simply terrific, and I highly recommend it. Firstly it arrived at the perfect time for me as I am soon to do a studio shoot very much in keeping with a cinematic or theatrical aesthetic. Secondly it's taught by Chris Knight who I swear is like a long-lost twin brother. :-) There are so many parallels in the way he thinks and works to my own style. So I avidly watched this as soon as it was available for anytime streaming. This is the first time I have made extensive use of the CL iPhone app, btw, and I love how it pretty much enabled me to seamlessly switch back and forth from desktop viewing to my iPad that I carry around the house during the day. I was able to make coffee and still carry on taking in the course, uninterrupted. The content is fantastic, delivered succinctly yet entertainingly. Some material and ideas are already in my repertoire and were reinforced and validated by Chris' demonstrations. But he also introduced a lot of ideas and methods new to me and very welcome. I was particularly glad to see how practical it is to stitch a series of tripod shots into a wide pano. I have been afraid to try that but I will now be using that in my next shoot, for sure. As alway, his post production practices revealed all kinds of tips about Lightroom and Photoshop I didn't know. Negatives. The volume level mastering is iffy. It started out at a decent level then midway through one of the early lessons dropped so much I had to turn up my sound system to compensate. And as I write this one lesson (34) is missing and in its place was a duplicate of the next lesson (35). I expect CL will have that fixed shortly though (I sent support a note).
One of the best classes I have viewed at Creative Live. Definitely worth the investment of time and money. The pace of the class allows you to learn extra tips and tricks throughout the process. Great instructor, highly recommend this class to anyone looking to step up their creative game.
excellent class in all regards. outstanding instructor with experience in complicated cinematic shoots but who also is willing to thoroughly cover the basic nuts and bolts. i wish all creative live classes were of this quality.