Conceptual Narratives
Conceptual Narratives with Kate Woodman
Kate Woodman, Kenna Klosterman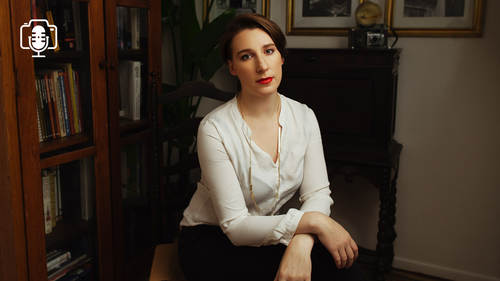 Conceptual Narratives
Kate Woodman, Kenna Klosterman
Get access to this class +2000 more taught by the world's top experts
24/7 access via desktop, mobile, or TV

New classes added every month

Download lessons for offline viewing

Exclusive content for subscribers
Lesson Info
1. Conceptual Narratives with Kate Woodman
Lesson Info
Conceptual Narratives with Kate Woodman
Yeah, mm hmm. Yeah, yeah. Hello everyone and welcome to Creativelive. I'm your host, ken Klosterman. And we are here for another live episode right here on Creative live tv of our podcast. We are photographers where we bring you to our favorite photographers, filmmakers and industry greats to dive into their minds and talk about their careers, their personalities and what their experiences are, both the ups and the downs. Um so that we all know that we are not alone in our creative work and creative family. So before we start and I bring on our very special guest today, Kate Woodman. I would love to hear where it is that you are tuning in from. We love to do those shout outs. So whether you are watching on Creativelive dot com slash T. V. Where you can click in the chat and join your fellow creative livers all over the world. Let me know where you're tuning in from. Or if you're watching on our social channels, let me know as well. I'm here in North of Seattle, and kate is joining us f...
rom Portland, so to pacific Northwest Ear's here um and let us know where you are tuning in from so far. We've got Wisconsin, so keep those coming in. Uh okay, so I am without further ado very excited to bring on for the very first time here on creativelive kate. Woodman. And kate is a commercial and editorial photographer, like I said, she's based in Portland, but she was born in Germany and grew up in Connecticut. Um she, like I said, works both in the commercial and editorial worlds, um she has a client list that includes Airbnb Nike, harman, kardon, Marie, claire, british vogue and so many more if you know and love her work, you know that she has a very cinematic narrative style is all about color and we're going to dive into some of those topics. So we're excited to hear how she started her career as an engineer and then um went to New Zealand and then became a photographer. So we're going to talk about that. Um and again her work is very unique and stylistic and so we are going to dive right in, we've got we've got west Virginia, Chicago, Liverpool, bend Oregon, Jersey city, India Nashville colorado. All you out there please give it up for kate! Woodman kate. Thank you for joining us today. Hi Hannah. Thank you for having me. What a marvelous introduction I wish I was, I wish I was exciting in my day to day life as I sound on paper. Well I believe you are. We all are uh kate, how are you? Where are you joining us from? I said Portland. But yeah what it is now, we are recording this. we are, it's april 1st we are now in april I don't know how that happened. Uh Happy having one year quarantine anniversary. Exactly, exactly. I'm good, I'm good. Um I april is turning out to be a crazy busy month. I'm in the middle of multiple bids for some commercial jobs which is awesome. Um It's nice to see that sort of start up again after last year's insanity. Um So I feel like there's there's hope on the horizon so well that's good for everybody to hear out there as well. There is hope on the horizon for all of us, all of you who are working photographers so talk to us about this, the commercial world before we dive back into some of your your history, what are the types of um when you say you're putting out a bid, what are the types of jobs that you have done and are going for and you know how that came about? Yeah. So, um, about five years ago I decided to make the switch into full time photography. And at the time I was kind of, I thought I was going to be a fashion photographer and I was like, okay, yeah, I'll do, I'll do the editorials will do, you know the fashion stuff. And then quickly kind of realized that while I appreciate fashion, I'm not I'm not I'm not a fashionable person, I don't care about trends. Um, I like fashion is is kind of like means to an end in, in my imagery, which to me is all kind of about storytelling. Um, and so the natural kind of progression for me was to sort of jump into the commercial realm where I think there's a little bit more room for conceptual work and, and these sort of narrative narrative series or stories that I can tell, um that maybe just aren't as prevalent in either the portrait or um, or the fashion realm. So, um, and I think kind of aesthetically my style sort of lends itself well to that kind of um, commercial realm. So um, with that being said, I've uh really have only kind of in the past five years, started getting a rhythm in the commercial seen over the last two years, I would say it takes some time to kind of make those inroads in that realm. It's pretty competitive. Um, but I've been really fortunate thus far that the projects that I've been able to work on in the commercial realm are pretty well aligned with my style. So like, for example, last year I did a shoot for Airbnb, um it was at the last blockbuster in the world, which is located in bend Oregon, a couple hours from where I live in Portland. And the whole concept was, let's take this back to like the late eighties, early nineties style with these like, you know, the like teal and pink and blue colors and like the retro furnishings and all that, which If if you know anything about me, nostalgic kind of like my jam and being the 90s kid that like grew up in that time frame and went to blockbuster on the weekends all the time. It was like, it was, it was magic. Like I could have stopped at that job and been happy. Um but you know, I think it's been really, I've been, I have been fortunate in that the other types of jobs, whether it's, you know, health care stuff or uh lifestyle stuff, it all when you kind of figure out your style, people come to you and they look for that kind of style, right? Um and so I've I've been able to um kind of work within my aesthetic while getting paid to do these commercial jobs, which has been really amazing. I mean, that's the dream, right? Yeah, you're living the dream kate. Um I tried, but I think that's the, I want to dive into a number of the things that you talked about, because a lot of people there's defining your style, finding your style, um doing the work to show what that is, and then, so that and then figuring out the landscape of the commercial world, you know, in the editorial world. And so it's all just like these building blocks um that you've, you know, been able to um to do, and therefore, you know, it's that's why we wanted to share all of, you know, how you've done that or um the journey along the way, because I'm sure it wasn't all easy peasy at all. Let's dive into the the aspect of the of of your style, because I know, again, a lot of people um no, you for the that cinematic look, that narrative the conceptual side. So, so, I mean, how did you how did you go about showing that to the world? It sounds like it was a lot of personal work, is that correct? For sure? I mean, finding a style is definitely a journey. I wish there was there was a shortcut to being able to just like snap your fingers and figure it out. But um no, I mean, for me it was it was a journey kind of finding what interested me and how I could translate that visually while simultaneously trying to put that out into the world. So you're trying to like figure who figure out who you are, while you're trying to promote who you are, which is an interesting kind of process. And so, you know, it's it's iterative, there's an evolution to it. But to give you kind of a brief synopsis of a synopsis of how I kind of came into my style, I started photography on the landscape side of things. So I have always been interested in um you know, beautiful scenery and vistas and like the colours and sunrise and, you know, all the reasons that people get into landscape photography. Um And that was when I was living in New Zealand which has all these amazing landscapes. Um But then I moved back to the States and I was living outside Philly, which doesn't quite have the same atmosphere. So at that point, I was like, well, I still really like photography, I'm going to jump into something else. Um And so I actually went the complete opposite direction and started doing portrait and fashion photography. So I set up a studio in my house and shot almost exclusively on a painted backdrop that I had painted for myself um for probably the next year, year and a half or so. Um and at that point, I, you know, I was considering the fashion realm and um thinking that was the direction that I wanted to go, but I still was drawn to this landscape side of things too, and there was such a huge disconnect in both of those things, and I was like, you know, I have to find a way to merge these together and kind of make them fit in the same space. Um And so over time that involved experimenting more with shooting on location and then eventually getting into composite work. Um and so, you know, over the course of many years, I mean it's still evolving but um that kind of progressed into the sort of aesthetic that I have today, which I think merges both the the landscape for the environment and the context and then the people themselves. Um and for me, what it comes down to is um I want to tell a story, but I want that story to have have context and to be able to kind of relate to it in a way where it's not just, you know, this face to face interaction, it's about what's going on in the entirety of the scene. Um and so yeah, if I'm just rambling, please let me know. No, I actually I wanted to jump in because that's um I wanted to talk about some of your particular images because as you are describing, creating a scene, the character in it, there's this definitely an element of character and sort of ambiguity of you, you see something's going on, but you don't really know what your story is. So, um maybe we can pull up um one of your images at a few ways of a few images, and and again, if you're listening to this audio, y you can go to kate's website and it will be pretty clear as to what we're talking about. But the first one being, there's this image that you have where you're in a gas station, uh and the light is very dramatic. I'm also curious a lot of these are Panozzo, as well. I'm curious if that's the cinematic side of it, but there's a woman and she's, you know, got a bag and another woman. So, so tell us about sort of the creation of this image. Yeah, I'm glad you picked that one because it's one of my favorites and I feel like it's really kind of encompasses all of the things that I want to include in my imagery. Um, so the kind of backstory to all of this is I live about five minutes from that gas station and in winter in Portland it can get really, really foggy. Um, and you know, fog cinema that kind of like, hes like I'm obsessed with it. So, um, I had driven by this gas station a number of times. I was like intrigued by the colors and by the lights and, and the geometry of it all. And woke up one morning pretty early while it was still foggy and I was like, I'm just going to go drive by, see see what's up with this gas station, see if it's, that, that fog is catching some of the lights. And sure enough it was um, it was open at the time. I'm pretty sure that the gas station attendant thought I was some crazy, insane person for taking photos of it at 6:00 AM in Midwinter. But those are the weird things you got to do to get the shot. So yeah, so I I grabbed um a shot just of the gas station alone. So without any people in it, because the challenge of working in environmental stuff for landscape stuff is your kind of beholden to the conditions, right? So get calling up a model at four o'clock in the morning to come out and get ready and hair and makeup and do that. She probably wouldn't have been a huge fan of me, but so uh yeah, so I had this, this plate of an image um and and I think uh speaking to the panoramic aspect, I think a lot of that comes from my landscape background. Um but also cinematography, I mean typically in movies you'll see like a 16 by nine or 21 by nine aspect ratio. So that definitely gives that kind of cinematic effect. But but yeah, so I think, I think that that particular location lent it well itself well to that kind of composition. Um and at the time I was doing a lot of experimentation with composite imagery for those reasons I had listed right. Like it's there's just a lot of logistical challenges with getting people on location at the right time. Um And for me, composite was a way to kind of make everyone else's lives easier except myself in the post processing aspect of things. But I just can I just happen and say, yeah, I did not know that this was a composited image. Good, hold it. I did like I literally thought this was a set, you know, so so how do you then go from in this particular case like this plate to adding the elements of the characters within it? Yeah, so that's that's the fun part and that's kind of the conceptual part of of the work and um I have hundreds of plates that are just waiting for ideas to pop into my head. Um but but yeah, I mean I think I sat with this one for I don't know at least six months if not longer. Um just trying to think of what, what would, what would make sense in this scene and um you had mentioned something before about like creating a sense of kind of ambiguity and that's exactly it. Like I love a story that um it feels like kind of out of context uh still from a movie right? Where you like, you put on a random movie, a hit pause and there's a scene, but you don't really know what's happening, you kind of have to decipher it from that one still. So um that's kind of always my, my aim with with my work, but that's exactly, that's exactly it. Like it is because I know I'm like, you also do stills on sets. And so like when I was looking at those on your website, it took me a minute to realize, oh, this was an actual set versus your images that like look like a set. So yeah, definitely. That I just, I'm just living in my own movie. Yes. Um yeah, so, um, so yeah, then, I mean the concept is always the really interesting stuff because it's there's no true process for it. It's just sometimes you wake up with an epiphany and sometimes you have to wait six months to figure out massage an idea that that makes sense in in the environment that you want to put it. Um So I think this is this was kind of a combination of both, where I was just, I had nothing for a while and then one day this idea just kind of came to me and I was like, well it's a gas station, let's, and it looks kind of like sort of eighties cyberpunk. E so let's get these characters in here that are sort of dressed in in that kind of style. Um we can make it a little bit more fashion. Um and I'm gonna, I'm gonna have her carrying a gas can, and then the other girls going to be lighting a cigarette and they're going to look like they're twins. And it's it's kind of it's kind of creating that decisive moment, right? Where it's like, you've set up the rising climax and your there's like a moment of tension, but you're not you're not quite there yet. There's there's no resolution, You don't know what's gonna happen next. Um and so for that, I felt like the, you know, the carrying the gas can, the lighting cigarette was just like, are they gonna, are they going to let this place up? Like, what, what's happening passing through? So, and I really like to kind of leave it to the viewer to come to their own conclusion as to the resolution of the story. So, it's really interesting because I I've heard you say before that you're in there's kind of not that there's only two things, but there's people who are like myself who like street photography, documentary photography, you just mentioned the decisive moment, which, for me, is often I think about that as like documentary. So then to do conceptual decisive moment I think is super interesting. And I've heard you say that like that you're not street photography, is that correct? No, no, I'm the opposite. I mean, but that's a really interesting parallel. Hadn't hadn't really really thought of that, but I think in general that's kind of what draws me and probably a lot of other people to photography is this kind of moment in in still form where you can't see around it, right? You can't see what happens before, You can't see what happens after. So, if you can capture something that's kind of right at that pivotal moment, that leaves so much to the imagination, and I think that really engages with the viewers. Um so, whether you approach that um from the photo journalistic perspective, where that's really just about timing, um and that that requires a whole level of skill that I certainly don't have. I'm very much like, this is a production. I'm like, concept in this out for months ahead of time, planning out all of the minute details, um and making sure that, you know, this this really is kind of a planned crucial moment, but at the end of the day, we're still trying to achieve the same kind of response. Yeah, it's super interesting. So heavy on the post, are heavy on the preproduction. Tell us about how important that is to the type of work that you do, and kind of some of the what are the teams that you put together um to to be able to create this type of work? Yeah, So pre production is it's incredibly important for my stuff I think for my personal work, but also at a lot. I think part of what has has helped me kind of grow commercially is there's so much pre production in the commercial world, especially when you're dealing with clients and a lot of different people's opinions. Um that all has to be really hashed out as much as possible ahead of time. And I think coming from a conceptual, more production based background that's kind of set that up Well, um, I set myself up well for success in the commercial world right now. I'm working on a treatment that I've been working on for five days straight. And it's all just like planning and planning as much as you can before hand, so that you can give your client reassurance that you'll be able to execute the job when you're ready to go out there and perform it. Um, and it's the same process for my personal work. I just want to make sure that I've given everything the attention that it deserves, making sure I'm not missing anything crucial um, from a narrative perspective ahead of time. So that way, when I'm ready to go out and take the shot, the vast majority of the work is already done for me. And that doesn't mean that there isn't room for improvisation in the shooting process. I think that that stuff is, it's really important to kind of keep an open mind and not stay too tightly honed in on your, on your plan because if you don't allow for a little bit of that, then you might miss something really fantastic. But I think I friendly believe that the battery, you kind of prepare and set yourself up um the more effective your work will be and the more quickly you'll be able to execute it as well. Yeah, I mean, yeah, I mean it's it's super interesting because again, there's like all this pre production and then in and imagine then a good amount of post production, especially when you're doing the compositing as well. And I mean, so you start to think about it, you're like, wow, there's, you know, so much that goes into creating these types of images. What I'm curious about is you have some images that are like just that image and you're telling, like you said, a whole decisive moment in that image story in that image, then you also have series with the end. So when when do you, are you, are you kind of always thinking about a series? Um and then like, maybe it just turns out to be one image or how do you think about it when you're maybe talk about a series that you have that, that and why you did series? Yeah, I think honestly a lot of the decision making that on that has to do with the, the process. So with composite stuff, if I have a plate, I just have the one plate. Um and often it's, you know, from a place where maybe I can get back to it anytime soon or um I can't kind of recreate those conditions. So for those, if I have kind of an existing back plate, I want to make sure that I'm creating a story um within that image that is kind of fully encompassing. Whereas with the narrative series, those are almost predominantly like 100% shot on, on location in situ. Um There's very little compositing that happens in those um and there's also a little bit more of a kind of like free flow state I guess when when those are pretty, so I do kind of have these different approaches um to shooting from from a technical perspective and I think which one that is kind of dictates what what the eventual series or story is going to look like. Um The I yeah, it's hard to say if I have a preference because I think they both kind of serve different purposes um But coming from a background where I'm just so obsessed and enamored with um with movies and film and that sort of thing, I feel like the narrative series to me is like kind of going back to the film stills thing right? Like if I could pick 10 uh still frames from my favorite movie and have to make those frames tell the complete story of the movie. Which one do you which ones do you pick? Right. And that's that's the puzzle. Um which the challenge of that is really fascinating to me. Have you ever actually done that as like a deconstructing one of your like that? What you just said, like Take a movie and try to pick 10 stills interesting. No, I mean I I've done I've definitely done some like analysis of frames in in a movie for different purposes, like dissecting composition and lighting and color and all that stuff. But no, I haven't actually like sat down with favorite movie and then like all right, let's just still listen to the top shots and see see what we get. But it would be an interesting exercise to do. I think it would be I think it would be for everyone out there. Yeah, I want to do now. Yeah, exactly. Let's type into because it is very your colors are very cinematic and there's the, you know these dark and so and I know you teach about color, so so talk to me about how sort of that. Um I don't know, fascination with color came about for you. I know you have art history background or just love of um and then what do you think about with regard to color as you approach a project? Is that does color come first or you know that? Yeah. Talk to us about color. Uh yeah, so I'm gonna could talk for three years about color. Um it's interesting. I don't I don't think I can really pinpoint a time or a point where I was like, okay, I am going to really focus on color. It was just one of those things that kind of naturally came through my work. And honestly, it wasn't something that I had noticed uh specifically in my work until other people had started pointing it out. You know sometimes you like, you need to get outside perspectives to get a sense of what is actually going on here. But um I have always been interested in art and art history. Um I have a degree in art history prior to that, I was always like drawing in painting. Um and so you know, having taken art classes since kindergarten, I feel like I um kind of just by accident developed a fairly strong sense of color and mixing color through pains and and and kind of what that looks like. And I think a bit of a side note, but I feel like if photographers really want to know about color, they need to, they need to study painters because painters have a true understanding that photographers just like can't possess due to the nature of their craft. Um, so having a bit of a background in that I think has kind of helped that process. But um, the other thing that, that seemed kind of in retrospect seems kind of a pivotal moment for me with regard to color doesn't have anything to do with photography, but it has a lot to do with interior design. Um, We, my husband and I bought a house and we renovated the whole thing. Um, and obviously when you're renovating a house, you know, color choices and matching colors and that sort of things becomes really important. Um, and I found that I became really kind of obsessed with with that, uh, with the color aspect of things during, during the renovations. Um and really focusing on things like how does color shift in different lighting in different spaces? How does it make it feel in terms of scale? Um And those were kind of things that I I sort of picked up in that process and somehow was able to apply to my photography and I want to say both like figuratively and literally because you've done a lot of work in your home, is that correct? And and especially perhaps in this past year as well. But but I'm curious then about and uh about do you as you're walking around your house? Um are you actually then like seeing scenes in your own home because you've used it as a set a lot? Yeah. So if I wasn't a photographer, I would probably be a set designer or an interior designer because my master's degree is actually in historic preservation. So I am obsessed with old houses and old architecture, which is probably why you see a lot of interiors and architectural features in my work. So it's nice to know all these things and all my millions of dollars spent on education and kind of come together in some way. Um, but yeah, so I do, I do actually use my house, um, that I'm currently in a ton, um, for my personal projects. And in fact, there's, I know there's probably 20 of my, my images on my site that are shot in my house. Um, which To me is really great because I think it just kind of proves to photographers that you don't need $1 million dollar budget to get good creative work. It just requires a little bit of imagination and a little bit of uh, you know, being being a problem solver. Right? And and making the most of the spaces that you have. And I think one of the really amazing things about color is it's such a transformative element in a scene. So you would ask previously about kind of my decision with regard to color. Um, do I do I think about that prior to shooting? Absolutely. I think about it in you know, ambient, like what are my ambient colors in the scene? What do I have to work with initially? What do I have? Um what can I add in styling or props that will introduced certain colors for either an emotional or conceptual purpose? How does that tie into the existing colors? I've painted walls in my house for uh, for specific photo shoots. Um, and then, so there's there's kind of like the pre production side of of color and always thinking about, you know, what do these colors mean? And all color has meeting for for different different people in different meanings, in different contexts to and then there's also colour on the post production side of things, which to me is kind of like the thing that ties everything together, but I don't want to rely on color just in the post processing side of things, because at that point you're there, right, your your cake is baked, this is just the icing on it. Um So if you didn't have the right ingredients in the first place, then you're missing out. So it's so, I mean it's it's I understand why all of your, like you said, all your different backgrounds um and the things that you're passionate about and have learned about um the interior design, the art history, architecture, you know, that all plays into your images. And I'm, I'm wondering if we can talk a little bit about the, the spaghetti image and you guys get all, if you're listening to this to see it on, you know, on her instagram or her website. Um, but in terms of when I think of color, like there's this bright red dress and then there's blue and then there's like nuances as you go within. So how did you and is this your house? And then, um, and then how did you approach? And we also for watching the video, we saw your dog in the background. So there is like your dog in the image. I love it. Um, so talk to us about the creation of this image. Yeah. So that was my dog's favorite photo shoot ever, because he got to eat the spaghetti off the table. He was super stoked about that. Um yeah, so this is, this is an interesting one because it kind of came off of a random idea that I had, I think I was browsing Pinterest and I saw like a picture of this like glam woman eating spaghetti, an italian bistro somewhere and I was like, okay, I like this idea, how can I take this and make it me? Um and that's that's that's kind of at the heart of it, right? Is like, we get inspiration everywhere, but for me, I want to like, I want to take something and make it uniquely my own. Um so I decided that I was going to start with this woman, this glam woman eating spaghetti in the house, but I knew that I wanted to include more of the environment because that's what I do. Um and to provide more context. And so it kind of was this kind of iterative evolutionary process of Okay, here's the starting point. And then this is how I kind of make it a little bit more me. I'm going to shoot in my house, it's cheap and easy that way. Um I know kind of the mood that I want to create as this sort of mysterious vibe. So, I'm going to go with a nighttime scene, which means introducing like blue gels and my lighting um for that kind of night time effect. And then, you know, I have, if I have blue, I need something to contrast that and to bring out the color um bring out our subject. So I'm going to put her in this orange dress, that's the compliment blue. Um and then my spaghetti has has these kind of like orangey tones to it too. So this is, you know, this is a split complementary color scheme. And so that's kind of, I mean that's kind of a walkthrough of how my brain goes through this process. Um and you know, like I said, it's it's all the pieces are kind of there, but you don't really know what it's going to look like until you actually get there and shoot it, but as long as you have those components, kind of generally figured out initially, once you get there, it's easy enough to put put the pieces together. Um So yeah, that's that's kind of the story of that one. I love it. Yes, I love it. You mentioned earlier that you're you know painter and you hand to hand paint your backdrops and then you turn that into a business, talk to us about your backdrop studio and sort of like what that evolution was in terms of, you know, you mentioned you started to paint your own um and and are they things that people physical or digital backdrops talk to us about that? Yeah. Well I decided I didn't have enough on my plate, so I was going to start a side hustle because why not? Um No, Well, I mean I mentioned when I first started shooting fashion photography, you know, like many people who who are interested in that, it was all about like the hand painted olive font style backdrop. But you know, I didn't have the elephant budget at the time, so I was like, I'm just gonna make something for myself, how hard can this be? And it turns out I was pretty hard. Um but over over the years I um kept painting new ones because I I have this this problem where I have to reinvent the wheel every time and I can't use the same props at all, so um yeah I just I just kept kind of painting new ones and then all of a sudden I had this inventory of hand painted backdrops, so I started a little Etsy shop and started selling them off that way. And then before I knew it people started asking me for custom backdrops um which was cool and and definitely for the first year or two in business kind of kept me afloat, so um it's always good to diversify um but after a while um kind of wanted to sort of stray away from the hand painted aspect of things just for timing and um it's just it's a lot of work and I commend anyone who who does that. Um So instead I started kind of first I started digitizing those so that I would have digital kind of textured backdrops. Um and then this just kind of snowballed into the whole the whole backdrop studio thing. So now I have handpainted ones, I have the digital ones, I have printed ones, and then through kind of again revisiting my my older landscape stuff, I've started to kind of create these more um unique, like painterly landscapes, style backdrops to, which has been a really fun sort of side project for me to kind of create art in a way that's a little bit more different than my traditional conceptual stuff. Um And I I just think it's cool because you have so many options to add different um different backgrounds and different kind of visual components to an image and really change them up that way. So, so yeah, that's that's been about a year and a half of the this experiment, so. Well, I just it is, it is a great point um, to folks listening out there, like, yeah, diversifying and thinking about, you know, if there's something that you're, that you're drawn to and you love doing, you know, those are things that maybe you can provide for others. Um, so it's, yeah, it's really cool. Um, too, and you guys all go check out, is it? Um, the backdrop studio dot com. Is that what people can check that part out? We'll get to that later too. But, um, let's talk a little bit of back, go go, a little bit back in your story of this link between engineering and um, and, and how is that kind of played into? You're, I always think that people's like, in retrospect, we can see how, like, the different chapters of our lives come together. So what kind of engineer were you and, and how does that fit? Yeah. So I got into photography by accident, through my engineering job, I was sent to New Zealand to do earthquake damage assessment. Um and then, you know, kind of on these these side adventures fell into landscape photography that way. Um but I think it's, I've always been kind of both a technically and creatively inclined person, so they they've always been, I don't know if they've been warring with each other, but there there wasn't really a way for them to kind of merge, I guess, until I kind of discovered photography. And I think there is an analytical side of me that's very type a and I like to plan everything and I like to problem solve. Um and then, um, there's the creative element to, and I think photography is kind of the perfect way to really merge both of those, those skill sets. Um and to use those, those technical tools to create. Um to me, it's kind of like it's the dream well, and you can see that, I mean, you can see that in sort of the yeah, the architecture, the the yeah, just the different elements. Uh, and and I am not a preproduction producer, like all of that. And it does, it takes a very certain skill set and you can see um, how those all line up to make what you do. Um like you said truly you and I think that's so important for people out there. It's like, how do you take all this inspiration? But then make it truly you Yeah. What are some of the things that you're most excited about? Um, moving forward in terms of? Um, I know you mentioned at the beginning um, some commercial work, but maybe on the personal work side I noticed that you had um done a short film getting into motion. Is that something you're continuing to explore? Yeah, so, uh there's there are far more things that I want to do in my life than I will ever be able to actually do. So there's always something on the horizon. Um I did just do my first kind of broadcast uh spot commercial um which I directed and shot the stills for us. So that that got me really excited. So I'm congratulations. Thank you. Um so yeah, I am I am definitely kind of moving into the motion realm, but I found kind of based on the trial and error process that I I love to direct. I hate to edit and I don't want to do any of the camera operation. So if I can, if I can direct it and produce it and put the story together and we're kind of in that realm then um That's definitely a direction I would like to go and I I do have some short film projects that are somewhere somewhere down the pipeline, I'm not quite sure where but they're they're out there. Um And then I have also been starting to dip my toes in the C. G. I. Realm as well. Um So that's a whole that's the whole thing to um I think my ultimate goal is to be able to create these sort of three D. Environments um in spaces or locations that I wouldn't have easy access to as a photographer. So that way, you know, I could still shoot the people elements and treat it kind of in the same way that I would have composite. But then the actual spaces would be these like C. G. I. Architectural renderings wow. And that takes the engineering part. You know coming back and you're our fascination with architecture back in. How do you even like what are you how do you do that? Uh Youtube lots lots of trial and error and Youtube tutorials. I mean luckily I think I have um I have a decent amount of background create like building stuff. Like I've done three D. Rendering and three D. Um design in my engineering job. So I am a little bit more familiar with the tools to build out the shapes and architecture is relatively easy because it's mostly just straight lines. I'm not like trying to make faces which it's crazy. Um And then from from the the other aspect of things like the photography stuff comes into play really nicely in C. G. I. Because knowing how to light things is half the battle. So if you have a photography background um you're going to be able to light the scenes kind of in the same same way, potentially with even more control than in a real world environment. Um So I think those those elements again, both like the photography and the engineering stuff will kind of facilitate that process. I hope we'll see. I'm very very early in that process right now. But I love that. That's I mean that's it sounds like you have endless ideas and you're actually doing them. So I think a lot of us get like, oh that's an idea, that's an idea. That's an idea. But like this hesitancy to even start. Um because we're not sure how it's going to get there. At least I find myself in that state a lot. So I mean I'm just curious like, do you when you wake up in the morning and you've had a wild dream when you have like how do you maintain your ideas? Like do you actually like have advice for people on, do you, do you write them down? Do you have like an Evernote doc? How are you with all this creativity? How do you manage it? So I have um but really this is, this is my true engineer coming out. I have an Excel spreadsheet, nice with all of my ideas. Uh and I recommend this to anyone um that when you have an idea or you see something that inspires you and it could be anything. Um I had a friend who like took an instagram story photo of her boyfriend jumping in a hot tub and his clothes and I was like, that's a cool idea for a photo shoot. And so I did it. Um so you, like, inspiration can strike anywhere in any way. And when it does write it down, like put it in a note on your phone, right on a sticky note, put it in your Excel spreadsheet, whatever, it doesn't matter, just write it down. And then if you when you when you have time to see if you can kind of compile those in sort of a Master document, so it's organized. Um but I do that and every time that I feel like I'm not quite inspired or I feel like I can't come up with an idea, I will always go back and reference that. And the vast majority of the time it, there's an idea there that I can create or something. I see they're kind of sparks a new idea, brilliant because I think there's the one thing of capturing it and then there's the other thing of actually going back and looking at them. Yeah. And so if you've got it somewhat organized, then you do have that spot to go to, for sure. And if you're and if you're more visual, I mean, also have Pinterest boards too. So that's also a great resource to, and I go and revisited mood boards that I've made there all the time. Nice. I have um, maybe one final question for you because this early, I it was on your instagram. Um, and you you wrote, um, you know that one piece that you keep coming back to, uh, when you think about what you'll have to top, let me read this again. You know that one piece you keep coming back to you when you think about what you'll have to top to feel like you're evolving as an artist. This image. Is it for me? I haven't found it yet, but I'm still searching for my poor grammar there. No, I'm reading a thing you have to talk to feel like you're evolving. We do, you obviously are trying a ton of new things, but what is your advice to people in terms of, of continuing to evolve? Is it going back to one image? Is it? Um or and and does it have to be conscious? Does it have to like Yeah, evolution as an artist. I think that I think that the one thing and the only thing that you can do to evolve and grow as an artist is to just keep shooting and shoot what strikes you in the moment, if shoot what is going to advance your career, like it doesn't, it almost doesn't matter. You just need to go through the process and take the steps and sometimes you'll hit dead ends and sometimes you'll go back to a different spot and sometimes you'll find something that you never expected. But if you're not doing the work and you're not shooting, um, you're not going to make that progress or if you are, it's not going to be as fast, right? Like, I've had plenty of failures in my life. I've had plenty of dead ends in photography. I've thought I wanted to do certain things and did them and found out that maybe they weren't things that I wanted to do, but I wouldn't have known any of that if I didn't just keep shooting constantly. Um, I'm lucky and I recognize the fact that I'm super lucky and that I'm always compelled to create no matter what. Um, I don't really struggle with creative blocks in that sense. Like there are times where I don't know what to make, but I want to make something. Um, and in situations like that, I will I will schedule a test shoot without a plan, right? Because you never know what's going to come out of that and you might get something epic. You might not, but it doesn't hurt. And every experience is going to be a learning experience and a growing experience for you. Great advice kate. And, and again, coming back to this notion of like, we can have our favorite images or favorite pieces of work that we've created. Um, and yet, you know, there's, there's no there there like they're still, you know, you don't, it sounds like what I'm hearing from you is, you know, you don't, you don't necessarily want to have that. It's like, okay, I'm done. No, no, because what's up for that? Right? Not exactly. Exactly. Okay. I know there's so much more we could talk about, there's you know, you teach you um you know there's just so much that you have to share for people where can people find you follow you, make sure that they are, you know, find the backdrop studio, make sure that they know where you're, you know, where you are teaching and things like that. Uh so I would say instagram is probably the most up to date in terms of content. That's kind of my more curated portfolio stuff. Um I'm kate woman underscore photo instagram website is kate woodman dot com. I just joined twitter, so I'm kate would start on twitter um and uh I think that's that those are the places I'm kind of most active and then the backdrop studio is the backdrop studio dot com and the backdrop studio on instagram awesome. Everybody go check all of those things out, join uh many, many people who follow and love and are inspired by kate's work herself. I want to give some shout outs before we sign off kate. We had um christian rolled who was saying she's another hello from another structural engineer moving into photography and videography in Norway. So thank you christian for joining. We had Jonathan and new Mexico, we had Amy from south Southern Sweden, uh we had randy in Montana and um special shout out to Richard Ter borg who is, has also been Richard also been on the podcast and if you missed that episode, check it out coming out audio I think next week actually. So uh if you ever need to go to Amsterdam, Richard, your guy, That's right, that's right, he's amazing as well. Uh and I want to give a special shout out to Rene robben who introduced me to you, give us a little personal intro, so uh thank you, Yes, thank you. Renee, Renee just launched a brand new glasses and compositing Garrett Creativelive to uh just launched yesterday, so very cool. Uh but back to you kate, thank you. Thank you so much. It just that's your little family, the community of photographers, You wake each other. Exactly, exactly. Uh thank you so much for joining us today, kate and just been great to have you on and get to know more about your story and how you approach your work and super grateful. So thank you again everybody, we will see you here next time for future episodes of whether it is, we are photographers here live on credit, live to be or other episodes um that we do here on credit live tv, you can scroll down the page if that's where you're watching. You can our sweet pea to upcoming episodes. And of course, there's always the audio version of the podcast that you can subscribe to anywhere. It is that you get your podcast. We have Over 100 episodes I think, 117 or so now. Um, so lots of amazing content and people for you to learn from and be inspired by. So that's it for now. But thank you again to Kate Woodman.
Class Description
WE ARE PHOTOGRAPHERS PODCAST:
Our weekly audio podcast We Are Photographers brings you true stories from behind the lens and behind the lives of your favorite photographers, filmmakers, and creative industry game-changers. From their struggles to their wins, host Kenna Klosterman discovers the real human stories about why they do what they do.
Listen to this and other audio episodes on our audio Podcast page.
ABOUT THIS EPISODE:
Finding your own style as a photographer is challenging - discovering what interests you, translating that visually, and simultaneously putting your work out into the world. In this episode, Kate shares her creative process and the evolution of her cinematic, narrative style. Kate also explains the importance of pre-production, color, and where she finds inspiration. She reflects on her journey and shares advice on how to continue to evolve and grow as an artist.
ABOUT KATE:
Kate Woodman is a commercial and editorial photographer with a client list including Airbnb, Nike, Harman Kardon, Marie Claire, and British Vogue. Kate is an educator, teaching workshops around the world focusing on color theory and storytelling. A structural engineer by training, Kate developed her love of photography in 2011 while investigating earthquake damage in New Zealand. What began as a compulsion to document the environment expanded into a fascination for narrative storytelling, with a conceptual twist.