Crazy Stupid Wedding Light
Crazy Stupid Wedding Light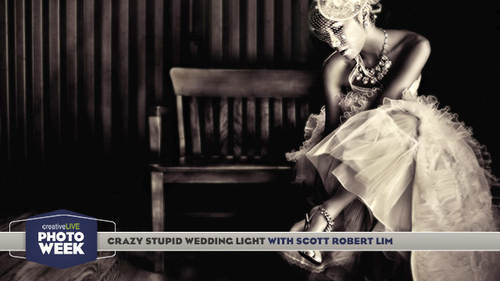 Crazy Stupid Wedding Light
Crazy Stupid Wedding Light
Lesson Info
Crazy Stupid Wedding Light
I have been a wedding photographer for thirteen years, okay? And you know what is awesome about this, this kind of industry that way that we kind of work in is that it was the people see bambi, she was amazing over there, okay, bambi, I went to my very first workshop, like, ten years ago because of bambi, okay? And some of things that I teach and I'll probably be teaching you is some of those things that I've learned from bambi and so it's, so I mean, I can't believe it if you would have told me sit in that class ten years ago, bambi in your von that one day I'd be sharing a stage with her, I wouldn't I said, you are crazy but that's wonderful world of photography, it can take you anywhere in the world you want to go and that's why I love it, it's an amazing industry that that we're a part of. And so today, what I'm going I'm planning to do is teach you a little bit about kind of managing your wedding day and some tricks on howto give me a little bit wow of wow in your imagery or just ...
help you with your work flow because it could be very confusing and so some lighting tips and then also at the end, I'm going to be talking about one small particular subject, which I found very difficult to manage during wedding day, and that was groups, how do you photograph group apps? And, you know, when that bride says, oh, what a picture of something fun, you know, like, what do you do? Right? And so that's kind of like the workflow, but we're going to see what to do it's going to be a lot of interacting and live type of presentations. And so who knows what it's gonna morph into, but anyway, let's get started, ok, how do you keep saying an insane world and that's, really what wedding photography is about? Um, every wedding is different that's what's so unique about it and each have their own set of challenges. Every wedding that you go to is going to be completely different somewhere indoor summer, outdoor, summer, midday somewhere at night, and you've got to figure out how to manage that day to be a great wedding photographer. You've gotta love chaos and thrive in it. Okay, so if you're going to get into this industry, you gotta love that chaotic state that it is in, you know, with the bride in tears and everything going on at the same time and be able to just thrive in that situation and knock it out of the park. And that's what it's really about and that's the challenge of it but you also the same time you can't be afraid of mistakes you have to go and have a game plan and try things and what I tell people is don't worry about it all you got to do is capture fifty images that tell the story of that day so yes you are going to miss shots but then you are going to get some other great shots later too and once you go home you go you know what? I got fifty shots here I can do this so don't be intimidated by it to do wedding photography well is very difficult but actually just getting into the wedding photography business umm it's easy anybody could do it if you go by camera get on craigslist bam you can you know two hundred bucks you can start doing wedding photography but if you want this is a career and if you want this to provide for your family and so forth and that is a different story actually getting into wedding photography right now is a really good time why I feel that people are dropping out of wedding photography one because digital has been around for a while so a lot of people who got into digital photography they got all excited and all first thing is that I'm going to see if I could shoot some weddings then they start shooting some wedding thing go wow, this is really not a cz romantic as I thought it wass and they stop doing it and they've dropped out right? And now that what I feel is there's the low and weddings on dh there's the middle you know, which is average pricing say anywhere from twenty, five hundred thirty five hundred dollars and then there's the higher end, which I called the upscale ones, which are five thousand and above well, I feel that the middle category is dropping out. Those photographers are actually leaving the industry one because toa earn a living and beginning average rates is going to be very, very, very difficult to do that and those photographers are leaving some of the photographers who just get in it and then maybe they're just young and maybe they're couples and then they start to have children and they go really oh my gosh wedding photography and having a family that's very, very difficult I've gotto get transition out of that and so I feel like this middle area people are just leaving and in general people are leaving wedding photography because I feel that, um kind of the leicester of it or they're just the kind of prestige of it has dropped a little bit because it is actually really hard to do and so I feel if you're getting into this industry and you want to kind of leap frog yourself in position yourself that you could do wedding photography really well it's not going to be easy it may take you a few years you might need to get mentored but it's going to be there for you because nobody's doing it right now so maybe maybe this be an inspiration for you two perhaps even consider this taking your skills up to the next level because when you reach that upper hand five, ten, fifteen thousand dollars a wedding I believe it will be there because no one's doing wedding photography right now not that I mean there's still lot but compared to before I feel is completely open. Okay, so let's get going. What number? One question for creating wedding wow. Okay, is does baby got back light? Okay. When in doubt back light. Okay, uh, let me show you some examples back light is a key ingredient for creating romance and drama. Okay, so if you look at a lot of famous wedding photographers and the work, you're going to see a lot of backlight in their work. What is back light it's that light that comes behind the subject here's an example here backlight okay, now I'm going to tell you you like this photo but I had to sit everything up here this moments like this just don't naturally happen okay bright just don't go to windows and just look this a and the grandmother and the mom just don't automatically come up and you know fix her dress you've gotta have vision and you've got to see this in your mind before you shoot it okay but backlight backlight look at this right every woman wants like to be how you know she feels oh yeah I want my man to hold me and be loving in the guy saying oh mad do I have to wear this shirt with the pink trim around my sleeve I'm waiting to get out of here uh but everybody you know so many women want that a feeling of being held by their man right that backlight helps feel that emotion this moment too wasn't created by itself I had this shot in my head a half hour before the ceremony that's why I set up that light behind there to give me that back light there because I knew I was going to do this with the biting groom but it's things that aren't your mind before and creating that light that help set that mood here's another one using back like a ton of that hollywood drama field and here's another one ah that was just a nap of the other day uh shooting the wedding and um that light that comes in there just really gives it that feel of romance here's in italy and if you can look at that c p a photo you can see how that backlight makes that person low and we love that feeling, especially with the bride and with her veil if you see a veil, get that light behind it and it's going toe light her up and she's going to kalo there's another one just a a nice moment with the girls in that beautiful lighting on the dance floor back light if you have, if you hate shooting reception shots if you set a back light on your dad's floor, you're gonna love shooting it because it gives you this nightclub feel and hear. I was actually looking at these photos again this morning and something just entered my mind and I couldn't I was trying to figure out why backlight looks so good, you know, what is it about back like that makes things look amazing and I kind of got deep in philosophical, so just kind of go with meal here a little bit. I kind of feel what light does is it's really kind of deep and spiritual? I kind of feel like what it's saying is that the divine one or our creator or our god is shining light on you and blessing you, and so when you look at that it's like they're being blessed by the divine one and then I really intrinsically feel that that's what really liked us it's something divine coming down and shining on you and saying you are blessed backlight by itself could be just amazing by itself even just with it and not anything in the front of the subject it can look cool too so here's a revolutionary idea on how to manage your life ok here's the number one here's your subject and here's your main light or the light in front okay and here's your backlight okay and what you want to do this system creates a freedom for you okay, maybe you've been taught ratios and this than four to one and fire to one and you know what? Forget about that you're just going to go and what you're gonna do is you're going to create a light sandwich and what is that is that you have a subject this is your meat and you have two pieces of bread and new sandwich that subject okay, so when you go out and you're in a situation and like how can I sandwich this person with light? And one of the rules that I kind of rule set is if you get this main light right? If you get this pretty much kind of like whatever the light meter tells you or your camera says it's good or you look at it go that I like that front light that's. Perfect. You can do whatever you want on the back. You can color it. If you can make it strong, you could make it weak. You have freedom. Freedom to go ahead and blow out your highlights if you want to go ahead, it's okay? You might not score very well when you put it into competition, but guess what? Your client might really love it, where it might start to become your signature style, too. So have this freedom of experimentation. One thing that I feel that the limitations being educated so much like programs like creative live, and things like that is that we feel like we could be educated on everything, and so we can go out and we won't ever make a mistake. But some of the best ideas that I've ever had were happy accidents going out in trying things. And that if I went, oh, you know, give one suggestion to a photographer is you know what? Get away from the monitor, of course. Watch this programme first, at least thinking out here, just practice. You know, when I grew up, like shooting ten years ago, the internet was just and its infancy, okay, we didn't have internet, we didn't have video streaming, all we had were those you know magazines that came and you'd see a picture when a band these pictures in there and go wow. How did you do that? You know, you just go out there and try doing it and along the way you learn things and that's what? I want to see more of that in our industry because that really allows you to develop your signature style. Okay, so you got the main light and if you got that right hey, if you're overexposed underexposed even leaks spills on the background that's cool just do whatever. Okay, now you can even do this yes if you under expose this main light, make sure you just over exposed that backlight and it looks cool. I do that a lot actually, if you watch a lot of movies they do that a lot too is that they'll under expose the exposure on the face and do a lot more backlight. Why? Because it makes you oh what's going on that focus? You're more attention on that dark area. Okay, so these are you know, of course you could always break these who do something different. But in general I kind of take on these ideas so basically for me my a little bit of my signature style is have it evenly exposed on the front or maybe a little bit underexposed and then overexpose it one to two stops and that's kind of like how I do things this is about as technical as I'm going to get today I may not even talk about the inverse square law today so don't worry just relax okay okay this is what I call kind of the classic textbook lighting where you haven't evenly exposed front and then you have back light that is not over exposed but just right so you kind of see the highlight on the hair okay so this is kind of like that classic textbook lighting that were kind of trained to um shoot like this here's more of the mock what I call the classic modern this is kind of what wedding photography today looks like where you get that light behind the subject on dh then you just overexpose it until this subject looks good to you and you see a lot of that now this looks a little bit different because I put kind of ah ah yellow cast behind it because I just don't like showing blown out highlights so it's just part of what I like so I didn't wantto blow out there and be completely white in the background so I put some yellow back there just to have some information back there and to give it just kind of this kind of yellowish tone that I like er but that is really today's modern wedding photography you're going to see a lot of it looked like that okay, here is a different idea and this is using back light on lee okay, so this is over exposing and just using back light on lee and there's actually no ambient light no front light light it up but when you want to create a great outline let's say if your groom has a hat or he's, you know smoking a cigar or something like that and have some nice shapes then it's kind of cool just to create an outline here's another photo where you're actually that was overexposed and this is more evenly exposed on the edge of light as you can see the it's not blown out there on the edges and so if you're interested on how to create this type of silhouette, get your notebook out I'm going to tell you how to do it all right? So and we can actually try to do it if we want to yeah, we could try to do it right now after this so one play subject indoors with moderate or low life okay, so if you're going to go outside in the bright light and try to do this it's probably not gonna work for you, but if you're kind of like in here where it's moderate light or low lie especially low light it's gonna work great set your camera s oto one hundred put it at eleven and set your shutter speed to about one hundred take two flashes in manual mode and put them in half power and put them about six to seven feet behind your subject and bam take the picture you should get some what of a silhouette right that will work where I took this this was taken in china but it worked here it will work in paris it will work in anywhere in a motel hotel wherever if you need a quick shot you and you want to kind of do this type of lighting you can just rip this off and do it anywhere would you guys like to try and see see it's okay where's our beautiful model joseph now ladies I said I wanted a male model for my lady friend so you girls happy let's bring him on out can I go by gosh if only if only okay let's get a chick can we get like a cherry khun straddle uh metal chair how about that metal chair over there cool and let's kind of get him in a lower lip area um so it's felt right good. Ok, can I get two assistants who wants to help me? Okay. All right let's see what we got okay, we got one who else? Okay, I'm going to set my flashes toe half power okay, um you want to just sit down here just kind of straddle this, okay all right, uh, what you're gonna do is you're going to stand back about you but is he injected? Can he move up? Actually a little bit go ahead, move up because we're running out of room here so I want to get about six feet back and if someone can hold it here and then if someone can hold it here about six feet back and what we're trying to do is kind of like this outline. Okay? Yeah, right about there. All right, now get this going. I'm gonna have to frame it through the monitor, which is thea what am I looking at here? Turn it on. That's good, huh? Um you seeing anything? Oh, okay. This is weird because I have tio shoot this. Okay, let's, test it once. Tio okay, good. All right, so let's wait. Okay, so, lookit, I'm gonna turn my eyes so who? I like this I can show you how I'm doing my settings ok, then that's good. And then I'm going to take my f stop two f eleven like I live you on. So see, now I've made a black box see that it's completely dark in the room, okay, actually, I can't even see anything I don't even know where I'm focusing at okay, I'm gonna take a guess one two ready right okay, you get the old here, turn your face to the right more I want to do an outline ok if you could come over this way a bit right there good it's hard because I can't even see with him doing because there's no okay, ready what? Too all right and so that gives you that kind of look great. Um thank you. This is my fast I can do whatever let's get some options on top of that you stay there, okay? Can we go back if I hit play will it play that picture? Okay, so see that's how that kind of doing an outline right there and we could actually come in a bit well, closer yeah there's some and be like okay, so now let's do a little trick um let's set my camera two tungsten or the life bowl. Okay, which means when you do you set your camera to that what's happening is a little life all right here. What it's doing its saying there's a lot of orange light in the room. So I'm gonna put a blue filter over everything to take out that warm light and do the opposite so it looks normal but I'm using it not for those purposes I'm using it so I want to color the light blue okay, so let's do another picture I am totally guessing because I can't even see where I'm focusing so and so now you can see that's perfect uh that looks blue one shot versus that and you can get different effects by playing with your wife that is not cool right okay, now let's go I can't sorry I can't let her get on lighting and going I can't stop side do you forgive me I want to keep going okay can you grab that let's get another somebody else to help and let's do this now let's just add a little bit of front light right so let's stick this on a thirty second power so that just gives me a little front and if you can turn sideways that way but you're gonna kind of look at me more with your eyes right there and that dude is a good looking guy okay who's yeah yeah right all right yet kind of right where the nose and so I always put the light where the nose is and I'm going to turn this sideways why would I turn it sideways? Because the light is going long this way, right? So I'm gonna go right about here and I'm just gonna add a little bit of front light to his face let's see what that looks like? I'm totally guessing I can't even see anything and see how I just give him that just the hint I love that style now let's say that's not your style you want more lights that just come in a little bit closer a little bit too much come back back. Where were you? You were about their okay, so okay let's do it again look at me you know no put it joe does not take a bad picture all right and so that's a little bit stronger um so you've got that well it's a little it's about the same so let's come in a little bit closer yeah, right there and you're gonna go where his nose is so you're gonna pull out right there, okay? Chill looking me john you just do whatever you want, buddy. You're awesome. One two ready hope sorry, let me do it. I can't I can't I don't know where I'm going because I can't see because it's ana live you so okay, so that gives you a little bit more light. It just depends on what your taste is. If you want to bring it down and have some mystery to it, you could do that or you can take it up now teo actually to even out the skin let's just keep going with the lighting here I'm sorry way want what what I have to do to make his skin not look blue I would have to gel it with the cto jail or a color temperature or is that you have orange one of them has orange on it no ah does that red yeah that's the red so that won't work wait yeah here it is look at that great assistant here so we're gonna do that we might as well get a writing camera so this is gonna warm it up and let's go to the same thing right here one let's see where my focus that run teo ready oops sorry let me go again gotta go hire one two ready there and so that evens out the skin tone with that um and so that's how you do that all right good all right thanks everybody so that's just a simple demonstration and once you use the pope lorrie sorry thanks, joe once you used bill settings just like I said half eleven I also one hundred one half you saw how done you get these could actually just be two stands put your groom right there it's a shot that you could have in your back pocket when all chaos is breaking loose and you kind of feel like I just don't got anything yet right? We've all been there shooting weddings it's like you go the whole day and you're shooting for an hour ago I got nothing yet I got nothing yet you goto always fall back and do something like that you could always have it you can make up your own recipes okay? You can spend a whole day practicing you can have joe you can make him take his shirt off I don't know girls you can do whatever you want and just mess with different things that come up with your own recipes and then you'll have something something you have a go to move that will work for you okay, so that's how you do that now here is another shot where I kind of actually I screwed up I wanted to put a little bit actually wanted to create a silhouette first but I didn't realize I had another trigger on my flash and it was firing off and it was giving me a little bit of a front light but not quite enough and so all I did now the ratio is still backlight is a lot more than the front life but in photo shop you can come through and you can get it the way that you want to do it okay? And this is the reason why I don't shoot raw because I couldn't do that in j peg and so that's good enough for me and I just shoot j peg especially for weddings when you're ripping off eleven, thirteen hundred fourteen photos just to manage everything I just shoot j peg and j peg is really, really good there's a lot of information in shape, okay so that's that look and here's a completely different look where I'm adding mohr back light what I did was I raised my camera higher uh and I used my live you so I could see it has a flip down display which I love so if your camera has that that's cool and then because I'm sure I love this life because it makes me taller so I can shoot like this and that's what I did with this particular photo and then I allowed more backlight to come in to give me more of that kind of lens flare uh type of look okay here's the easiest way to add back light this is the world's easiest way okay one expose the subject with natural or available light okay that's what we do know now a lot of us right that's the easiest thing in natural like we're going to do that right here in this class okay, so you you pit you I don't know what you know whatever you look in your camera whatever the camera media is you just expose your subject how you want that person to look second all you got to do is make sure that you keep your shutter below two hundredth of a second why do I say that is that I recommend using a manual off camera flash system and when you're in manual you've got to be usually below one two hundredth of a second in two years or three years when technology progresses, we won't have to worry about that and I don't want to spend ten minutes why? But just trust me flash think will be history pretty soon, but for right now we've gotta worry about this in manual mode there's other ways to get higher shutter speed but in t t l which I don't particularly like me, I'm immanuel guy because they have more control but in manual pretty soon flash sync will be disregarded butt and then you just add back light with the wireless flash now question why do I say ad back light with the flash versus well, scott, you could just use the video light why don't you just use a video light toe? Add that backlight in there in fact, some of lectures scott, you said that that's what you use, which is true, but why in this particular this's my dough I say flash anybody know? Yes, is it because the constantly will overpower your exposure? Um, no in fact, it's complete opposite because constant light this is really it's it's not even powerful compared to flash. So when you're outdoors and shade and you're trying to get a backlight, this will be like a blip on the radar screen it won't even affect the picture that much because this is so weak this is like one hundred times less powerful than a flash so in low light situations it's great and we'll get into that a little bit later as time goes on but just generally uh flashes a little bit more versatile for backlight because you can make it a lot stronger if you want sometimes it's too strong but you know it doesn't really doesn't matter so um the first thing is when you use that method how do we find great available light that's the first key? And so when your wedding photographer you're looking how to find great available light the key is you look for cash lights in the eyes and that will tell you that you're in a great area and you learn to find those areas a deck give you cash lights and those cash lights are usually created from a large diffused light source being narrowed down into a smaller space so for example outside what's the light source outside the sun huge right now it's coming and it's being narrowed down to this area here and this is a huge soft box now so the light coming in this way I guarantee you if you put a person right here you'll see catch lights in their eyes because it's being defused down into this area one thing you have to watch for is like contamination and so in this particular photo here I did this technique it was almost exactly like this situation but darker there was light here and coming in and I had the girls posed right here but it's very very dark because what's my s o thirty two hundred so you know it was pretty darn dark we're in here I'm probably going to use is a one hundred ok so it's really, really dark but it was the same situation now what happened was that I was looking at an angle something is not looking right with this photo what's going on so the situation was like this I had the sliding door, I had that light coming in I noticed there was another chandelier or another light on and it was contaminating my scene. First of all, it was creating a different color, right? Because the outdoor light is bluer compared to the indoor light, which is a lot warmer and so you're going to get a mixed lighting situation and sometimes it's so mixed we've all been there like I can't get the white balance right by just the skin then this looks bad and you go vice versa and then you end up making it cpr black and white right? But let's say he didn't want to do that, so what happened was it was flooding that area and was creating too much and even exposure and the shadows on on my subjects worked as quite as defined and it didn't have that one source look so you have to turn off the lights so a lot of times when you're especially when it's a bride getting ready and you want to create great light used the window light but a lot of times I turn off all the other lights in the room so you can really have that cool drama effect I don't know if we could possibly do this but there's a light on here that is actually creating more even like just for a second can we turn that off so they could see the drama and how it effects if you just look at me so this is kind of contaminating the area right now don't I look amazing in this light I can't see myself so but I'm sure it has more drama to it once think fine great available light which is right here we found it ok we got rid of the contaminating light so we've got one light source we're going to keep our shutter below two hundred and we're going to use an off camera wireless system and let me talk a little bit about that I know I used it before talking about it what I use is the wireless system it's a system that I developed myself and if you go to scott robert photography dot com you can find it there it's on sale if you type in the we're creative life get a discount but anyways yeah give one away too but anyways remind me I'm going to give it away to people so how it works is you have a transmitter okay? This transmits a signal ok? A radio signal so when you push down on the shutter it will transmit a signal so you have a transmitter but you need to receive it by something and that's what? This little guy down here is it's a receiver this receives the signal and health the flash to fire its very, very simple it doesn't calculate light it doesn't do any of that. It just says fire when I tell you to you are going to control your own light when you're in manual mode and if you're not sure how to do that you could buy my other creative live course which was three days and I get all into f stops and all that kind of confusing stuff but for now I'm not going to sew it simply transmits a signal it receives it and it tells it to fire its very simple that's what makes it very reliable? Okay? And we're going to control our own life. Okay um so let's do that. So can I get somebody to help me out assistant anybody who who is fearful yeah, go ahead yes, come on out all right and let's get joe back in what do you like to be called joe or joseph just fine all right great okay so let's do that let's have him here okay and I've got some great light on him right so if you can kind of turn you actually turn your can you see if you turn your body this way a bit too much just actually just face me okay you can just kind of cross your arms right and I'm gonna have you put the nose towards the light a little bit but you're gonna look at me hey yeah right there okay so come out can you come out you got it like backing you guys up I mean what somebody looks good you just like you know okay come on up a little bit I want to give some distance here okay so I'm at f eleven which is not gonna work so let's see here that live you actually on okay so you oh man this is hard because I gotta focus looking at that right ok so now lookit I'm at five six I got live you so I can see exactly my shot ok that looks pretty good right at a fiftieth of a second so I'm going to do a test shot right so let me put the focus up here I've got to go opposite thank god do this I'm no good at this sorry I can't go opposite trying teo I get red tio okay, now, let's, fire some flash behind, because I don't think I could do this again. Get that flash. Is it turned on actually put it point right at his head. Put it. I up there and go high. I go higher and go back a bit more to go behind and let's, just do this and see what happens now you're in the picture. Oops. I got a blinking anyways going on this fires and questions. Just just a couple a ton of people have been asking about this for a while now, and we will. Can you just tell us a little bit about our okay, couple things? One your optimal height for flashes. Like, do you have? Ah, magic height area. Where you aiming a particular angle? Are you angle it down or up or around? What do you like for the flash is that you have a height? I don't try and then kind of simulate it like the sun. Okay, so it's, usually above the nose coming down. Okay? Yeah, because that's because that's. Huge, right when we were doing something like that and then they had that angle. Same kind of a thing, right? You'll adjust that angle, yeah, and it kind of goes with taste and it kind of goes with practice of what you like so it's very easy to figure out what you like after just practicing for a day but in general yeah I kind of just remember you're trying to simulate the sun or some kind of light source that's usually a lot higher up and just think of it that way okay fantastic because it has to be believable that's the whole thing right? Okay, so and not one more so I got kind of a big picture question for you and this has to do with a couple of things one people are asking how do we get started? Right? So they're asking do you do you think second shooting is the best? Do you think meant you know, getting a mentor is the best and I personally would love to know tell me about how you got started how I got started way back when okay way back when ten years ago the landscape was different there was film okay, so imagine you have to shoot a wedding and you can't look at the back of your camera that's going to eliminate how many photographers in this industry ninety percent maybe even more so therefore anybody who was a wedding photographer was making money and we don't want to share that with anybody right? And so it was really hard to break into the industry I remember riding uh e mails about a hundred photographers in my area nobody would want I would offer my service for free I'd show my portfolio what I got going nobody um stepped forward and said hey yeah you could help me out but one person it's very good for that person that said that okay so when I did my first wedding I have never shot second shot because I couldn't even get hired as a second photographer wow so I just went out and did it and and that was with film now you have digital so I say you know what you don't need teo just go for it it's good to maybe go to a couple a few but you don't have to go to more than thought second shoot more than five times really because what your wedding photography you're gonna learn it by doing it okay and that's what I recommend is going out there and doing it I recommend may be assisting a few times and then doing a wedding at a low cost what do you got to lose? Put yourself on craigslist or goto a friend or whatever shoot the wedding charge I don't know five hundred bucks or whatever you can get and you shoot it because the expectation the lower you charged expectation is also lower too so and then we have digital and then like I said on top of that all you need is fifty photos still story of the day, it's easy to do it that way not, and not easy to do it really well, but it's easy to actually shoot a wedding and get paid a low amount that's what's easy and then you could build up and start from there. And then, as you get better, the way the wedding industry works is it's all by rave. Okay, so once you get better and you'd do a better job, then people will just start referring you, and then we'll build after that. If you don't get any referrals and you start doing this and you're posting right away and you get no referrals, that means you're not good enough. The market is telling you to get better because the price that you are charging is not equating to the quality that you're producing and it's not a value. So either you got to go lower or you got to go better or you got to do both, and sometimes even in my career, I've had to do that even experienced photographer sometimes have lowered their price, retool themselves, reinvent themselves and come back stronger than ever. So don't be afraid of that, but you must get the mo mentum going and get jobs and keep going fantastic, awesome circuit, thank you, we're good to go, teo let's try this okay so we just said it on thirty second power I didn't compute anything I didn't figure anything out I just said ok thirty second power okay so now I'm going to raise this a little bit higher because I'm short children had a little bit this way yeah like that nice okay so I think the exposure is pretty good right there want to ready go well my white balance is um what in the world oh this is the next shot okay I like I don't like you having a bad day but I didn't think I was that bad okay so I'm going to send I have this on tungsten so I'm going to set this back to daylight okay so I am on the daylight flash okay I'm going to keep the cto and so let's try this again all right so one two ready yeah I'm a little bit higher than him my position shoot it this looks much better okay that come on through hello all right is now much better okay so that's a thirty second power busted up tomb or do you know how to do that that's why I love my flashes she's never have you ever seen one of those flashes before exactly look it see how easy that is okay just press it twice because you're good okay now let's look at it all right so let's do another shot just focus in right there one teo ready go and now that's a completely different look but as long as the front light is correct whatever we do in the back can be whatever our taste is that freedom who knows eighth of power let's do this go crazy. Bump it up another two who cares? Crazy stupid! We're going crazy, stupid! Okay, crazy okay, everyone su ready? Who? I like that. So here again, this gives you that modern lens flare feel? See how it's starting to soften up, right? Especially if you use a low aperture. If I put my eighty five millimeter on and shot it a two point oh, it would look even more creamy. Um oh, hey, look at that. So there it's up to you, but thank you. Thank you. Great sit go ahead, have a seat, it's. Whatever you freedom, this is what this is about. Don't get hung up on ratios or whatever. Be free to create. Get that front light correct and then do whatever. Now you gotta be careful about if the lightest firing and reflecting back somewhere, then it's going to mess up this front light your exposure, the main light, so but if you're outdoors, who cares it's not going to reflect that, but if you're indoors it it might start to see that that light is still strongest reflecting back at the subject so it's kind of throwing off the main exposure but you might like that because it's kind of less contrast c this is ah higher contrast right this is technically right. You know this is when you this is how we were taught to have it like this nice contrast in colors slight edge okay, this is mme or the modern feel you can go in a photo shop and kind of your move that flash so see this hot spot right here you can take that down or whatever, but that has more that this is more of the classic modern which I call now and this is more the traditional style but you can do whatever you want to do. That was awesome. Okay, let's, move on. Okay, I talked about the wireless system here, okay? This is the type of photography that you're going to get doing this method if instead of you had a hot guy, you had a hot girl and if you happen to be in china then you could actually do this, okay? But this is what I'm talking about. You just meet her, you see some beautiful cash lights in the eyes, you meet her for it, I just took us one of these strobe ease back there and I uh I'm not sure if I put a gel on it or not I don't think I had time I just threw it behind see this red rail here I put it behind there so you can see it I just I don't even know what I said it I saw the sixteenth power whatever fired it off it looked good it opened up this whole area here see that and then it gave me that open feel kind of that classic modern and to make it more classic modern and to fuse it I in photo shop bam lens flare right there just add some more because that actually doesn't look right right but we're not that light come from but because that light's coming from behind and it's from that direction you kind of believe that there could be some light right there but really it's not right but I just did it to accentuate that maura that classic modern feel that brides love right now okay any questions on this? Yes, I noticed you seem to use a lot of gels is that correct and sort of your thoughts behind behind using a lot of gels in kind of the work that you do? Yes good question jails I used jails because I like the color light and one thing about the wedding industry is you can't be you can't just do what everybody else is doing you have to be one up on it and I'll talk a lot about that when I'm starting to critique photos tomorrow um I think that he's gonna be there me and soon we're going to talk about photos and my whole idea about photography if you're going to do something don't do something just like everybody else and so there's a lot of strove us out there that will actually do that lighting and so forth but I want that extra edge because I want to color my life and make it a bit different on top of that so using jails is my life okay I got one over you I'm going to use this jail okay and that's really what wedding photography is all about is like being creative and innovative just it's okay to copy but then when you copy you got it and add your own signature style on top of that to really give it that catch to set you apart you want a signature style and so I want my lighting to look different so when people look at my photos I don't want to look like everybody else so I have to one up it and do something that's your question question yes it looks like here typically using two to three lights and are just one okay, so if you're at a wedding you're just doing it yourself or do you have like a little I always have an assistant with me okay and it's very easy to get assistance nowadays well, I suggest get a buddy and trade because let's say you're on a budget or whatever and you can't afford to pay somebody hundred two hundred bucks on your wedding especially if you're only charging five hundred it is like that cool so I would just trade with somebody I said, hey, I'm going to shoot for you and I'm going to assist you but when you're up then all you know do you a favor and so that's kind of how I suggested any other questions moving on eso anyways, this is that look I showed this uncreative life before this I just did the back light with the blue jail here's another trick that I do for wedding photography is I actually am fyi, the back light a lot of times in wedding photography when you're doing the getting ready shots you into the room and it looks all dark in there like uh, what's going on it's really dark? Why it's? Because a lot of times the makeup artist will turn off all the contaminating light and want to just use window light and so there's hardly any light in there and but wedding photography is what light, airy open so what I do is I place another flash where the window is toe amplify that light coming through so I'm just simulating what's already there but I'm getting more of it and so that's what I did in this particular case I said a flashback there and hit it and what happened was it completely opened up this area and made it more white and clean and so wedding photography is about backlight with clean white light open and airy feeling and so that's one trick I do during the wedding day I should have actually told the sister to move but it was a moment she had a right expression and I took it and there was but I could never recreate that again during the day so that's what it was okay here's another idea okay number two is video light through a translucent umbrella when you do not have available light the very next best thing is to take a video light and put it through an umbrella okay I used this killer video light that I used it's really small but it's like eight hundred lux it's very part powerful and I shined that threw a shoot through umbrella and you khun get images like this with just one video light and won ambarella and that is it okay, so what isthe is this video life is and then you have I like to do this and this is my wedding day set up okay one flash on one side this is called a big boy bar you go to scotland photography dot com to find that and so I put one flash here and one video light here so I am ready to go I am by I could go either way way flash video light bright light low light bam I'm right there the night like this she to stand because this also turns into a model pot at the same time because the legs automatically lift up okay, so you put this like this through here, okay? And I'll show you right now. Um this light here um is it possible if we do just gonna close this off here? Tio just kind of create a little light situation in here, okay? And let's get our is it possible to turn those off for a second so I could just show them uh let's get joe up here and you can see this light that it creates is this really easy way if you could just stand right here, okay and face there or what? Do you want the cameras right there and then see that light right there it created now we actually do have a lot of light in here still see how easy that wass to create that light? Let me see if I can make this even darker in here. Does anybody know howto push that all the way is probably a trick to that is there any way to take the can lights off or is that just going to be like no light at all in here? I can't do that okay, alright anyways just come out here, joe okay? And so you can kind of come out here you could see the catch lights is the camera got those cash light so you could see it and I can't even see what I'm doing see that you like what you see all right there see that and that's how you create instant amazing like thank you and I love doing this technique it's so fast and easy um but I get that beautiful light that I like um now show you examples of this okay? Here's same thing here. Okay, just doing that what I am and here's how you do it here's the method okay, I'm not gonna get into sure this use a little f stop like two point eight, maybe four, but around too two point eight or lower is even better. Okay, you have to be in such a little light situation where you're using probably s o eight hundred and above. Okay, so you're in a very low light situation. If you're in is a one hundred, it won't work because there's too much ambient light flowing around the video lights not strong enough that's when you gotta go to flash okay, so this is in a low lights at night time did you ever do nights sessions this is amazing for night sessions you don't because with the cameras nowadays you could turn your eyes o to sixty four hundred not care you can do your entire night sessions with just the video light through an umbrella okay I s o eight hundred above keep your shutter above fiftieth of a second why do I say that? Anybody know because we're at constant light and the flash is not going to freeze your image so you can't use your flashes your shutter so if use it's going to see shake if you shake and so the general rule is your shutter speech equal the millimeter that you're shooting at so if you're shooting at fifty millimeter then you should be a fiftieth of a second now I know for myself I could usually do about half of whatever my millimeter is and I'll be okay but that's because of practice and I just know my own and image stabilization nowadays um you're cool you want open this okay on dh set your background exposure first so whatever you want your background to look like you set that up and so in this particular case the back see those lights back there in the stadium and the theater I got that the way I wanted it okay? Of course my subject was dark and then I simply brought in I used distance to create the strength of life my video like does have a dimmer on it but most likely you're going to have to put it up full because what happens with an umbrella it takes two stops away or which means it reduces your light source by four times as much light okay so that's why I adjust by distance and that's how I very my strength of my life now the closer the light is to your subject the more beautiful it's gonna look okay so just remember that try to get that light is closest to subject as possible here's another one that I did and the little wrinkle on this is a lot of times when I do video light used to like to shine that light from above which is create that kind of uh butterfly lighting seat under the shadow under her nose but what that does is a lot of times it makes it depends on the person's eyes if they have really deep eye sockets you're not going to get a catch light so to get a catch light here which I did what do you think I did? I just used another video like to give me a catch like also up light always makes your subjects below if you want that glowing field doesn't she look like she's glowing it's because up light up like always gives it that glow this is another reason why I like using two video lights is because this video light acts as my portable reflector and it even works at nighttime and that's what? I used this for a lot of times in my portable reflector okay and that's the actual set up there I had another person in the backfire in the flash um and that's the shot that I ended up with now two is better than one equipment wise. I always like to go smaller and multiple more than just one big light source. For example, a lot of people get this type of setup well, they'll use like a larger strobe with a battery pack and so forth and then maybe they'll use a really nice light source like this. Ah, light stick here I slight they call which are really awesome lights but I like my style is if I put two of these together like these video lights will actually clamped together um I don't want to take it off, but you can string them together. These this light source here is eleven hundred lumens. Well, both of my video lights are eight hundred lumens sew together. Two of these will do more output than this particular light source here, okay, so if I want teo, I could always put two together and give me a strong light source but because I like sophisticated lighting a lot of times, I don't want one, but I want multiple life sources so I can go to also maybe for it catch the hair light and main light on dso in versatile. So I rather have multiple of something, then just one strong light source. There's an esso small like this is only twelve inches that'll fit really easy and with an umbrella. As you can see, I can get some great light that's, like twenty inches long. That's, you know, here's, some reason smaller, easier to pack. I do weddings all around the world. I've got to keep my stuff down to a minimum and has to be packed easily too. It has equal, like so if I add two of these flashes together, it's going to give me the same strength as basically is one of these types of flashes that are expensive in big and bulky. And have you have to have a battery pack with it so I can always put two together. Well, I could use them independently. It's, more versatile that way. More light sources, which I talked about. Versatile power. I like this because I can put batteries, which I can pick up at any local seven eleven store, and power up let's say you're doing two sessions in one day, let's say you're doing a five hour session in the morning and at night, you're doing another eight hour session and let's say, you're going hard and you did this this situation here, and you're just firing it all day long, then guess what? You got to recharge it. It might not recharge in time for your next shoot, or let's say, you're doing a back to back wedding, and you're tired, and instead of staying up all night recharging your batteries, you rather just pop some new alkaline sze in there or some other batteries in there and get going. And so that's, why I always or you're in an area that doesn't have power and how you gonna charge things up. So, that's, why I love to have versatile powers very key with the wedding photographer back up if I got this system and that goes out, I've got new life, at least when I have multiple sources. If one of my flashes goes out, then I have more, I have something else, one of my video lights go out at least have another and that's very, very important on wedding day is to have back or any job that you're going to do, for that matter, okay, another thing that this is one third the costs one third the cost of something like that so allows you to buy something else so I would rather have this and a nice lens or something like that because I can do all my work through this okay, fearsome samples of some work they've done just with the video light through an umbrella here's another one I meet her for the background first I brought the video light in same here and my settings there is sixteen hundred okay uh and I meet her for what? First what did I meet her for? First in the background and then I just brought my life in as needed and I added a flash in the back to give me that edge to that edge right there that's just with the flash what power? I don't know I probably always when you're doing video light and flash start your video light out one sixty fourth power because your video light's not very strong in the school from there okay here's another one same method I meet her for what first that background that light up there when that look good to me my subjects were dark at that point I brought my my umbrella in to give me the light that I needed I fired a flash in the back I think somebody standing back there actually holding it for me um and that's how you got that picture okay so that's any questions mohr how much time do we got left about twenty minutes. Ok great. So many questions short questions on that because I want to get to this section here one thing about wedding photography one of the hardest things let me take this away here for some reason that's bothering me okay? One thing I noticed going through weddings is how to manage group shots you know you're shooting a wedding and all of a sudden you've got to shoot twenty people and they say do it now and who knows where you are and that's very difficult so I want to go over some some rules or something's that tips that I've learned that's helped me a lot so group shots are easy to do terribly hard to do creatively okay everybody can do that okay. Bride and groom stand here guys line up here girls line up here put your own camera flash and just fire it anybody could do that but to do something creatively something unique something that's going to set you apart is gonna take you and make you think and make you actually work and do something different and it's hard to do that but if you commit your mind to it you can come up with your own signature style of group shots which will really set you apart okay? So number one rule number one rule is to pose subjects than even lighting and I liked if outdoors, I like to find shade where there's no hot spots for areas of sharp like contrast. Okay, now, this was a wedding I did in napa, and she wanted to do her shots outdoors. That wasn't really an option, but we were in a vineyard and there wasn't a lot of trees around except for one, so the and I had to do group shots and it was so hot there was twelve noon, it was about one hundred degrees outside. What am I going to do? All I could find with this one patch of shade by this tree and a bench, and I had to work my magic there because that's where the even lighting once and you see it wasn't that great because you could see there's some hot spots still coming through right here, right? And like on him there two and so they were still hot spot there, but sometimes you can't make it perfect because you're there, you just have to do the best that you can do, so make sure it's all even lighting and then find some shade. And then pops and flash in there, and it will give you a nice look now this is the this is a a great situation you want to be in, see how this is like all kind of overcast we were in the woods, so the light wasn't coming down that strong and it's within canada, so the sun doesn't really shine there that often right now, so it was perfect lighting, right diffused like that was coming down in complete sade and then you pop the flash. Why? Because the flash will give you richer colors and we'll give you sharper contrast. Ah, group shot a lot of times is not about you being artistic, but documenting so it's a little bit more formal. So you want to make sure that you show everything is true to what it was, okay? And another thing is, is the longer the lens the better. So at this point I had my twenty four seventy on and so what I did was I zoomed out all away at seventy instead of thirty five or something like that? Why would I do that? Anybody? No, yeah, I'm going to get a better beau k in the background, I'm going to get more blurred in the background and so that's going to be one reason anybody else have another reason distorting people on the edges that's correct if yours and I've done this plenty early in my career ok let's shoot that group shot put seventeen millimeters on yeah everybody's in the frame right and then those people on the ants look like twice their way not good so if I shoot longer it keeps the proportion of their body type the same ok and so that's why the longer the better and then what happens is the longer that you shoot it compresses the image do you know what that means? Let me tell you okay here's your camera here's your subjects okay? And so what if you were to su twenty four millimeters you'd be up here okay? If you are shoot seventy millimeters you'd have to get them the same size in your camera frame that size you'd have to move back and then zoom it out at seventy okay, so what happens though when you're shooting at twenty four right here the background looks like it's this far away way far away when you zoom at seventy what happens is that background comes in closer to the subjects and it compresses the image so if you have something important that small in the background the mohr you zoom it it's going to move up that image and make it larger? Why is that important? One thing to it cuts out the angle and so you see less so you can just kind of narrow win your subjects so it's less distractions with other competing elements in the in there and another you might want to do that because that image back there might be important. For example, here is in paris. They wanted to walk on the other side of the lake. When I got there, we walked on the other side of lake. That mansion in the back was so tiny, so I had to take it at one o five. Zoom all the way in, run back, yell ok. One, two, three and shoot it so I could pull up that mansion and make it bigger. Okay? Use interesting structures to very height and a lot of times, the most classic one is to use stairs. Okay, that's a given. If you see stairs and shade, go for it. That's gonna work for you. But if you get in a situation where you see a prop, I love architecture. I love structures because then I can use my creativity to kind of pose them. Now, I just want to let you know if you're going to do this, you're gonna have to pose every single person which I did, and you're gonna have to do it quickly. Because people are going to start to get the word they're gonna move out of position and you gotta post start on this and you're going to pose her time to get over there she's walking over here somewhere doing something else so you have to do it quickly so if you go down that road that takes a lot of practice to do that that's why? I said group shots can be very hard when you got a cam you gotta knock that out you gotta do it within a few minutes depos everybody come up with the idea the arrangement in your head start doing it and then nail it out and get the lighting right at the same time. It's not easy, it's a lot to manage in your head but you can do it with practice. Okay, so use something that's a structure like this. I love this. I love seeing something like that. Okay, I can arrange it, see everybody because it's got different heights, I had to pose every single person in here every single person because most people on wedding day they're not models or anything like that. They have never taken formal pictures before, especially guys you got to tell him because your mom tells us to what stand up straight so everybody takes a picture like this especially guys, I don't know why we do that but you gotta tell a guy just relax put all your late weight on one leg okay and it makes him look a lot more natural if you can try to get guys to lean on something because it's easier for them to do that okay this is a rule imposing if you're having a difficult time posing something someone get them to lean on something and it will ease them okay so one o five zoomed in I could bring that background closer here's interesting sex er it was a shock I put them over there say fired it bam okay let's say you don't gotta interesting structure what you can do is get some chairs chairs or your friend if you get one roll of chairs you can create three levels okay so I got the chairs so you put the kids on the bottom the girls on the bottom there sitting there and then you've got an upper level for the tall people on the back so simply with how many chairs too I got six chairs there and how many people can I handle there a grip load of people which a six chairs and I do that a lot so when in doubt when you've got nothing look for shade look for chairs and you're ready to rock and roll same thing here what do you think I said to get this reaction make a funny face but that's it here's another situation where I saw chairs I saw the scene over there I had to set every single person I had to pose every single person because they're not going to do it for you you've gotta learn how to do that if you want to be a great wedding photographer you gotta learn how to pose it's just part of the game that's why it's easier for just a line him up shoot it and move on but if you want to get to that next level you need to learn how to do shots like this create a scene, take a higher a low angle let's say let's say you've got this you've got nothing you've got no chairs you got no structures you're out on the beach you say shoot something what do you do for your just out on the street? Well I got to create different levels that's the whole key is you gotta create different level so you can see people so you get some people you take a low angle get some people on the ground and you get some people standing, some people kneeling and you can create that look same thing here this is a little bit different. Look, if you ever shoot this is a twenty four millimeter lands shooting at like two point oh or something like that has a cool look to it I know those lenses are expensive but uh you know it's a very cool because a lot of times we're not used to seeing shallow depth of field at a wide angle so that's why it's so cool if you take lo a lot of times you khun take hi like now if I was going to take a picture of you guys I can't see half for you guys first of all because I'm short right? But if I live my camera up here used it then I can see everybody and this this situation here where it was a school bus she was a teacher she wanted a school bus to take everybody around and I just as high as I could I mean my camera was hitting the roof of the of the school bus so I could get everybody in there same thing here you're on the beach they want to do a shot what do you do? You just go hye have them huddled together take it high you can see everybody what do you think? I said here to get them to do this there's only one girl really doing it and I think give me an air kiss but somehow I guess my english was bad or so they didn't understand that they gave me that instead but anyway it worked his emotion on works they give me an air kiss here's the lower angle with stairs so you can shoot down on somebody right instead of putting your camera up, if you see stairs going down, you can use that question when you're shooting guys they're supposed to girls do you go for maybe more high angle with the women or more low angle with the guys? Do you do either one good question with guys I would normally like to do if I can go low to go up? Why is that is going to give me that hero effect, right? Especially if you shoot occasion weddings in the guise of short right? Well, you've got to do is go down and go up it gives them that like I'm a hero feel to it and so that's what I'll do, I'll try to do that I look for architecture that has like straight strong lines that's my first thing give me some architecture as straight, strong lines put him there if not okay, I'm going to give a hero feel I'll shoot it that way make a man look like a man make a woman look like the woman that's, the key to posing right math strength, confidence okay, this going opposite of just what I said, but I didn't okay first of all, I'm shooting this group of caucasian guys so naturally there all three feet taller than me and I gotta go, I gotta shoot them right? It is the worst possible situation twelve noon we're going to shoot some shots and we got you want to go outside? Okay, twelve noon. What do you do? There's? No that's a vineyard again vineyards air crazy trying to do I'm going to get them down. I'm going to stand up on a chair now aiken spread them out and then I've got one flash in my hand firing here and then I have my assistant over here firing another flash too evenly like him up. Okay, but I got them down shooting down on them here again. I'm creating a scene I take in a high angle. I'm making them walk towards me. I am telling them to pretend they're having the time of their life while they're walking or else you know what? If you tell okay, you guys, we just walk over here. They're just gonna go like this, right? You have to tell them what to do to create that vision in your mind. So I said that and I got that again what's gonna happen? They're going to tell you, can you take a picture of everybody in the, uh, wedding party just spring this on you and they're gonna tell you like right there oh, you mean to tell you this earlier so you look for shade and then you take a high angle and then even on top of that, you might get up high, and then on top of that, you might want to even do this or stand on something or whatever get his highest possible. And that way you can see everybody. This was a wedding in bahamas was nice, okay? Worst nightmare. Okay, what is that? Worst nightmare is the ceremony starts at eleven, it ends at twelve and now you've got to do the group shots. You're doing it on a sunny day in seattle, and that son just doesn't set it's out there till ten o'clock like, great, I got to do group shots. Well, when you do group shots and bright son, you're going to need a lot of power, and what you've got to do is you've got to get to light stands and put them to the side so you could move that light closer to your subjects, okay? Because when you're shooting in bright light, you've got a lot of power or else you're going to blow out your background. This bride shows this spot because she wants to see the water. What good is it if I shoot it and it's all blown out in the background, so therefore I have to match the power of the sun with my flashes? And so you need multiple lights to do that if I put my lights on the side I can put them closer to you right if I were going to shoot you guys if I put us two lights on the side I could move them a lot closer to you so I could gain more power and how this works. I know I wasn't gonna talk about the inverse square law but I can't help it I have tio okay if you reduce the distance by one half you gain four times as much power okay, so just moving your flash a little bit is going to give you a lot of power in order to overpower the sun and get a good picture also so you could have two flashes on light stands this way I could also put a flash on my camera to fill it that way now I got three sources going on okay, so that's how you manage that? Okay use an umbrella when outdoors or or at night okay, I got one minute left, right? We're getting close here. Ok? Eso outdoors I talked about this group shots when you're indoors, the key to doing this is simply just to put it at s o sixteen hundred okay, I'm not even going to this just do what I say just do this sixteen hundred you're about twelve feet away put it one flash on the umbrella f five six at about one sixteenth of a second damn, you can nail it one flash that's it ok, I s so sixteen hundred is the key so it could get plenty out of your flash, okay? And then if you're at night, the reason why a lot of indoor shots look good is because, like and reflect off the ceiling and so far, but at night you can't do that. So that's, why I used my umbrella here to give me soft light anywhere and so now I can take a shot like that anywhere without any ceiling to reflect the flash and give me a beautiful life. Okay, group shots reflect your positive energy, okay? You cannot get great group shots without you being animated. You being positive, you being confident in the way you act, you can't get it it's so important to have that, and when I look at a photo like this, I actually see myself. I see that you know what I am that type of person and that's reflecting back at me, your subjects give you exactly what you put into it, and so if you can't give that, then you're not going to get this, they're not going to buy into you at all they're not going to give you that shot if you're not positive have a confident attitude, okay? These are the types of these air, the shots that they really like when they say I want something fun they don't want put sunglasses on and hold up the bride or something that's don't do that anymore big more creative than that air kiss you see it in their eyes, you can feel it. It's true it's sincere that's what they love okay, group shots can make you or break you. I know group shots are boring, but why do I say that? It's, the group setting where people see you the most you get the most exposure when you're telling a group shot they see your positive energy, they see how you handle things. It can make a huge impression because that bride's maid who's getting married next is checking you out. You don't know it, but you're on a job interview at every wedding that you do and when it's, the group shot it's your time to be on stage and shine and I've gotten so many weddings just by the way that I've done that the group shots so it's very important don't disregard it, it can make you or break you. All right, so, um, just a couple things here, if you want to get me all my stuff and me is a scot robert photography dot com my facebook is scott robert lim, you, khun. You can join my group. Scott. Robert lim, creative live, uh, instagram. Scott, robert lim, twitter scott, robert lynn. Okay, very easy.
Class Description
This is your chance to get a high-energy, condensed version of all of the essential lighting tips that award-winning photographer Scott Robert Lim has to offer. Scott will pull out all the stops, teaching you — through live demos! — how to create sophisticated, creative lighting set-ups. Learn all about one-shot formulas and find out how Scott creates stunning results from simple techniques using backlight, side light, top and bottom light, colored light, diffused light, flash, video light and anything else under the sun! By the end of this workshop, you'll know exactly how to create your own signature lighting style within minutes.
Reviews
Thank you! I really enjoyed this course and found it extremely insightful and very useful in a "real life situation" kind of way - and as one just starting out professionally, I can't tell you how much I appreciate that :) I have done workshops and seen a course or two where the instructor really didn't seem to be speaking to my level, but at a level that I have yet to achieve. When that has happened I found it very hard to follow along. But Scott you are so wonderful! Your delivery and instruction are both on point, and I practiced what you were sharing at home right along with you when I was watching the video and was pleased with the results. Thank you for providing information that I could begin using right away in a real setting and truly benefit from. This is by far my favorite Creative Live course that I have taken to date!
Scott is in LOVE!!!! Ive watched many of Creative live's presentations. This fella not only has a great love for the craft, but his life story just smacked me in the face and woke me up! He enjoys the blessing of what he has been given in life... even the bad, and made gourmet dinners when hes given much and made lemonade when given lemons. But, in all cases he has moved forward in a positive direction and attitude. At twice his age, he inspires me to be better as a photographer and as a person. Thanks Scott!
Great class! Thanks so much, Scott. I love your enthusiasm and tips for great lighting. Awesome! :)