Creating a Portfolio with Impact: From Shoot Through Print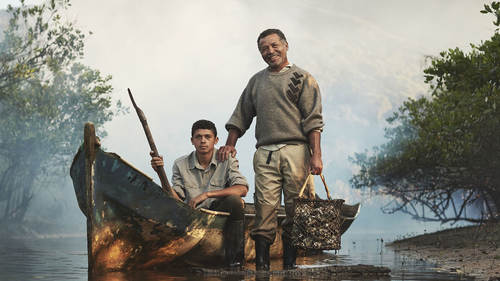 Lesson Info
Celebrity Work
After the camera, a portfolio is one of the most important tools in a photographer's kit. It's the key to getting your work noticed by peers and potential clients. Knowing how to piece together your work so that it becomes a conversation piece and expression of your talent is key to expanding your reach as a photographer. 
Acclaimed portrait photographer Joey L. guides us through his personal printed portfolio - a book which he personally worked countless hours on organizing and printing with the proper materials and process in mind. The final crafted product is essential in his photography business and becomes a conversation piece with his colleagues and potential clients. Joey will also discuss some technical aspects of the photoshoots, such as what light sources were used to bring the vision to life. The course is aided by behind the scenes videos and includes imagery of the photographs within.
Learn tips on how to best approach piecing your portfolio together and how to continue to technically enhance your images to make your book even more impressive.
Reviews
THis is a great piece to watch live - but the material is covered well already in the fantastic creative live JoeyL course on commercial photography (highly recommended as a fantastic model too of how to structure a course - fantastic) I saw this piece on portfolio work by JoeyL as part of the live photoweek2016 - and for a drop-in slot in the context of photoweek - where this presentation is as another reviewer noted - really a case study of how one person does it - it's fantastic. It's awesome that one can so easily go to JoeyL's site to see the work close up. In the commercial portrait course this section on portfolio building is covered in more detail: joey looks not only at his own work but at other colleagues' as well and takes a lot of questions. THis photoweek presentation feels like he was asked to squish those insights down into something for photoweek since, as others note ,he does have such a compelling portfolio - and if you have billboards, why not stick them in, in that context of the work in the world as he calls it. This course might be worth a tenner - imagine you and Joey going out for coffee that's about what you'd pay - maybe a bit more for a brioche on the side so about 10. But at 49 bucks? that's an expensive coffee - that's HALF the price you can usually find his whole course on at CL whenever CL runs a sale. Highly recommend the whole Commercial Portraiture by JoeyL course. This photoweek focus on portfolio? lovely to watch when it runs as rebroadcast.
I would not pay for this class. Joey has nice images and nice stories in some cases about getting the images, but he didn't really prepare any info for the class specifically about portfolios. It was more of a case of looking through his book and seeing how he photographed celebrities or was hired by famous companies. The only info about working on our own portfolio came about because Kenna Klosterman, the host, asked questions. If she hadn't pushed for information, the whole class would be looking at "Joey's awesome portfolio." He could have talked more about what clients are looking for and what they have fussed about, the types of paper or sizes preferred for certain industries, how often it needs to be updated, etc. I just think Joey is a talented photographer but never seems to put much "teaching effort" into his classes. The blog post of tips from this class which Kenna extracted is the sum total of helpful info, not the "tip of the iceberg" as the blog implies. Just read that.
Joey's work is amazing and this class is extremely informative but what I really appreciated the most is his humility. He has worked with so many people and on so many projects yet his humbleness shines thru it all. A great lesson for all of us. Thank you for this class.