Creating a Portfolio with Impact: From Shoot Through Print
Completing the Story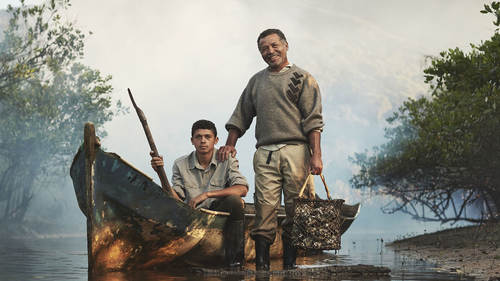 Creating a Portfolio with Impact: From Shoot Through Print
Completing the Story
Lesson Info
Completing the Story
So this is the next personal project. My book ends with personal projects, basically because there's a commission section at the very end that has a bunch of advertisements in it. So I'm really trying it before the viewing process ends. Show people what I'm interested in, what I shoot, whether I was hired to or not so that this is work from an ongoing project in Iraq and Syria. Actually, these two images are not published yet, so I kind of I print them for my portfolio, But they're not online yet. This'd is, uh, yeah, so this is over the course of two different trips last year, and it's actually a book project that I'm working on. And I might choose to display these images now, even though they're not published, because aside from displaying them on creativelive, they're not on the Internet yet, But again, this is the same same dynamics if we're just not talking about the subject matter itself, but just the spread, it works well together. Great. Cool s Oh, yeah. So this is ongoing proj...
ect. I'm writing my writing. The book. Um, collecting the images might go on another trip to expand the project further until I have about 100 to 120 images on. Then I'll put a tick tick together as an actual, like coffee table book project. But it's a personal thing. First and foremost, these images they've been ran by Vanity Fair Italia, The Independent. The video was on the Atlantic, so publications have gotten them. But I was never assigned to be sent out there. It was in the same way that India are. Ethiopia's stuff came together. They started as cultural projects. Even those is war related. It's still very much my own thing, and there's no other creative director or somebody involved. And, uh, one interesting thing here is that I also brought you'll see in the footage a studio backdrop, and I brought that as a way to sort of make this not look as raw photo journalistic. So some of the spreads have the very simple, clean, beautiful hand painted backdrop, while others are on location. And since it's all the same subject matter in the book, those two things can still be linked and still flow together really well. And what I'm really trying to achieve is a photographer. Is we kind of get fatigued by the war, especially the war in Syria. We see the, you know, the headlines, statistics, things like that. Um, and we might be even be fatigued by citizen journalism. So if we can present those same subjects in a different way in this sense, a portrait style, then it means the viewer can look at that and engage in in a new way. And it means their eyeballs will stay on the page, just maybe a hint longer. Oh, what is that? Whereas, you know, if you're bombarded with imagery of people trying to galvanize you will just slip right through it. That's the reality of how humans you visual. So that was the idea of taking a portrait approach to this project, and it really ties back. But you guys back into the beginning of your book where you are out there in the field. But then you're doing these type portrait's of people even though you were on a commercial shoot. Yeah. I mean, it's why I became a photographer in the first place. I mean, I love commissions. I love doing advertising projects. Believe me, if I've been out here for 40 days. The first thing I want to do is shoot a project in a studio. I have all the tools in the entire world. But then if I do that for too long, you know the first thing I want to shoot this kind of stuff. So there could be a careful balance achieved. And again, this stuff always can inform people who wanna hire you about what year about or what kind of subject matters that you're passionate about. Yeah, So the last the last project is one of my favorites. Personal project is you know, we've seen a lot of cultural studies in far away places. I talked about this a little bit the last creative life, so I won't dwell a bit too much. But this is from a project called Halloween and in Brooklyn. And basically it's looking at our cultural tradition in North America. Let's say of Halloween, from the perspective of someone from a different culture, as if they just landed in New York the day of Halloween, it was like, What the hell is going on if they wanted to approach it like an anthropologist, like as a study? So we do this to other cultures here in the West. But it's, I think, interesting to do it to ourselves. Also s O. That's what this is about. You know, these are objects around my old neighborhood in Brooklyn that we just inserted a backdrop behind. When did anthropological study of this? This culture, which is very true. It says something about you know how overtime, customs, change and adapt. In this case, it's injected with commercialism and superheroes and things like that, but it's still very relevant to depicting our culture in 2016. So yeah, this is one of the more recent images from the series. I got a little bit tired of setting up a studio on going around the neighborhood, so I decided, Well, how could I still shoot the project but do something new? So I spent the night on the subway car instead of on the streets, and this is the result that was the black and white. Of course we're talking about, really, are that you now integrated then as a cohesive exactly that was the black and white. But see, it's all together as one
Class Description
After the camera, a portfolio is one of the most important tools in a photographer's kit. It's the key to getting your work noticed by peers and potential clients. Knowing how to piece together your work so that it becomes a conversation piece and expression of your talent is key to expanding your reach as a photographer. 
Acclaimed portrait photographer Joey L. guides us through his personal printed portfolio - a book which he personally worked countless hours on organizing and printing with the proper materials and process in mind. The final crafted product is essential in his photography business and becomes a conversation piece with his colleagues and potential clients. Joey will also discuss some technical aspects of the photoshoots, such as what light sources were used to bring the vision to life. The course is aided by behind the scenes videos and includes imagery of the photographs within.
Learn tips on how to best approach piecing your portfolio together and how to continue to technically enhance your images to make your book even more impressive.
Reviews
Joey's work is amazing and this class is extremely informative but what I really appreciated the most is his humility. He has worked with so many people and on so many projects yet his humbleness shines thru it all. A great lesson for all of us. Thank you for this class.