Creating a Portfolio with Impact: From Shoot Through Print
From Personal Projects to Commercial Work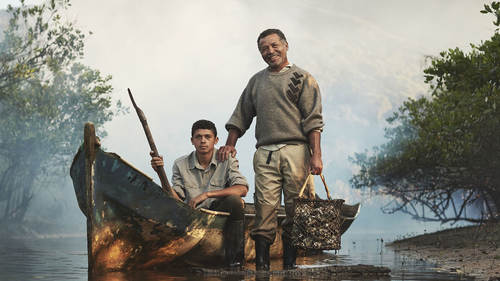 Creating a Portfolio with Impact: From Shoot Through Print
From Personal Projects to Commercial Work
Lesson Info
From Personal Projects to Commercial Work
um OK, so this is an interesting story because it's actually related to creative live. Um, so three years ago, I destroyed your guys a studio in Seattle on, uh, I mean, my computer. I left the floor very sticky from the soap bubbles that were flying through the air, but Okay, so three years ago, I did a test. This was actually taken a week before I was on creativelive. But we did the exact same set up in which I wanted Teoh do portrait of Arctic Explorer, but 100% set it up indoors, uh, using a back drop fog machine and the snow machine, which is basically just flying bubbles into the air. But the premise was that I wanted to create something from nothing that I wasn't paid to do as a commission, but something that still look like commission work. Like your You were there. I was talking about that. So what I did was actually did a bunch of those shoots. This is Henry. That's one of them. I did another at your studio, and I didn't another for a class, uh, in New York as well. And basica...
lly, I just put those up on the Internet. I ke worded the hell out of them like Blizzard Portrait Explorer, portrait portrait in the Arctic. And I made a block post about it. And basically, what happened was a art director who works on life below zero or was pitching for it had actually sourced some of my images after typing that into Google. Okay, And they were pitching it to National Geographic Channel in terms of their design, but they needed a reference image, okay, To show mood board, right of how how they envision the shoot coming toe like this is before they hire me as a photographer, they just yanked my images, love the Internet, which isn't a bad thing, because it means that when they piss me for that project, they're going to go to the photographer that already pulled that off, right, because I already did it mostly at creative. So this image is actually taken a year later for life below zero. Based on this that I was hired off. So what I said actually came true. So I'm not some show people. What I say is true now, but yeah, eso anyway, of course we changed it stylistically. As you can see, this one is a bit more raw. It's less lit in here. We have a lot of back light, which is part of the workshop class just showing the different layers, the blighting that you can create. So I supposed that what Andy Baker, the creative director of this project told me was like, make it look less snow Globe e. And I love that term. This looks when I heard that I was like, Man, don't critique. Yeah, that looks like a snow globe. Yeah, So we we have ongoing joke. Now where we're like, does this look to snow Globe e for anything? Not not even a blizzard picture. And this is Sue Aitken's from life below zero. And we did a very similar set up, just less snow globe. And I think we have a video actually showing that you Here we go. Tell us about the video. Oh, yeah? Well, this is the video you're watching now is actually some of the billboards in real life on the streets of New York. That's me with a different haircut. And I suppose the idea of this is just putting your the idea behind. Showing these clips is putting your vision toe life. So like not waiting for someone to hire you for something specific but making work that proves that you can do it first because a lot of times when people hire you, they don't want to take a chance, right? Why would they hire someone who's never done a blizzard photography shoot t do? That would be better to get the guy who has a blawg post on it. So I was very lucky, you know, in that case, but it really was because I put it on the Internet myself and I really, truly believe that personal projects are the catalyst for creative growth, and this is proof that not only I mean not only proof, but like you said that it's a huge lesson for folks out there. Teoh, not like you said, just to go out. And do they create the things that you are drawn to create that you want to create, but also that you strategically put it out there with the keywords. And I think sometimes we be upset if somebody just pulled our image and used it to your to your point was now, But that proved it worked. It worked. Yeah. Also, a bank in Germany ripped off this idea at the same time. And I almost wrote, um, like an angry letter. But I was thinking I did do this as a educational class that was broadcast live, like for free. So it's kind of fair, but they didn't hire me for that one, But I think it hard. So I mean, with the Internet, when you put stuff online, you really do give something of yourself. Sometimes it can come back in a positive way, sometimes not so that German bank that did that. They literally have an old guy with a beard that's in this exact pose, and someone sent it to me before I saw it. I was furious, but then I was like, I see how this happened because a lot of times for advertising, you know, people use references that they found online, and that's how I got hired here. But it's also how they found someone else to recreate it. So I don't blame the photographer at all because he is just doing his job. But actually, it's just maybe careless. Creative direction is how that came to be so rather than like on the Internet, I was like, It's probably best just to make something else right, Because that's how it works in 2016. Well, thank you. And if you all haven't seen Joey's creativelive class where he made it pretty phenomenal. Okay, so, uh, moving to the next bread, we are on the theme of, like, wintry Arctic Nous. So look at that. Here we go. So I carried on that theme. This is, ah, project I did with the U. S. Army. That was a month long. And then I shot some other stuff for them as well. And this is a training in Alaska on a glacier, So these shots were actually done in a studio, but it still is like a nice transition to the real life training on a glacier. I mean, these guys have been trained for months doing this, and then they send a photographer, apply go follow along. And it was not It was really hard, physically, physically hard, but yes. So this is the starting of ah, army. Siri's again. We have a close up portrait. See? See how this is Have this working. You see the repetition Now we have, like, a closer portrait. Same subject matter, but wide shot. We don't see his face. Oh, well, out also. I want to point out something. Is that composition wise? This as the spread works really well, because we have, like, a subject here on the third and the subject here on the third. And if this image were flipped like mirrored, it would feel weighted to this side. Right? So I have other images of this exact set up that I didn't use just so that I could have a better feeling with this spread and even this line, I mean, you're lining them up together. Oh, you noticed Right across. Yeah, that thing. I mean, it works here. Uh, it's not something I'm crazy about, for every single spread. But you're talking about the horizon line, right? Yeah, it does. It does help the viewer feel less confused because humans walk down the street and you look for the horizon line. And if you don't feel it, see it? You feel dizzy? Why would that change? When you look at photography, it kind of doesn't hormonally so the horizon line is lower on one side and higher than the other. Is it? Yeah. Check it is not like I wanna one art school. Whatever, dude. All right, so I'll change page. So again, uh, wide shot where? We don't see the subject space mixed with a little bit of morning physical activity. Still army, but they're in different uniforms. Training different season. Yeah, this one's taken in Alaska. This was taken in Hawaii, but also Yeah, good, Good. I and, uh, yeah, there's a lot of this army stuff in my book, and I would probably narrow it down based on who I'm presenting this to. I think no matter what it's, I'm pretty happy with it. But, you know, you could condense things a little bit if it's like too much for one specific client that this has no relevance to so again group shot close up action shot that's kind of related to a boat, but taken at different times similar in tone, similar in tone And a nice fun fact about this stuff is you remember the Boy Scouts we looked at earlier. I actually use that in a pitch, trying to get this project and my pitch was. Well, if I could make Boy Scouts look cool in there, Dorky uniforms, Of course, for the Army, when they have everything legitimate will work even better. So you'll notice that a lot of the same style when shooting these. Looks like those Boy Scouts images, right? You don't know. They're taking maybe one year apart. So, Joe, I am having some questions from the internet that are coming through. Cool. So maybe we'll take one of these. Now, do you often pitch personal projects to clients? Do you suggest for new photographers that they don't have any client work? We kind of talked about that. But you're just saying, like you showed them. You you're connecting the dots of what you think that they're going to be looking for, you know, And this one's for you too, Uh, with better. It's a better set problems, No question being Did you know, sort of for this particular army shoot what they were kind of looking for in order to use this personal project or what have you to pitch it? Uh, yes and no. I think every single assignments different. So do I. Do I pitch personal projects for clients sometimes. So, for example, if I'm hired for something basic, meaning one thing like an ad, of course I could pitch staying on longer to get other assets for them. But honestly, a lot of times when I do my personal projects, like not this stuff all completely finish it first venal present that when it's done, and the reason for that is just the have it your own vision and not have someone on board when they don't need to be as well as it's harder to pitch projects that aren't already completed because you have to use references or things that's not yours or pre existing imagery. Sometimes it's easier just to honestly go out and do it. And if you want to get eyeballs on that work beyond just putting it on your block and key wording it. Oh, thanks. Sometimes you need to pitch the publication, so some of the work that I have, like more travel style photography. The magazine never paid for me to go there, but maybe Aiken syndicate it to them to run it, to get more eyeballs on my work, and there's a nice collaborative spirit about that. Where is the sense like I don't need mainstream media publications to get eyeballs on my work, but it sure helps to get their audience. And they also have a less expensive assignment that I self financed. That they know is already good and existing rather than taking a gamble. Does that make sense? So, yeah, I've pitched projects especially like more expensive things that I've done, but it's not going to stop me if I'm shopping around. It takes months and months. I'd rather just do it. Any other questions from all my We'll keep going, then take a couple more. Okay, Cool. Um, does a good question, by the way. So this is kind of what I'm talking about with sections. So this is the start of, ah, personal project shot in southern Ethiopia. I've actually been doing ongoing projects there since 2000 and eight, and you'll notice that there's a blank page here. So the first reason is because this is a personal project. I can isolate it from the next like that, and it becomes a section. So if I don't have much time with somebody like my books getting a little bit long, I could just remove an entire section. Maybe not this one, but I could remove a section or I can move it around in the book binding. So this is another personal Siri's. See others white pages right? That means I can move it around. The other reason is there so much going on in this photo like there's so many faces. It's a white group shot that the have Another image here might be disorienting, so I think it's a good opportunity to do a white page. Also, the format is long and panoramic, and there might be if there's a full page image here, it might be a little bit disorienting. So that's why I chose to do it that way. Looking at this, would you ever take this image and put it across the full spread? Never. We're gonna Leo. Here's why. It's a personal choice. I hate when images go across the gutter. It's like the worst thing in the world. Like if you were looking through the camera and you're framing your shot and you saw an enormous gutter, would you go like this? Probably, Or would you go like this? Probably. So I just on very rare occasions. I'm forced to fight in this book since it's my own thing. No, it works maybe with like, it works with lay flat pages. But in most bookbinding, I don't like it. So that's that's my personal choice. Have you seen a book where it's like someone's face? Yeah. What? I don't like it. A personal personal. I don't do that. That's a good question. Another question that had come in from online. Would you ever do color and black and white on the same spread? Or would that be that is extracting? That is a good question. I think if there was a connection by if there was a unity by subject matter for sure, if it was the same actor, the same set up, I think it can be nice. It's a challenge to not make it look like a statement, meaning it becomes a crutch and you open it and you're like wood is going on here. Are you trying to be Ron edgy and not like it? Would It could be done, but very carefully. And are there any black and whites in this portfolio are OK, OK, so we'll see what it's an entire section together. Yeah, right. But good distinction. Yeah, I love this work bythe So Yeah, this particular Siri's I've been working on it for so long that I have over 100 final images from over the years. It was really hard to sort of edit, because again, we become attached to our work. But I just wanted Teoh highlight. You know, some of the more interesting images. For example. There's so much work on line now about indigenous groups, which is really great to see. But it also means that people can compare your work to somebody else. So I purposely chose these images because they're unique. So, for example, thes air women from the Hummer tribe and they're studying in school. But it's something interesting to see them in their traditional cultural clothing, where some photographers might depict these people in what is defined as quote unquote noble savage, like living in the wilderness, pristine on contacted people. It's actually not the reality for Hummer. So if we have this image right, which is the same tribe, same group, I also wanted to show a bit of the reality in a portrait style. So that's why, out of 100 images, maybe these even are the strongest ones. I chose to go this direction
Class Description
After the camera, a portfolio is one of the most important tools in a photographer's kit. It's the key to getting your work noticed by peers and potential clients. Knowing how to piece together your work so that it becomes a conversation piece and expression of your talent is key to expanding your reach as a photographer. 
Acclaimed portrait photographer Joey L. guides us through his personal printed portfolio - a book which he personally worked countless hours on organizing and printing with the proper materials and process in mind. The final crafted product is essential in his photography business and becomes a conversation piece with his colleagues and potential clients. Joey will also discuss some technical aspects of the photoshoots, such as what light sources were used to bring the vision to life. The course is aided by behind the scenes videos and includes imagery of the photographs within.
Learn tips on how to best approach piecing your portfolio together and how to continue to technically enhance your images to make your book even more impressive.
Reviews
Joey's work is amazing and this class is extremely informative but what I really appreciated the most is his humility. He has worked with so many people and on so many projects yet his humbleness shines thru it all. A great lesson for all of us. Thank you for this class.