Creating a Portfolio with Impact: From Shoot Through Print
Shooting For Clients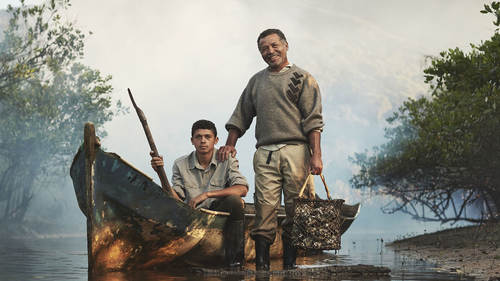 Creating a Portfolio with Impact: From Shoot Through Print
Shooting For Clients
Lesson Info
Shooting For Clients
Okay, So again, I like to specialize as a photographer in environmental Portrait. This could be personal work, but it's actually a commission. So this is a project that I shot for post Italian, another Italian client. I can't say it with such a good accent. There's probably some Italians washing thing. It's a but yes. So this was a study of, ah, Italians doing their job like local people. So is there some fishermen waitress and these were all over Italy is huge billboards, but in my portfolio actually don't want to present the advertisements at first. In fact, I have them all clustered at the end. Instead, I would just want to present myself as a photographer because a lot of the people I'm presenting my work to they are the graphic designers, or they are the art directors, and I want them to look at my work and know what they'll walk away with after the shoot. Not me trying to pitch myself like I did all their job for them, right? So, uh, again you'll see these images again in the boo...
k, but it's part of the layouts at the very end and again, one more time one's a close up. One's a medium shot. These two colors work together nicely, and the decision for these first that's part of this is the only one from the project and the two strongest images at the back. And we'll get to it. You'll see. You'll see the images that I like, but they're not a strong, so I just want to present my best work. I mean, really, I could make so many portfolios of my work, and that's part of the editing process. Is just stepping back and saying, like how it's somebody gonna view this who is not attached to these things? You know? Photographers were attached to our thing. Like you said, You didn't like my photo like you know it, Z, I do it too, But you really have to be relentless. Just delete, delete not forever, just from your portfolio. And is that you doing that on your own? Are you working with somebody to help an editor or somebody to help you do that? I do it myself, but I'm very lucky toe have ah, good photography agents who also chime in and be like Joe, you have, like, 10 images of the U. S. Army. We should probably, like, get rid of some of those were like, you have so many Lowassa or whatever. So I have a group of very ruthless friends that also give me feedback on portfolio or video. And before I make anything public, I send it to those friends and I say, Please, just destroy this, and they usually dio and it hurts. It hurts a lot, but it makes you much stronger, totally necessary to find those people. Those people business colleague, like friends, that kind of Okay, uh, this next project is Ah, something I did for Jose Cuervo tequila. And this project had, uh, print advertisements that we're going to be used, You know, the way you walk down the street and see an advertisement. But there's also a lot of stuff that had to be shot for website elements. So because of that, there were, like, four main print ads that they said exactly what they wanted. This was Yeah. Ok, well, actually, now that we see the video, I'll just talk about this. So the assignment was half open and have constructed the constricted stuff was like this horse image They told me we need a horse rearing because it's part of our print ad. But we also need general stuff for Web or for whatever of the human Doris, the field workers. So there was no sketch or know anything for these images, but it was still a project in which I had to make a very cohesive photo series, so they had to look like one another. So with that said, the stuff of the field workers, I just sort of followed them around. And on the first day of shooting, we didn't get incredible stuff, to be honest. So I asked, Well kept guys, Can you come back tomorrow morning? Because I didn't understand at all what you guys did the first day. So we changed our shooting schedule, and I was with them in the morning when they're making breakfast out in the fields and because of that wearable, to get a lot of different stuff. So that's what this spread is is I wanted to just provide my client with his many options as possible, like wide shots of them going toe work in the field close up portrait. It's just everything. And also as a photographer even beyond the assignment, I mean, to be in these tequila fields with these charismatic subjects is like, you think I'm going to get the show I was paid to do and be like, No, I'm done for the day. Like, see you later. Like No, I wanted to say they're from sunrise till sunset. And I know I've seen some of the behind the scenes. I think it's this image in particular cameras. But in terms of your ability to kind of push yourself your team, what it is, and is this the one where you got up on your assistance shoulders? Just get these images. When you are a pickle, we're gonna see a little bit of that. It's something that you planned or you're just like your out there in the field and you're thinking I see I can envision this, but I don't have a ladder. If I planned it, I would have brought a ladder. I didn't plan it. The problem is, we couldn't get above these spiky agave A plants. So, um yeah, I just hopped on Jesse shoulders there and yeah, we got a completely different set up and, you know, later on, one of the guys brought their trucks just standing this. Now we're filming behind the scenes. This looks better, but yeah, you know, it's just a matter of finding different angles to get the most variety to display what these people actually do in the fields. Because if you would just see this portrait, Okay, you see the tool they work with that's important. But you need to see them working how they engage with one another in the morning with breakfast. Everything. Yeah. So I kind of became obsessed with the human doors on that trip. So question for you. Because if you did talk about how you were hired, it was a job. But then you started. You were taking all these other images that you were fascinated by in a portfolio. Can you combine the two or do you need to keep it sort of as a cohesive of so that when you're explaining like this was a job? Yeah. No, that's a great question. I mix it completely because I don't believe I mean, especially for photographer starting out. I mean, this seems like Oh, great, Joe, you were sent Jose Corbyn Lavazza who like, good for you. Right. But the thing is, I got started the way anybody else did. And before I was paid to do these things, I just made images that look like commissioned assignments. Right, Because I'm not gonna wait for someone to hire me off. Nothing. I have to prove what I'm capable of. So to answer your question in a more direct way, of course, Like, this was a print ad, right? And I was sent on this place to do these things. But doesn't matter if it's mixed together. In my opinion, no. So long as it flows together as a nice story. And I think that focus on when we're beginning, creating pieces that do look like a Cokie. So I've got a good story for you. OK, it's about midway through the book. Keep crying. It will shine a greater light on that, uh, that mindset
Class Description
After the camera, a portfolio is one of the most important tools in a photographer's kit. It's the key to getting your work noticed by peers and potential clients. Knowing how to piece together your work so that it becomes a conversation piece and expression of your talent is key to expanding your reach as a photographer. 
Acclaimed portrait photographer Joey L. guides us through his personal printed portfolio - a book which he personally worked countless hours on organizing and printing with the proper materials and process in mind. The final crafted product is essential in his photography business and becomes a conversation piece with his colleagues and potential clients. Joey will also discuss some technical aspects of the photoshoots, such as what light sources were used to bring the vision to life. The course is aided by behind the scenes videos and includes imagery of the photographs within.
Learn tips on how to best approach piecing your portfolio together and how to continue to technically enhance your images to make your book even more impressive.
Reviews
Joey's work is amazing and this class is extremely informative but what I really appreciated the most is his humility. He has worked with so many people and on so many projects yet his humbleness shines thru it all. A great lesson for all of us. Thank you for this class.