Creating Custom Photoshop Brushes
Scanning & Creating a Crayon Brush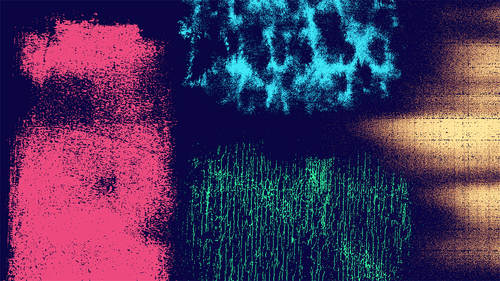 Creating Custom Photoshop Brushes
Scanning & Creating a Crayon Brush
Lesson Info
Scanning & Creating a Crayon Brush
So let me see what you guys have. Two more. I like all of you guys stuff. I had a question. Yes. So if you run a scan this in, unlike the edges are so like obvious. You like, Let's do it. Yeah, but Okay, so she asked. She's got these straight edges. She's got these straight edges on her thing and she wants to be able to get rid of those so it becomes a usable brush. She understands that if she uses this as a brush, he's gonna have those really distinct lines in there. Let's get rid of those. So what scam in? It's like a whole area was this crayon? Bring that in photo shop selected. All go back to a 5000 canvas and this is defaulting to 600 dp I because I scan in 600 FBI What? I dio first. Obviously, I do the same thing with the Actually, I'm not gonna do it that way. I will just I drop that color and I will use a generic blurry brush. And I could do this if I wanted to, and that's probably going to be the most natural way or it could be a little more consistent with and just kind of da...
b I was dabbing is probably a good idea because nationally you'll find a line. So let's just sort of like, put all that together and let's just make this whole area this off white flat law. Let's get back to the levels now. This is a little bit light and we need to bring it up. So weaken, take all of this black and get it if we want. But in levels you can get every little saying, however you want it. So I think this it's probably gonna be a nice little area. So at it, define brush preset. We'll call the CEO Crayon one. Let's go back to wash away. Let's make let's invert this. She had so much evil. We got to go back to this nice fun wash away. Okay, so now we have this You take away from it now, it's not really you know, the edges. The the repeating element is obviously gonna be those interior lines. Um, let's Dio is just black. Just gonna be those little interior things that can repeat And you might find, too. As you go, you're kind of trying to keep those things consistent and going all the way through, which is pretty cool. But that's a whole way, that texture, and by itself it doesn't have any defined edges, and it's still really usable. So even though it's something as easy as that blurry brush tool, it still does the job.
Class Description
Photoshop brushes are a powerful way to add interest and depth to your designs, but the selection that comes with Photoshop is limited. In Creating Custom Photoshop Brushes, Brandon Rike will show you how to create one of a kind brushes that you'll want to use again and again.
Brandon works full-time designing for the biggest names in the music industry. In this beginner-friendly class, he'll show you how to get awesome creative effects by making your very own brushes. 
You'll learn about:
Scanning in texture
Working inside a 5000px canvas
Being mindful of edges and cut off
Defining, naming and selecting brushes
Using a layer mask to apply texture
Brandon will show how to make a brush in Photoshop, how to produce brushes from: ink or paint on paper, old books, and computer effects. You'll also get tips on using brushes to create a distressed look and finalizing your design.
When you know how to make your brushes, there is no end to the interest you can add to your design. Learn how to make them the right way in Creating Custom Photoshop Brushes with Brandon Rike.
Software Used: Adobe Photoshop CC 2014

Reviews
Great class. Easy to follow and eye opening! I made about 30 brushes during this workshop! I followed along with the texture making and easily uploaded them and converted them into usable Photoshop brushes.