Textures Can Come from Anywhere
Brandon Rike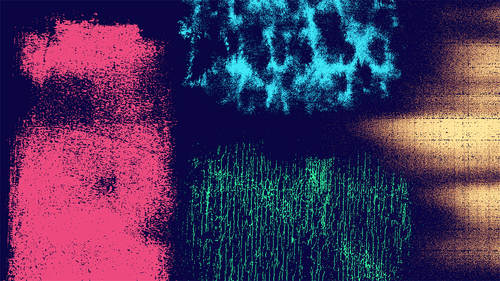 Textures Can Come from Anywhere
Brandon Rike
Lesson Info
6. Textures Can Come from Anywhere
Lesson Info
Textures Can Come from Anywhere
So just to drive home the fact that we can get textures from anywhere, I just want it. Let's put this thing like, let's just scan this table. Don't try this at home. Could you break your scan? I just want to show. I just wanted, you know, to wrap up. I wanna drive home the fact that textures air coming from anywhere You can work really hard, drawn little things like this and doing that and getting really great Texas from it. You can just get it from the table you're sitting at. There's stuff in there. They're stuff anywhere, a blank sheet of paper. If you mess with levels of nothing, you're going to get something out of it. Tabletop and I scan in gray because it's all gonna be great. Anyway, I could scan and color, but I don't see any point. But you could scan this in color and use it for a really cool thing. Like I said, I'm so dictated by T shirts that I keep everything really simple. So here's our texture from the Here's a texture from table top. So let's get in here and let's find ...
an area of interest We'll use that and we'll just turn the rest to that color so I only leave when I want to use. And when it does, little splotches I'm take theirs out just because they're only going to get in the way. Okay, so my turn, all the blacks black all the way. Bring the whites up like that and select it all and go to a 5000 by 5000 canvas paste it in, merge it down, inverted Maybe last time, bring a little bit more of those blacks up, sharpen it a little bit sharpened, smart sharpen to find brush preset CEO, table top one. Go back to rave in and take away just so you can see what texture is repeated underneath. There again, try to be inconsistent when you place it. You don't want it to be perfectly in line because people will pick out those raven so you can make Photoshopped brushes out of anything. So I got I got stuff with stamps. I got brushed pins, I got watercolor. Whatever. Got the table. You know, um, maybe I'll teach another costs on brushes with the bottom of your shoe or whatever, but you get the point. So this is your own toolbox. And, um, I want to show you how to package it all together before we finish. Let's just show you how to finally save this thing and finally give it out so that it's your own little deal. So we get into your going to your brush over here. So now look, we put five brushes together, so I'm gonna select those five brushes holding the shift. We go on a preset manager, go to preset manager, select this. All of your brushes will save the set. We'll call these Reich. No, they're not online. Raich, CEO brushes say there's on the desktop saved as an A B R file and they're done. So this file now Raich CEO brushes A VR contains all of those. And you can take those in your photo shop. I'll send them to all of you and you can have them in photo shop and use them however you want. But you've got to save these two because after a while you won't accumulate this stuff and not lose him. So we're left with this final. Um we're find their final a br brush file. So that's the beginning of your toolbox, you know, And if you want to move on to, like making fonts or making brushes and making different textures and making whatever, it's important that you just make your own toolbox so that you know that all this stuff that you need, um, all this stuff that you need is from you. It's one of a kind, unique. It only exists in your hands, and it only came from you. So whatever work you do when you see it in the wild, you get to know that that's your seal of approval. That's your personality. That's who you are in that little texture and no one else may notice. But it's your way to feel connected to the work that you send out, and that's you. Don't just say goodbye forever. You feel like they're all your Children and that they're all over the place, you know, So I think it's important. I think it's important for you guys toe. Create your own toolbox to know how to make your own brushes. It's very quick thing to Dio it. Wouldn't you know in a day you could put together 20 brushes and you may find that you then use those 20 brushes. For the next 20 years, you're gonna find these little things that you do like. Oh, man, that's the brush. I wonder what Brandon didn't teach about that? Because that's the way to do it. You're gonna find all these cool ways to make these brushes. It's super easy. It's super quick and it can come from anywhere. Thank you so much, friend. And that was awesome. So that's a wrap for today, and we'll see you next time here on creative life.
Class Materials
Brandon Rike - Creating Custom Photoshop Brushes Working Files.zip
Brandon Rike - Custom Photoshop Brushes.zip
Ratings and Reviews
Great class. Easy to follow and eye opening! I made about 30 brushes during this workshop! I followed along with the texture making and easily uploaded them and converted them into usable Photoshop brushes.
Student Work